Sometimes these blog posts take a bit longer than usual to assemble. This was one of those posts.
It appears that all of the members of Richard Berry's Pharaohs have passed away.
To begin, let's start off with a recap of the history of Richard Berry with the Pharaoahs..
The song LOUIE LOUIE was originally written by Richard Berry when he was singing with Rick Rillera's Rhythm Rockers sometime in 1955. Richard was a special guest with the Rhythm Rockers when they were booked to play a season of Sunday night shows at the Harmony Park Ballroom in Anaheim, California, which happened to be a few miles from the yet-to-be opened Disneyland amusement park. The band played a variety of musical styles, using Richard to sing many of the rhythm and blues songs. Among the other songs regularly performed by the band was a Cuban calypso number by Rene Touzet that featured a short, but very catchy little musical riff. Richard decided this little hook could be used as the primary melody of a standalone song he would create that would become LOUIE LOUIE.
At the time of creating this song, Richard was contractually bound as a recording artist signed to Modern Records, a label owned by the Bihari Brothers. Richard decided to save this song for his next recording deal at Flip Records, where he would have more freedom to create the music he wanted to release. While Richard Berry initially performed the song with the Rhythm Rockers, he decided he wanted to record his new music with some friends from Jefferson High School who already started a vocal group known as The Pharaohs. The Pharaohs featured two brothers – Godoy Colbert and Robert Harris, accompanied by Noel Collins. Godoy sang first tenor, Robert second tenor, and Noel sang baritone.
The first record that would be released by Richard Berry & the Pharaohs in 1956 featured "Take The Key (And Open Up My Heart) on the A-side and "No Kissin' And A Huggin'" on the B-side. Their first recording session was recorded discreetly in 1955 while Richard was still under contract with Modern Records. Accompanying Richard and the Pharaohs, they were joined by a backing band that consisted of Plas Johnson on tenor sax, Jewel Grant on baritone sax, Ernie Freeman on piano, Irving Ashby on guitar, Red Callender on bass, and Ray Martinez on drums. Some of the other songs recorded at this session by Bunny Robyn at Master Recorders included "Take The Key," and "You Are My Sunshine."
When Richard's contract with Modern finally expired in 1956, Richard and the Pharaohs quickly returned to the recording studio to record "LOUIE LOUIE," "Rock Rock Rock," "You Look So Good" and "Sweet Sugar You" between February and April 1956 at Hollywood Recorders. Stanley Henderson replaced Robert Harris, who had some other commitments at the time. The backup band for these sessions were mostly the same players, adding John Anderson on trumpet, and Earl Palmer would sometimes switch drum duties with Ray Martinez. Gloria Jones of Richard Berry's Dreamers (and future Blossoms) provided some additional harmony vocals for LOUIE LOUIE, which was released in April 1957.
As fate would have it, the alliance with Flip Records only lasted a few years. While the original version of LOUIE LOUIE did achieve a certain level of success by selling 130,000 copies, it wasn't enough to chart on a national level. As Flip Records proprietor Max Feirtag tried to talk Richard into writing "another LOUIE LOUIE," which led to the creation of "Have Love, Have Travel," there were some deep frustrations which ultimately led to their eventual split in 1959.
Richard Berry & the Pharaohs did continue to make more music, but not under that moniker. Richard linked up with producers Gary S. Paxton and Kim Fowley, who just had a big hit with "Alley Oop" by Gary's studio band, The Hollywood Argyles. Godoy Colbert lived across the street from Kim Fowley, and wound up singing on a handful of singles by the Hollywood Argyles. Around that time, Eugene Maye, brother of Richard's old friend Arthur Lee Maye (legendary baseball player and Doo-Wop singer), sang with Richard and the Pharaohs, recording a handful of singles for Paxton & Fowley, albeit marketed as solo Richard Berry music.
As Richard continued to explore his options as a solo artist, he regularly performed in the Los Angeles area, releasing a handful of records with a band he called the Soul Searchers.
Fast forward to February 1996.
I'd been working on this LOUIE documentary for over 10 years, when Richard Berry invited me to a reunion of two of his prominent musical groups – Richard Berry and the Pharaohs, as well as Richard Berry and the Dreamers. It's all part of a big show organized by the Doo Wop Society of Southern California in Long Beach California that also features Tony Allen, The Satellites/ Hollywood Flames, Leon Peels, Wally Roker of The Heartbeats. I made plans to be there. Together with my co-producer Jesse Block, we did the roadtrip for this once-in a lifetime opportunity, bringing our Betacam camera rig to capture this special moment.
The whole thing was absolutely magical. I met the Pharaohs, which consists of Godoy, Robert and Eugene. I was also introduced to the Dreamers, which included Gloria Jones, Annette Williams and Nannette Williams. We met a lot of wonderful people, caught some great musical performances and preserved some great stories for posterity.
(READ MORE about Gloria and The Dreamers by clicking here.)
After the show, a bunch of us went out for a late night dinner at a local Denny's. We all had a great time with lots of laughs.
Ten months later, after a handful of other big life changes, I wound up making big plans to move to Los Angeles. An old friend offered me a job doing video production for a CD-ROM project. I figured this would be a great opportunity to hopefully connect with some industry folks to get some funding, and maybe even help Richard organize his stuff, including cataloging some of the live tape masters that were buried in his garage.
A few weeks before I was scheduled to move to Los Angeles, Richard Berry died of a heart attack on January 23, 1997 at the age of 61 years old.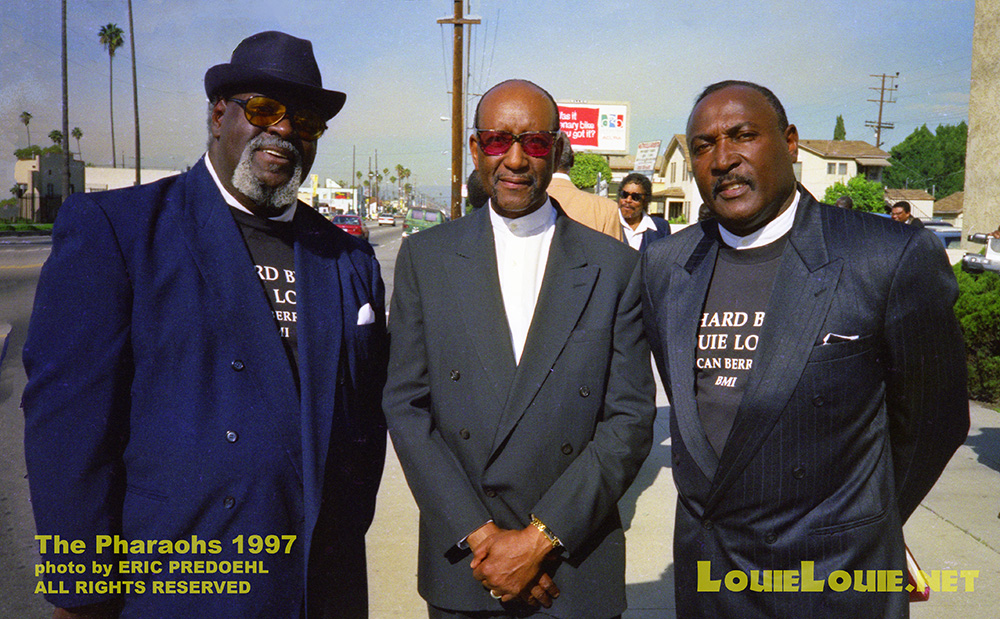 The funeral for Richard was an extremely sad occasion. The Pharaohs were there, including Noel Collins, who wasn't part of the last reunion, but he was on hand to say goodbye to his old friend.
1997 was a challenging year. Whatever good things that happened that year seemed to be overshadowed by massive layers of frustration. By the year's end, I decided Los Angeles was not where I wanted to be at that point in time.
Godoy Colbert
After Richard and the Pharaohs eventually branched off in different directions, The Pharaohs split off as a separate unit, shortened to "The Pharaos," recording for Donna / Del-Fi Records.
Godoy went on to perform with such musical acts as The Exits, the Afro Blues, the Visitors, the Kuf-Linx, The Cyclones, and Free Movement who had a Top Five Pop and Top 20 R&B Billboard Music Chart hit with the 1971 single, "I've Found Someone Of My Own."
Godoy Colbert was the first of the Pharaohs to leave the land of the living. Five years after the passing of Richard Berry, Colbert died at the age of 62 years old, on July 17, 2002 in Sacramento, California. Apparently, he had several forms of cancer including liver, colon, and prostate.
Eugene Maye
Eugene Maye was not only a member of the Pharaohs, but also one of the greatest advocates for the musical heritage of Jefferson High School, as well as the legacy of his brother Arthur Lee Maye. Eugene maintained a longtime friendship with his old vocal music teacher – Larry Larsen, whose tenure was also pivotal for Richard Berry's musical education, as well as providing the outlet where Richard would meet Dorothy Adams, the woman who would become his wife in 1957.
Eugene and I shared a lot of conversations via telephone and emails over the years, and his passing a few years ago, which I only discovered about a few months ago, saddened me deeply. Oddly enough, it seems I'm still receiving spam emails from disreputable organizations pretending to be "Eugene Maye."
Eugene left us on February 10, 2015.
Robert Harris
It was just a few years ago when Robert got ahold of me to let me to know that he had restarted the Pharaohs, creating some brand new recordings with an new group of singers with "old school flavor."
Robert shared this introduction for the project at his CD Baby page for the band:
The Pharoahs were formed in 1953 under the name The Goldentones. After seeing the movie "The Ten Commandments" in 1955, I changed the name to "The Pharoahs". Our first music contract and single release with Richard Berry came in 1955. We then became known as Richard Berry and the Pharoahs. "Louie Louie", "Have Love Will Travel" were released on the west coast and has since become the #1 party record in the world and peaking at #9 on the all time rock and roll list. Many groups have covered these famous hits and have re-recorded them.
Currently, The Pharoahs have reunited to create a blend of old school with todays sound. From ballads to uplifting tracks that are written to inspire the young and experienced ear, the Pharoahs have indeed withstood the sands of time.
Here's a YouTube sample of Robert's Pharoahs…
Robert passed away on the day after Christmas last year – December 26, 2017.
Noel Collins
Noel Collins was a founding member of the Pharaohs, who I met briefly at Richard's funeral, but I unfortunately never got around to interviewing. I believe he died a few years ago, but I haven't been able to get any specific details about his passing.
Noel was the the guy sitting in the car with Richard Berry in the parade photo that was used for the cover on Ace Records "Have Louie Will Travel" CD.
Stanley Henderson and Joe Morgan
Stanley Henderson and Joe Morgan are two other Pharaohs I haven't been able to track down, so I'm guessing they're no longer with us.
From what I've been able to determine, it appears that we've lost all of the Pharaohs.
If anyone has any thoughts or memories they'd like to share of any of the Pharaohs, please feel free to post some words in the comments section. We'd love to hear from you… especially anything regarding the whereabouts of Noel Collins, Stanley Henderson and Joe Morgan, which remains a mystery.
In the meantime, here's a clip that I created from the last public appearance of Richard Berry and the Pharaohs on February 24, 1996 at Long Beach, California.
Big thanks to Jim Dawson for his encyclopedic liner notes on the Richard Berry compilation album released by Earth Angel in 1986.
REFERENCE LINKS:
The Doo Wop Society of Southern California (RIP)
Godoy Colbert – Popdose.com – Soul Serenade: The Free Movement
Godoy Colbert – Soulwalking.co.uk- The Free Movement
Godoy Colbert – Rockabilly.nl – The Hollywood Argyles
Robert Harris – (New) Pharoahs CD Baby webpage
The Dreamers & The Blossoms – the Doo Wop Society of S.C. page
http://www.electricearl.com/dws/dreamers.html
Wikipedia – The Blossoms/ The Dreamers
https://en.wikipedia.org/wiki/The_Blossoms
The Blossoms/ The Dreamers- Soulful Kinda Music
http://www.soulfulkindamusic.net/blossoms.htm
Wikipedia – 20 Feet from Stardom
LOUIE LOUIE roadtrip (w/ mention of Gloria's birthday party)