A few weeks ago, I got an email from Joe Drummer, one of my friends in the U.K.:
Hi Eric, today one of those strange coincidences that seem to thrive in the Louie world happened to me. I met up with an old friend, who I haven't seen in ten years, since he moved from the U.K. to New Zealand. He in turn brought along a friend of his I hadn't met before, and he hadn't seen in thirty years, a guy called Tony Randall, and when Tony told his story to Brian, he said you must meet Joe.

Tony never met his father, who was an American airman based in the U.K in the 50`s, he`s now a journalist and published his story of the search for his father, in an article he wrote for one of our quality papers, in 2004, I remember reading it at the time, you can find the article here.

I remember you saying you had footage of an interview with Johnny Flamingo, and wondered if there was any way Tony could see this footage, as he has only photographs (and of course the music) of his father, nothing of him "walking and talking" so to speak.

Forgive the intrusion Eric, but my time spent with Tony convinces me he is one of the good guys, and if you could help, it would make his life.

Thanks, Joe
I do remember reading the story of Tony Randall. I wrote about it back in 2004, before I converted The LOUIE REPORT into an actual "blog."
I remember meeting Johnny Flamingo and his lovely wife Jeanette Baker in March 4, 2000 at a special event in Long Beach (CA), produced by the Doo-Wop Society of Southern California to honor disc jockey Hunter Hancock. They both shared some wonderful memories of their old friend Richard Berry, and I thought they were very sweet people. Nine months later, Johnny died of cancer on Christmas Eve, which also happened to be the day Vernon Green of the Medallions also passed away, someone else I met backstage at the Long Beach event.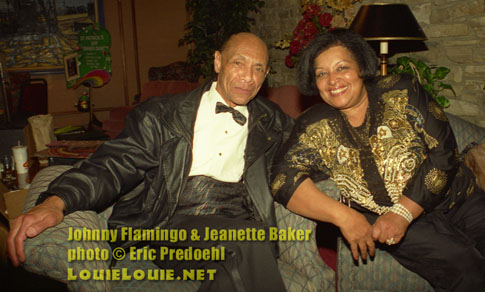 This is yet another reminder that life is precious, and every day should be a celebration in itself. It was also a reminder to myself to hurry up and finish this film of mine before all of my subjects are no longer with us. Every time I hear of someone else from my project dying, it really hurts me deeply. I wish I had the power to stop all of these people from dying, but life doesn't work that way. I'm just trying to finish this film to the best of my abilities.
So, to honor Johnny Flamingo, and provide something for the son he never met, I'm sharing some footage from that show in Long Beach. It's not an interview, but it's nice little representation of who Johnny was. In this clip, he sings a medley of songs – "I," "You're Mine," and "So Long." The second song, "You're Mine" was originally recorded with Richard Berry in 1962, and Johnny makes a point of mentioning his old friend in this performance.
I'm also sharing some footage of Johnny singing with his lovely wife. Here they are singing "Hey Girl – Hey Boy" from that same event in Long Beach. Jeanette Baker was a co-writer of this song, which she recorded as duet with Oscar McLollie back in 1958. Louis Prima and Keely Smith did a cover version of this song, which was also a title of a movie produced in 1960.
The little love tap at the end of this video is really a cute gesture!

Jeanette Baker is still alive and well, performing music in Southern California. She recently recorded a duet with the late Jesse Belvin, similar to the "Unforgettable" recording Natalie Cole did with her father Nat King Cole. Expect to see a full-fledged CD in the near future. For more information about what she's up to, be sure to check out her official website at:
MissJeanetteBaker.com