THE LOUIE REPORT
December 2004
Notes from Eric Predoehl, producer of upcoming documentary
posted December 23, 2004 (all rights reserved)
It's a cold December night as I unleash these words to the open airs of the vast cyberspace. What a wild year it's been for the producers of the LOUIE LOUIE epic, and the world in general. These have been challenging times, and we all do what we can to move things forward. Professionally speaking, things continue to be very exciting for the Octalouie production team. We've had the pleasure to work for some very prestigious clients whose work has inspired us over the years. We've shot more footage for the LOUIE documentary, and met some wonderful contacts whom we look forward to working with in the future.
Last month, I suffered a bit of a setback with a dislocation injury that put me on the sidelines for awhile. Having never gone through this sort of thing before, it certainly provided me with a new perspective on disabilities, and a greater appreciation for those in the healing profession. I am so very grateful for finding an excellent physical therapist. With any luck, I hope to be completely healed within the next few months.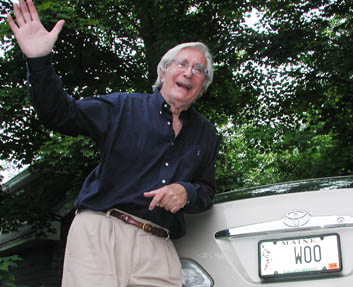 On the LOUIE front, we've been able to document some great stories in the past six months. This summer, I felt fortunate to conduct an interview with legendary Boston disc jockey Arnie "Woo Woo" Ginsburg. Arnie was the disc jockey responsible for breaking LOUIE LOUIE nationally when he showcased the Kingsmen recording as the "Worst Record of the Week." Boston was one of the biggest national markets, and Arnie was the top disc jockey of the region, commanding a 40% market share of the airwaves.
The type of radio show that Arnie had in the early 1960's was radically different from the radio you'd hear nowadays. Arnie was quite a character on the radio, combining goofball comedy schtick with cheesy sound effects, and a musical play list made up entirely of his own design. This was the type of radio programming that the public adored, and Arnie profited nicely. It's unlikely that we'll ever hear anything like this again on commercial radio.
In the fall, co-producer Jesse Block conducted an interview with Ian Lloyd, former singer with the Stories. In 1973, the Stories had a hit single with "Brother Louie," a song originally performed by Hot Chocolate. Many people have confused "Brother Louie" with LOUIE LOUIE, as there are some common phrasings in both songs.
Ian has had a colorful career as a member of Stories, a solo artist, and guest vocalist for such musicians as Foreigner, Billy Joel, Peter Frampton, Yes, and Ian McDonald. Ian is still doing music with his latest band Social Hero, which plays around New York City. In fact, he's got a new version of "Brother Louie" that you can hear at the MachineDreamRecords website. There's also a site dedicated strictly to the music of Ian Lloyd.

In other record business news, Ace Records just released three important CDs for the connoisseurs of Richard Berry music- "The Ultimate Flairs," new Richard Berry collection entitled "Yama Yama! The Modern Recordings 1954-1956," and a Sonics CD single covering Richard's "Have Love Will Travel."
In the 1950's, Modern Records was one of the most important rhythm and blues labels, providing some prominent musicians with their first serious recording contracts- B.B. King, John Lee Hooker, Etta James, and Richard Berry, to name a few. When Richard signed to Modern, he was a member of a popular vocal group from Jefferson High School of South Central Los Angeles. As it was often common for a record company to name a group after a label, this group was given the title of "The Flairs," borrowing the name from the Flair label that was previously used as a showcase for country hillbilly music. The Flairs became one of the most influential groups of the West Coast doo wop scene, providing an excellent starting point for Richard and bandmates Cornel Gunter, Obie Jessie, Peter Fox and Beverly Thompson. This new compilation titled simply "The Ultimate Flairs,"collects some of the finest tracks from this group, both under the original group name and the subsequent pseudonyms.
"Yama Yama! The Modern Recordings 1954-1956" is an impressive upgrade to "Get Out of the Car," a 1982 Ace Records LP release that came out on CD in 1992. Focusing on Richard's solo recordings from the Modern Records company, this new collection features upgraded audio, some alternative recordings, and more extensive liner notes. One of the tracks on this new CD is a previously unreleased instrumental written by Richard. As this newly-discovered song did not have an actual name, the folks at Ace decided to give it a most unusual title. The title that gave this song is something that I'm both slightly embarrassed by, yet at the same time, honored by such attention. I won't tell you the name of track #26, but when you see this CD, you'll see what I'm talking about. It's very silly…
The Sonics CD-single of "Have Love Will Travel" was designed to cash in on the recent usage of this song for the new Land Rover television commercials. Richard wrote this song as a semi-sequel to LOUIE LOUIE, and this recording by the great Northwest band of the 60's is a classic archetype of garage rock at it's very finest. I applaud Land Rover for embracing superior rock music for their advertising campaign, and I hope this will help spur renewed interest in this great band. For those that need to hear more, I would refer folks to the Ace compilation "Psycho-Sonic" or some of the many Norton Records releases that feature this amazing band.
If you aren't able to find these CDs at your friendly neighborhood music store, which I'd encourage you to support, then I'd like you to consider ordering from the CD Universe or Amazon links on the side of this newsletter, which should provide me with a small percentage if things are working properly.

One unexpected archival recording of LOUIE LOUIE emerged when Sony released a 25th Anniversary edition of the Clash "London Calling" album. The new edition has been expanded to a 3 disc set, featuring one CD that includes the entire original 2 album set on one little silver platter, one CD of alternative recordings of the songs, and one DVD with video footage of concert and rehearsal performances. The version of LOUIE LOUIE in this collection is not part of second CD featuring alternative recordings and outtakes, but instead can be found on the DVD, where we get a chance to see rare footage of the band when they recorded this album back in 1979. As one watches the shaky black and white footage documenting this event, we are treated to a spontaneous rendition of LOUIE LOUIE by the Clash, accompanied by their manic producer, Mr. Guy Stevens, who decides to toss a chair, and jump around like an absolute loon. A classic moment if I ever saw one!
Collectors of underground recordings will probably remember the "other" version of LOUIE LOUIE by the Clash, recorded during the Sandinista sessions, released on various pirate releases. This is entirely separate rendition of the song.

There's been some new interest in digital radio, thanks in part to disc jockey Howard Stern, who made big headlines when he signed a multi-million dollar contract with the Sirius Satellite Radio Network. As it turns out, Howard's not the only one that made the big move to the FCC-free airwaves of Sirius. Back in October, author Dave Marsh (creator of the LOUIE LOUIE book, Rap 'n' Rock Confidential, and a ton of other music books) made the big plunge with a new show entitled "Kick Out the Jams!" With a tip of the hat to MC5 for the title, this show jumps headfirst into the intersection of music and politics. To quote from the man himself, here's a description of what to expect:
"I plan to be myself-- despising Bush, disdaining Democrats, fighting the war, looking for things that sound like freedom, attacking injustice (ranging from the demolition of the Tennessee public health care system to the exclusion of Lynyrd Skynyrd from the R&R Hall of Fame), and delighting, always, in the music and what it brings to our lives.
Sirius requires specific equipment and a subscription. On the other hand, it doesn't have to kowtow to the FCC so adult humans (or even the kids, who have rights, too) get to speak the way people speak in real life and I don't have to hunt down a "brothers and sisters" version of the theme song. And there's no advertising, so that much less to fear in the way of pressure to conform.
Ideas welcome. Except maybe for, 'Don't do this, you idiot.'"
Another addition to the Sirius network is one of my favorite musical satirists, Mr. Mojo Nixon. Mojo made mark with such memorable melodies as "Elvis Is Everywhere," "Debbie Gibson Is Pregnant With My Two-Headed Love Child," and "Burn Down the Malls," to name but a few. A few months ago, Mojo got a new gig as an afternoon on-air host for the commercial-free Outlaw Country channel.
To recycle another press release (which makes my job so much easier), the format of Outlaw Country was created by Executive Producer Little Steven Van Zandt. "Outlaw Country is a sanctuary for the freaks, misfits, outcasts, rebels and renegades of country music," said Little Steven. "In other words, Mojo Nixon has finally found a place where he belongs. We welcome him to the Sirius family with great pride and greater trepidation."
In a time when the American government fines outrageous sums of money for those that use naughty words on radio or television, I applaud Sirius for providing a real alternative. Nobody should be forced to listen or watch anything that offends them, and more people should learn how to use an "OFF" button rather than demanding censorship for all. I hope there will always be a place for radio programs like the ones that Dave, Steven, and Mojo have created.
As time marches on, we lose a lot of good people. I could spend a lot of time writing all the good people we've lost in the past year, but I'll keep the focus on those in the LOUIE circle, which is substantial.
Hunter Hancock was the very first disc jockey to ever play LOUIE LOUIE on the airwaves when he broadcast Richard Berry's version for the Los Angeles community in 1957. Hunter was recognized as the very first disc jockey in the western United States to spin rhythm and blues records and among the first to broadcast rock 'n' roll. Hunter died of natural causes at the age of 88 at a retirement complex in Claremont, California.
The DooWop Society of Southern California hosted a great tribute to Hunter Hancock back in March 2000. There was some wonderful music that night with Big Jay McNeely, Jeanette Baker, Johnny Flamingo, The Calvanes, The Hollywood Saxons, Vernon Green & The Medallions, and Jewel Akens. A lot of great words were said about Hunter Hancock, and the City of Los Angeles presented a certificate of appreciation to this music legend. It was quite a nice night, and I'm very fortunate to have been there.
Hunter may have left the planet of the living, but you can hear his voice if you can track down a copy of the CRUISIN' 59 LP, or the Doo-Wop From Dolphin's of Hollywood, Vol. 1 CD. The DooWop Society of Southern California has a wonderful biography written by the man himself, as well as a lot of great photographs. There's also an official HunterHancock.org site.

At the same event where I met Hunter, I also met Johnny Flamingo and Jeanette Baker, who were good friends with Richard Berry. Johnny died nine months later in December 2000. Last month, there was an excellent article in the UK Guardian about a son's quest to find about Johnny Flamingo, the father he never knew. It's a heartfelt story well worth reading.
One man that did a lot of work to promote the legacy of garage rock was Mr. Greg Shaw, founder of Bomp! Records. As a journalist, and owner of an independent record label, Greg spent a lifetime championing the cause for the type of music we now call "garage rock."
In the mid-1960's, he started "Mojo-Navigator Rock & Roll News," a magazine that predated Rolling Stone and featured such unknown critics as Lester Bangs, Greil Marcus and Dave Marsh (him again!). In the early 1970's, he started another publication called "Who Put the Bomp" and also worked at United Artists Records. When one of his favorite bands, the Flamin' Groovies couldn't get a decent record contract, Greg started his own Bomp record label, and unleashed "Shake Some Action" as the very first release. After getting the Groovies signed to Sire Records, he accompanied the band for an adventure in England, where he was one of the first Americans to witness an obscure band known as the Sex Pistols. Over the years, Greg promoted and recorded a lot of important bands, including Iggy Pop & the Stooges, the Germs, Sky Saxon, the Pandoras, Brian Jonestown Massacre, the Crawdaddys, and the Fuzztones, to name but a few.
Greg died on October 19th of heart failure at the age of 55. He had some complicated health problems, and underwent a pancreas/kidney transplant in 1999. Steven Van Zandt, host of the syndicated radio show "Little Steven's Underground Garage" (see previous Sirius paragraph), made a public statement soon after Greg's death:
"He was an extraordinarily important individual in the history of rock 'n' roll . He was literally responsible for the contemporary garage-rock movement, which he single-handedly started with the Bomp! label."
You can more about Greg at the Bomp webpage. There's also an excellent tribute by Chip Lamey at the videocrypt.com pages.

Cookie Holley was a kind spirit that I met via the internet. She was an old friend of Richard Berry from the 70's, and she was very happy to see some heartfelt tributes acknowledging his legacy. Cookie had a very interesting personal history. She told me that she was a cousin to Buddy Holly, but I can't remember the full connection. In her rather colorful life, Cookie was a dancer, teacher, writer, graphic designer, make-up artist, actress, and activist. While living in Hollywood, she spent 14 years serving as Metaphysical Minister for the RAM Center, receiving two doctorates and a Ph.D.. At one point of her life, she was also married to Otis Hill, Jr., a drummer and cousin to blues legend, Z.Z. Hill.
In 1998, she had created her own independent music label, BumpNgrind Records, which led to the creation of three internet radio stations and an alliance of approximately 150 disc jockeys known as BumpNgrind Radio. In May 2002, she testified at the United States Senate Committee on the Judiciary on the subject of copyright royalties and webcasting. Her testimony is part of public record at the official Senate webpages.
Cookie died alone at the age of 58 in a small house located in an Oregon forest, surrounded by her pets and computers. Her body was discovered sometime in June. I didn't find out about her death until a few months later. She will be missed.
The comic book and doo-wop communities of the Los Angeles region lost a great ally when Bill Liebowitz died in October. Bill owned the Golden Apple comic stores, which were a great place for pop culture aficionados like myself. When I lived in Los Angeles in 1997, the Golden Apple on Melrose was one of my favorite places to visit, and everyone that worked at the store always made me feel so darned comfortable. Bill provided some of the coolest events of the area, providing a showcase for various cartoon artists, writers, small press publications, authors of music history books, scream queens, rock stars, actors, and even some yo-you experts. At Bill's store, it was always a very casual place to meet good people that might happen to be famous. At Bill's store, we were all customers, and fans of the "good stuff," which was in abundance at this hot spot of fun pop culture.
On the sidewalk in front of the Golden Apple, there were always a couple of chairs available for a friendly chat. I remember a particularly nice time I had when Bill invited me to sit with him in these chairs and tell him all about my documentary project. I had such a nice time chatting with him. Bill had a knack for making you feel as if you knew him for years, even if you barely knew the guy.
If you'd like to read more about Bill, and his legacy, you should definitely check out the Golden Apple Comics website, and Mark Evanier's News From Me site.
I'm sure there's more I could report for the 2004 wrap-up, but I think I'll leave some news for a future update. In 2005, there will be an addition of a LOUIE LOUIE blog, which means current news will be added to these pages on a more regular basis. Currently, the way things are structured, it takes me quite a bit of time to assemble each LOUIE update. I hope to have the new blog in place within the next few months.
My thanks again for all of the people that shared their comments, questions, and stories for THE MEANING OF LOUIE. Your input is greatly appreciated. In the meantime, I want to wish all a happy holidays.
Me gotta go now,
ERIC PREDOEHL

All images & words copyright 1999-2004 Eric Predoehl / OCTALOUIE, LLC, except as noted. All rights reserved. The term "LOUIE LOUIE" is a registered trademark of RMB, Inc, a company owned by The Kingsmen, the band recognized for turning the song into the monster icon heard all over the world.
Send an email to LouieLouie.Net