Back in May, I mentioned a big LOUIE LOUIE party that took place in Berlin, Germany. Here's a report from Juergen: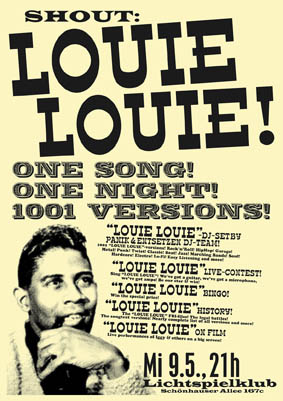 at last i want to tell you how it went with our "louie louie" event in berlin.
sorry, it took a while.
we had a fantastic night!!!
i had the possibility to do a radio interview at one of the most popular radio stations in berlin that afternoon (where i talked about your activities, too) .. and they played the iggy pop version after that … maybe that's the one most of the people here know the best.
so, we had a good advertising and enough people in our club to have a wonderful party! and they loved the live contest! we had a lot of people, that didn't know the song before, but they had a lot of fun, singin it to a live guitar.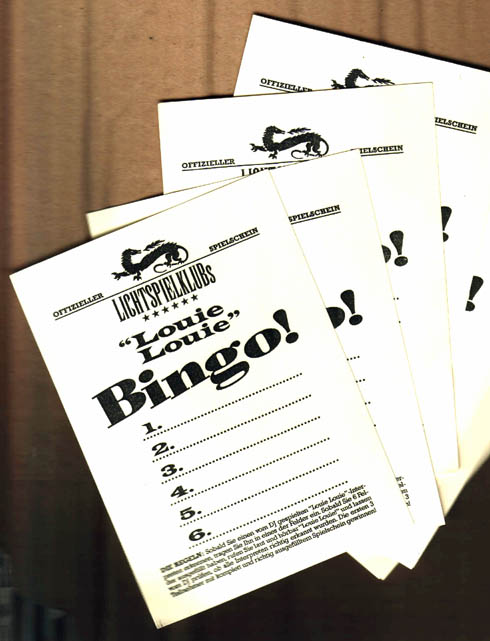 o.k. … the louie louie bingo was a flop, because nobody knew enough to have a chance to win – but who cares – it was a good party!!!

one of our guests was falko hennig, who is a well-known writer here in berlin. he liked it all a lot, too … and falko and me decided to do a second "louie louie" event in september this year. it will be something like a talkshow & party mixture, first a "theoretical" part and after that a "louie louie"-party where we will play our favorite versions and other good stuff that we like! and we will play an inoffical outdoor-sidewalk-dj-set somewhere in the streets the afternoon before, to do some advertising for that. (maybe until the police will stop us? i don't know …).
i will tell you more about that later, if you're interested!

but now i want to try to write down the set list of the louie louie night.
maybe it isn't that long, as you expect, but later that night everybody wanted to sing, so that it all went to a louie louie karaoke and we stopped writing down the versions.

so here it is:

The Headcoats
Tom Petty –
The Beatles
Grateful Dead
Iggy Pop
Blondie
The Troggs
Igyy & the Stooges
Otis Redding
Mongo Santamaria
Kolossale Jugend
Patti Smith
Joske Harrs & The King Creoles
Queers
Nicholas Henze
John Belushi
Spirit of Fire Marching Band
Motörhead
Theme from Futurama
Pretenders
The Really Electric String Quartett
The Louie Louies – Wild Beat Action
Barry White
The University of Washington Hushy Marching Band
3 Amigos (Wise Guys Mix)
The Melowdramatics
Slim Jim – Lilly Lilly
Toots & The Maytals
The Clash
The Sonics
The Cramps
The Kingsmen
Steve Dukes
Flamin' Groovies
Bad Religion
Pure*
Richard Berry and the Pharaos
alarm clock
lokalmatadore – uli uli
39 clocks
paul revere
the undertones
Billy Childish
Ian Whitcomb
Black Flag
The Kings
Rockin Robin & the Wailers
Elekäsiset
Fat Boys
The Doors
Julie London
Mr. Hetfield's Rock'n'Roll Summer School
Joan Jet & The Blackhearts
Radio Jingle Louie Fest 2006
Ike & Tina Turner
The Angels
The Louie Louies – We are the Louie Louies
Time Code & Steve Sperling
Maureen Tucker
3 Amigos (Original Mix)
Bruce Springsteen
The Last
Dave Matthews Band
2-Pump
Half Japanese
A version from NL (amateur)
Pink Finks
Algarete
The Feelies
Beach Boys
The Impossibles – Halle Louie Chorus
The Fall
Guru Josh
Sandpipers
Shockwaves
Slim Jim – Theme from Lilly Lilly
Mago Santamaria
Phallus
Charlie & the Tunas
J.R. Cadillac
The Cramps
Les Dantz & His Orchestra
Mojo Nixon – Christmas Christmas

and than it all went a bit confusing because of the singing people and we stopped writing down …
maybe some of the musicians names are written incorrect – it was hard to read the list. maybe we've been a little bit drunk after all, too.
some versions we played double and the julie london version was played maybe 10 times in the end, because late at night a nice girl always wanted to sing to it …
so that was it!
no 1.001 versions at all and we couldn't even play the maybe about 200 that we had …
the PURE version was especially produced for the night. PURE is a breakcore project from berlin … really rough and heavy electronic music. great! we played it, when the list of all versions (we took that from louielouie.net, of course we noted louielouie.net there, too) was projected on our big screen.
thanks again for your support and best regards!
juergen