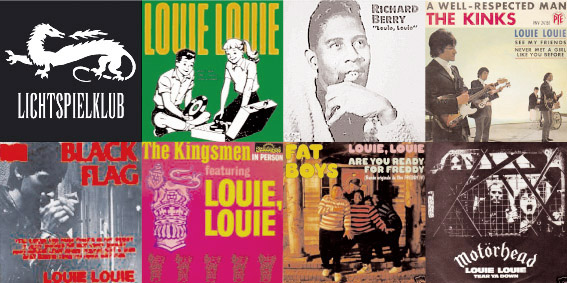 This Wednesday, May 9th, there's going to be a big LOUIE LOUIE party in Berlin, Germany.
One Song. One Night. 1001 Versions!
A massive celebration of the 50th anniversary of the song!
A big LOUIE LOUIE contest!
LOUIE LOUIE films!
LOUIE LOUIE gambling with LOUIE LOUIE Bingo!
Lots of prizes!
WOW!
I wish I could fly out to this one! It sounds like a whole lotta fun!
Here's the official press release, forwarded to my my friend Theo DeGrood of The Louie Louie Pages. If you don't read German, try using Google Language Tools to get a robotic translation.
"SHOUT LOUIE LOUIE!"
One Song. One Night. 1001 Versions.
Eine Hommage an den am zweithäufigsten gecoverten Song der Musikgeschichte.
Mit:
"LOUIE LOUIE" DJ-Set mit Panik & Entsetzen DJ-Team!
"LOUIE LOUIE" Live Contest für Alle!
"LOUIE LOUIE" Bingo!
"LOUIE LOUIE" Geschichtsstunde!
"LOUIE LOUIE" On Film!

"LOUIE LOUIE" WIRD 50!
Richard Berry hat es komponiert und im April 1957 das erste Mal als B-Seite veröffentlicht, The Kingsmen haben es populär gemacht und Iggy & The Stooges haben es erstmals grandios zerschreddert. Der Song "Louie Louie" ist nach "Yesterday" der am zweithäufigsten gecoverte der Musikgeschichte. Um dieses Lied ist ein nahezu religiöser Kult fanatischer Fans entstanden, die jede der inzwischen über 1500 Versionen besitzen wollen. Der Komponist des Songs lebte später von Sozialhilfe, das FBI ermittelte und führte Akten über das Lied und inzwischen spielt es jede Garagenband, die etwas auf sich hält.
Es ist Zeit für den Lichtspielklub, Tribut zu zollen!
Und das geht so:

PANIK & ENTSETZEN DJ-TEAM PLAYS "LOUIE LOUIE"
"LOUIE LOUIE" von Klassik, Rock'n'Roll, Soul, Rocksteady, Marschmusik, HipHop, Punk, Hardcore, Electro bis Garage. Von Motörhead, Black Flag, Fat Boys, The Clash, Jon the Postman, Billy Childish, Grateful Dead, Iggy Pop, Maureen Tucker, Frank Zappa, The Kingsmen, R.E.M., Bad Religion, Otis Redding, The Doors, Kolossale Jugend, Ike & Tna Turner, The Sonics und jede Menge mehr.

"SING LOUIE LOUIE!" – Der Live Contest
Ein Mikro, eine alte Gitarre plus Verstärker und Verzerrer für beides und jeder kann "LOUIE LOUIE" damit auf schönste oder schrecklichste Weise interpretieren. Ob mit oder ohne Talent: "Be our star!"

"LOUIE LOUIE" BINGO
Spielscheine liegen im Lichtspielklub aus. "Win the special price!"

THE HISTORY OF "LOUIE LOUIE"
Die "LOUIE LOUIE" Geschichtsstunde: Kopien der FBI-Akten, Plattencover, verschieden Songtextfassungen …

"LOUIE LOUIE" ON FILM
Livemitschnitte von Iggy Pop u.a. auf grosser Leinwand!
Click on Lichtspielklub.de for more information about this truly inspired event!
To paraphrase John F. Kennedy, "Ich bin ein Berliner" or "I am a jelly doughnut!"
Anyone have any frequent flyer credits they want to donate? I'll be happy to catch a flight from San Francisco or San Jose, bringing a camera to document this event!