Last week, as I read about the misinformation about the "Portland restaurant recording studio," I thought it'd be good to properly acknowledge the actual studio, especially as was the location was recently transformed back into a recording studio again.
Sometime in April 1963, two very different musical groups decided to book a session at a recording studio in Portland, Oregon. They didn't collaborate on their two respective plans, but they wound up recording the exact same song, approximately one week apart. One band used their particular recording as their initial release as the very first rock & roll band signed to the world's largest record label. The other band supposedly used their recording as a tool to solicit employment for a cruise job, but somehow wound up with an unlikely hit recording in the United States, gaining exposure first as a unique novelty song before becoming the subject of an extensive F.B.I. investigation, which somehow merely added greater notoriety and credence to their status as "rock and roll bad-boys."
The two groups were Paul Revere & the Raiders, who were signed to Columbia Records, and the Kingsmen, who wound up at Wand-Scepter Records. Both of these groups recorded at Northwestern Inc., a recording studio owned and operated by Robert Lindahl. This particular studio, based at 411 SW 13th Avenue in Portland, was also a place where both Johnny Ray and Jimmy Rodgers recorded a couple of hit records.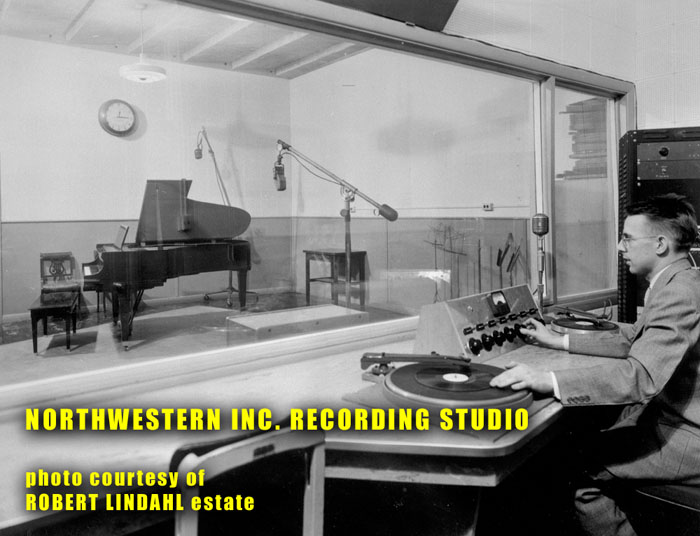 Robert Lindahl purchased the studio from his former employer John Keating in 1954, who also had a studio in Seattle. Sometime in the mid-60s, Mr. Lindahl and his business partner, Sheldon Goldstein, renamed the studio as Northwestern Inc., Recording and Motion Pictures, and eventually moved the operations to a much larger building in Portland at 011 SW Hooker Street.
( You can more about the history of this and other Northwest recording studios by visiting Peter Blecha's article at HistoryLink.org.)
It's been quite a few years since the building at SW 13th and Burnside has been used as a recording studio. In the 20+ years since I've been paying attention, it's had quite an interesting history as the building has been used for a variety of different types of operations, which included an atheist center, an adult nightclub, and various other identities.
As fate would have it, the building is once again the home of a recording studio! (ALMOST – see update at end of this posting)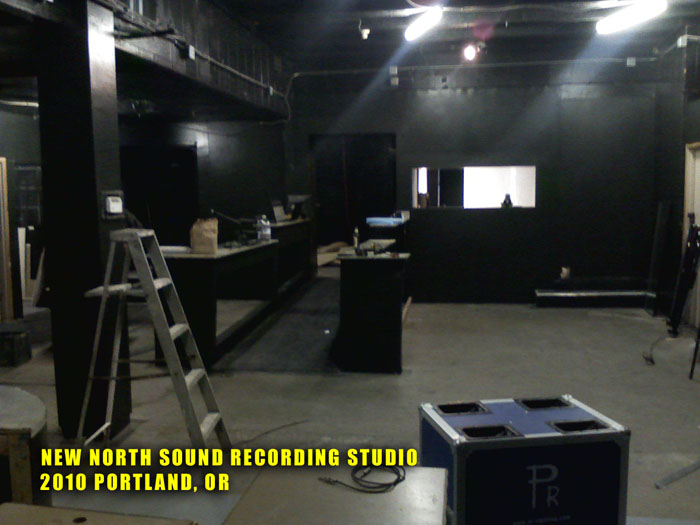 The new studio, based at the official address of 415 SW 13th Avenue, shall be known as "New North Sound." Brandon Jiaconia and Noah Woodburn are the two masterminds behind this operation. They've been doing a lot of interesting work there, including sound design for Dalai Lama Renaissance, an award-winning documentary that happens to be narrated by Harrison Ford.
You can find more information about this new recording studio by visiting their official website at NewNorthSound.com.
I wish these guys the best of luck. This is great location and I hope they can survive with the economy being what it is these days. I'm very glad to see this building used in a manner that celebrates its legacy.
The first time I visited this location, there was a very special ceremony to celebrate the song LOUIE LOUIE.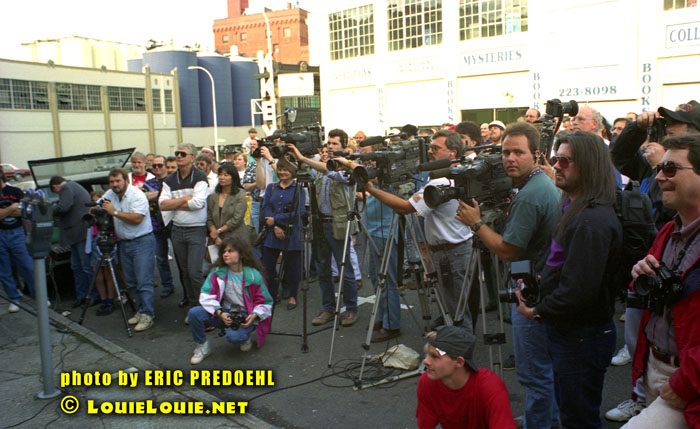 On July 2, 1993, the Oregon Historic Society held an event to commemorate this building as a historic landmark with a special plaque acknowledging this location as the site of the legendary LOUIE LOUIE recording.
Songwriter Richard Berry, the Kingsmen, and various participants of the LOUIE legend were invited as VIP guests to this very special ceremony.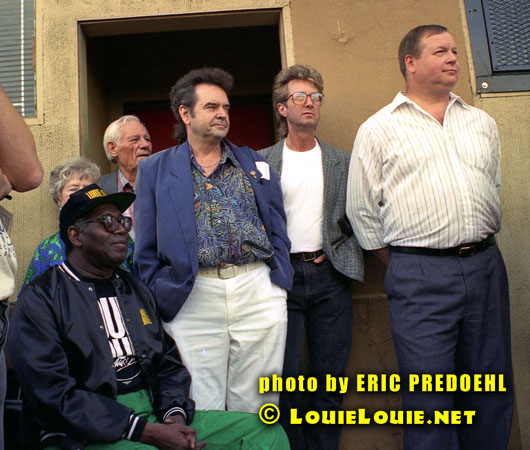 Around the same time as this ceremony took place, Dave Marsh's book on LOUIE LOUIE had just been released, which coincided nicely with current events.
In this never-before seen photo, you can see Richard Berry, Pat Mason (Northwest promoter, whose chin is covered), Ken Chase (producer of Kingsmen recording), Jack Ely (Kingsmen vocalist), and Bob Nordby (Kingsmen bassist).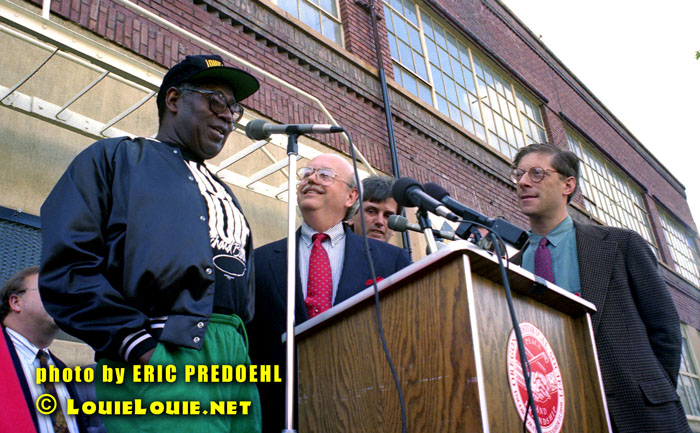 Richard Berry, who was performing that weekend at the annual Portland Waterfront Blues Festival, spoke out about this special honor, acknowledging that during the height of the Kingsmen's fame, he had no idea who these guys were or where they were from.
From left to right, you can see Richard Berry, Roger Hart (Portland DJ and former manager of Paul Revere & the Raiders), Mike Mitchell of the Kingsmen and Chet Orloff, representative of the Oregon Historical Society.
Robert Lindahl, the original owner/ operator of Northwestern Inc recording studio, was there in attendance, accompanied by his wife Marlene Lindahl.
Mike Mitchell was the only member of the Kingsmen, that spoke at this event, which was probably the last time the original Kingsmen ever appeared together in one place, albeit without Don Gallucci, the original keyboardist. Whether these guys ever reunite again in one place is anybody's guess.
In this photo you can see Dick Peterson in front of Bob Nordby, Jack Ely, Steve Peterson behind Mike Mitchell, Lynn Easton, Norm Sunholm, and Barry Curtis lurking behind Todd McPherson.
As fate would have it, the plaque was vandalized from the location, never to be seen again.
Ironically, there was a mistake on this plaque. The plaque listed "April 13, 1963" as the date that recorded LOUIE LOUIE, which was actually the date Paul Revere & the Raiders recorded LOUIE LOUIE. The actual date for the Kingsmen recording was April 6. 1963, as confirmed by Dick Peterson's LOUIE LOUIE book, which referenced the actual recording notes on the master tape box.
So whoever stole the plaque, the joke's on you!
UPDATE: Within 48 hours after I posted this blog post, I received this message from Brandon Jiaconia, one of the owners of NewNorth Sounds:
Hey, I saw the rebirth of a studio write up…thanks for the kudos… I should also apologize for not getting back with you earlier, but we have been super busy. Since May, we recorded almost 10 albums and EP's. But our lease on the space was not permanent, and the owners of the building have gone ahead with plans to redevelop the building into several store front retail spaces. So we have just moved out and are mixing the last album recorded in the space while we look for a new spot. I can get you a list of projects we recorded there as well as some music links and better photos of our old space if you're interested. The information about the Dalai Lama Renaissance is incorrect, Noah has been working with the director recording music and sound for three of his upcoming documentary releases. One of which he is traveling to India to film with the Dalai Lama next month.
This is unfortunate. A few months ago, I received promotional information about this new studio. I was hoping to receive some current photographs of what the "final" interiors of the looked like, so I put off writing the blog post. When the Ken Kesey biography came out recently, sharing misinformation about the Portland recording studio, I figured it would be a perfect opportunity to discuss the original studio and talk about the new studio.
Such is life – commercial real estate is often a transitory business…..
In the meantime, here's a list of some of the new bands that had a chance to record at this iconic location, with weblinks…
Brothers Young
Medicine for the People
Max Ribner
Leaves Russell