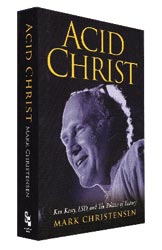 The Willamette Week recently posted some excerpts from the unauthorized biography of Ken Kesey, "Acid Christ," which was written by Mark Christensen.
Here's one paragraph that caught my attention, with thanks to my friend Cindy Lindahl, who first spotted this….
It is perhaps symbolic—or fitting—that the classic comic tour de lunacy, Animal House, which was filmed largely around Kesey's old Beta Theta Pi fraternity house at the University of Oregon, was set in 1962—the same year Cuckoo's Nest was published, and the same year that future Oregon Governor Tom McCall produced a film documentary, Pollution in Paradise, that revealed an Oregon being destroyed by industrial waste, a film that initiated the national environmental protection movement. It was a year later that the Kingsmen recorded the new national anthem, "Louie, Louie," for $36 in the basement of a Portland restaurant. In the years that followed, Cuckoo's Nest went on to sell 7 million copies in 66 editions and has never gone out of print, a perennial bestseller long after its message of liberation and misogyny and enlightened schizophrenia helped open the Pandora's Box that was the 1960s. And Kesey's next novel, Sometimes a Great Notion, made Oregon, or at least the idea of an Oregon, the protagonist; a wild dark-souled wilderness alive with spirits and horrors.
Just so you know, LOUIE LOUIE was NOT recorded in the the basement of a Portland restaurant. I have no idea where this idea came from. Having visited the site of the former recording studio, I can assure you that it's not a basement…
My friend Cindy would back me up on this one. Her father, Robert Lindahl, was the owner/operator of Northwestern Inc., the studio where both the Kingsmen and Paul Revere & the Raiders recorded their versions of LOUIE LOUIE.