We recently learned that Annette Williams, a founding member of the Dreamers, passed away on August 1st.
The Dreamers were the band that backed up Richard Berry for his first solo recordings after he left the Flairs.
The Dreamers were originally a vocal harmony group that was created by six teenage girls in 1953 at Fremont High School in Los Angeles. Previously, three of those young ladies – Gloria Jones, Fanita Barrett and Jewel Cobb had bonded at a Glee Club at Edison Junior High. Fanita would later invite three other singers she had known from Russell Elementary School to join them. Pat Howard, Annette Williams and her twin sister Nanette Williams would become members of the group that would be known as the Dreamers.
The group initially focused on spiritual songs, as the families of Cobb and Howard disapproved of their daughters singing secular music. Eventually, both Pat Howard and Jewel Cobb would leave the group, as the Dreamers would expand their repertoire to include more popular songs.
The Dreamers would participate in local talent contests, which would lead to support from former Fremont student Dexter Tisby of the Penguins, vocal coach Eddie Beal, and singer Beverly Thompson of the Flairs, who introduced them to Richard Berry, who was in the process of launching his solo career.
As Richard Berry was signed with Modern Records, he brought the Dreamers into the recording studio to cut a record in 1954.
Their first release, credited as The Dreamers featuring Richard Berry on Modern's Flair subsidiary label, included a cover version of "At Last" – originally a Glenn Miller song that would become a big hit for Etta James six years later, and "Bye Bye (Baby)" – a song that was likely written by Richard Berry, but credited to "Joe Josea," an alias used by record company honcho Joe Bihari.
This was followed by two records by Richard Berry and the Dreamers on the Flair label. As Richard Berry moved from Modern/Flair to Flip Records in 1956, the Dreamers also made the transition to Flip, recording two Richard Berry compositions "Since You've Been Gone" and "Do Not Forget" as a single by The Dreamers.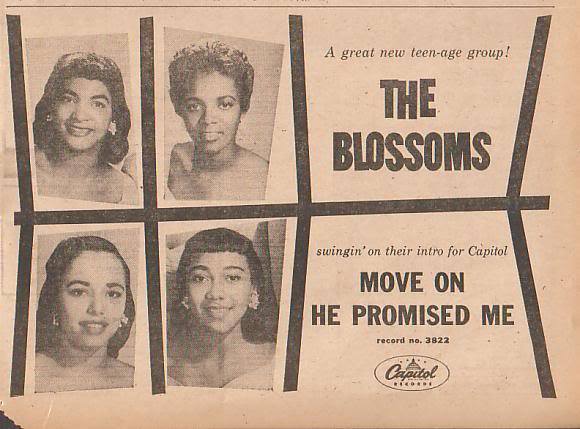 In 1956, Gloria, Annette and Fanita would also record two singles for Class Records, semi-anonymously as the Rollettes. Next year in 1957, the four Dreamers would be signed to their first major label, Capitol Records, whose executives would rename the band as The Blossoms. When Nanette took a leave of absence from the Blossoms to have a baby, she was replaced by a younger singer by the name of Darlene Wright, who would later change her name to Darlene Love. After disappointing sales with their three Capitol releases, the Blossoms were dropped from the label, but found success as backup singers, working with a long list of prominent musicians that included Phil Spector, Aretha Franklin, Sam Cooke, Elvis Presley, James Brown, and Jackie Wilson, among others. By 1964, Fanita (with a new last name of James), was the last original Dreamer with the Blossoms when they became the resident vocal group for the Shindig TV show.
In February 1996, there was a special show featuring the reunion of both Richard Berry and the Dreamers as well as Richard Berry and the Pharaohs. Annette, Nanette and Gloria reunited as the Dreamers, and Godoy Colbert, Robert Harris and Eugene Maye reunited as the Pharaohs. It would be the last show of this type, as Richard Berry would leave us in January 1997.
In 2013, the Blossoms / Dreamers were highlighted in the Oscar-winning documentary "20 Feet From Stardom."
With the passing of Annette, also known as Annette W. Boyd, she is survived by her husband Voner, her children, grandchildren, great grandchildren and friends.
References:

L.A. R&B Vocal Groups 1945- 1965 by Steve Propes & Galen Gart
Big Nickel Publications
https://www.vocalgroupharmony.com/books.htm

The Dreamers – They Sing Like Angels
Ace Records CDCHD 829 (liner notes by Opal Nations)
https://acerecords.co.uk/they-sing-like-angels
http://opalnations.com/files/Dreamers_They_Sing_Like_Angels_Ace_CD_CHD_829_2001_.pdf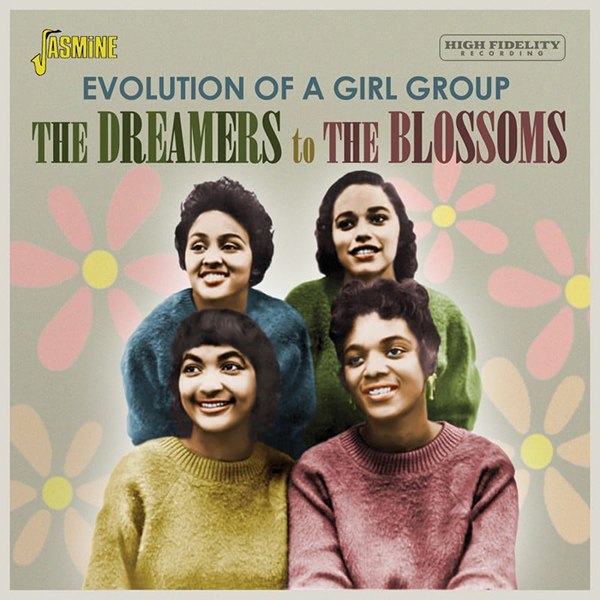 The Dreamers To The Blossoms – Evolution Of A Girl Group
Jasmine JASCD1092 (liner notes by Roger Dopson)
https://jasmine-records.co.uk/en/rock-roll/3442-the-dreamers-to-the-blossoms-evolution-of-a-girl-group.html
The Dreamers & The Blossoms (Electric Earl page)
http://www.electricearl.com/dws/dreamers.html
The Blossoms (history-of-rock.com)
https://www.history-of-rock.com/blossoms.htm
DREAMERS GROUPS – PART ONE (Vocal Group Harmony website)
https://www.vocalgroupharmony.com/4ROWNEW/ByeBye.htm
MODERN RECORDS – PART EIGHT (1952-1958) (Vocal Group Harmony website)
https://www.vocalgroupharmony.com/7ROWNEW/ModernRecordsPartEight.htm
The Blossoms (Wikipedia)
https://en.wikipedia.org/wiki/The_Blossoms
An Appreciation of The Dreamers to The Blossoms (LouieLouie.net!!)
https://www.louielouie.net/blog/?p=12466
At Last! (the Etta James song that Richard Berry recorded with the Dreamers 6 years earlier) (LouieLouie.net!!)
https://www.louielouie.net/blog/?p=10051