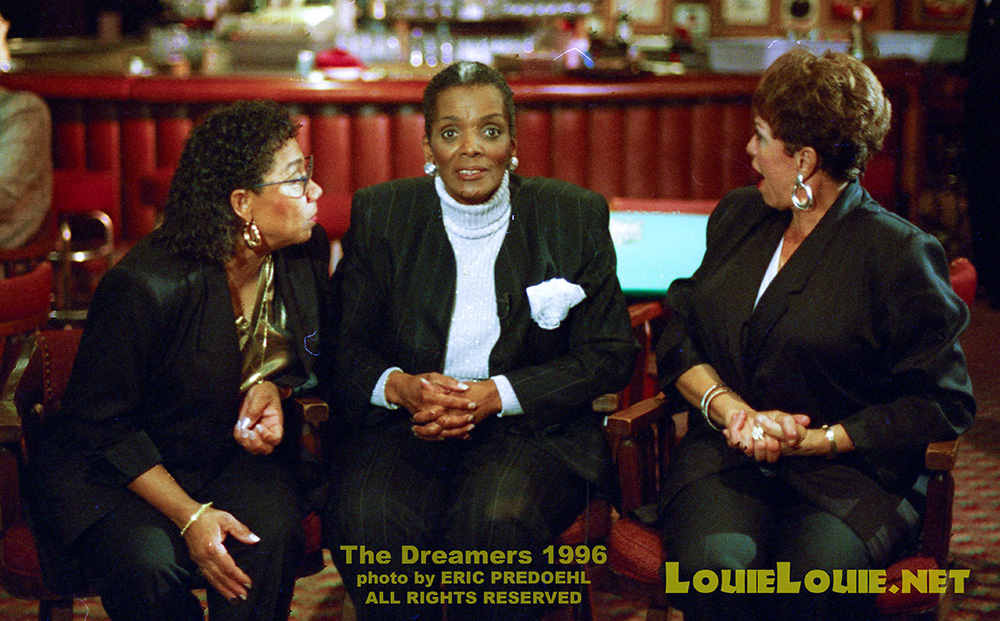 This week, we're pointing the mighty LOUIE spotlight at The Dreamers, a vocal group that would became the Blossoms. As music writer Jay Warner once declared, this band was "the most successful unknown group of the 60s."
Richard Berry, the man who wrote LOUIE LOUIE, played a significant role in the early years of this musical group of teenage girls that included Gloria Jones, Fanita Barrett, twins Annette and Nannette Williams, as well as Jewel Cobbs and Pat Howard. When they met Richard, he was a recording artist that was transitioning from a member of the Flairs to a solo artist. He became a mentor and dear friend for these young ladies, as he brought them to Modern Records, where they were christened with "the Dreamers" name and signed to the Flair Records subsidiary label.
Their first recording, as The Dreamers featuring Richard Berry in 1954, included a cover version of "At Last" – originally a Glenn Miller song that would become a big hit for Etta James six years later, and "Bye Bye (Baby)" – a song that was probably written by Richard Berry, but credited to "Joe Josea," an alias used by record company honcho Joe Bihari.
After an appearance by the Dreamers on Johnny Otis' radio show to promote this new record, Jewel Cobbs and Pat Howard found themselves at odds with their fathers over this controversial rhythm and blues music, and had to quit the band. The Dreamers continued to record for Flair Records, as Richard Berry & the Dreamers or simply "The Dreamers" before moving over to Flip Records, where Richard was recording with a band known as the Pharaohs.
When Richard Berry and the Pharaohs recorded the very first version of "Louie Louie," Gloria Jones of the Dreamers, was the only woman singing backup vocals. As fate would have it, she is also the last survivor of that recording session.
After some semi-concurrent sessions with three Dreamers recording as The Rollettes for Googie Rene's Class record label, the Dreamers signed to Capitol Records in 1957 as The Blossoms. When Annette Williams took a leave of absence to have a baby in 1963, Darlene Love stepped in as a replacement, which changed the dynamics of the group.
Over the the course of 45 assorted years, members of the Dreamers-Blossoms did recordings for Phil Spector, and performed as backup singers for such artists as Sam Cooke, Gene Autry, Aretha Franklin, Doris Day, Tom Jones, Dick Dale and Elvis Presley.
Morgan Neville's 2013 Oscar-winning documentary "20 Feet from Stardom," shared some of the stories of Dreamers-Blossoms
I'm grateful Richard Berry invited me to what turned out to be the final performance of Richard Berry and the Dreamers. Here's a snippet from that performance that took place on February 24, 1996 in Long Beach,California…
There's two great CD compilations of the Dreamers-Blossoms that I can recommend:
The Dreamers – They Sing Like Angels from Ace is an excellent compilation that focuses on their recordings on Flair/Modern, Flip and Class. The CD includes a 12 page booklet with extensive liner notes by Opal Nations. It also features the original LOUIE LOUIE, featuring the best transfer you'll ever hear of this recording, as Ace did superb mastering from the original Flip tapes that they own.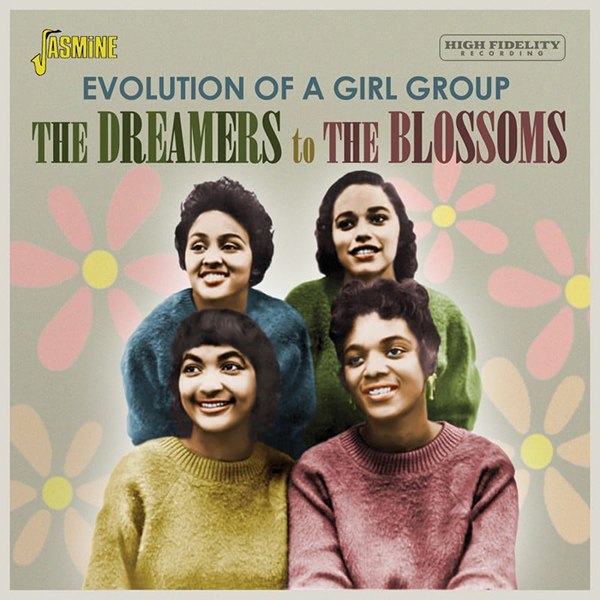 The brand new CD from Jasmine – The Dreamers To the Blossoms – Evolution of a Girl Group is the first compilation that collects both of these groups, as well as some of the assorted sessions with Duane Eddy, Ed Townshend, and Phil Spector. While not as encyclopedic as the Ace CD 12 page liner notes, the fold-out liner notes by Roger Dopson are also superb with some information that's unique to this collection.
With this particular CD, I discovered "Little Louie" – a recording by the Blossoms that was released as a 45 single by Capitol Records in 1958.
Perhaps this track is reminiscent of another song named LOUIE, like maybe that other one that came out in 1957?
Hmmm…. you tell me…

The Blossoms – Little Louie on Capitol CL14856
This is also a good chunk of vinyl to own.
While there's NO liner notes or even photos of the Dreamers with this album, the music is quite wonderful, and the Fazio painting is well worth framing!
… also available on 8-track…. if you can find it! (I got mine)
For more information on this band, I would encourage you to seek out additional articles by Opal Nations, Jay Warner, Steve Propes, Galen Gart, and Electric Earl, as well as the book by Darlene Love.
(check the links below)
_____________________________________
Reference links:
Electric Earl (Doo Wop Society of Southern California) – The Dreamers & The Blossoms
The Opal Nations website – a great resource for roots music history, including a wonderful article on the Dreamers and a cool illustration of Richard Berry. (A fun webpage to get lost in)
American Singing Groups – Jay Warner
L.A. R&B Vocal Groups, 1945-1965 – Steve Propes & Galen Gart
My Name is Love – Darlene Love
The Dreamers – They Sing Like Angels
The Dreamers To the Blossoms – Evolution of a Girl Group
LOUIE REPORT – Gloria Jones' 80th Birthday