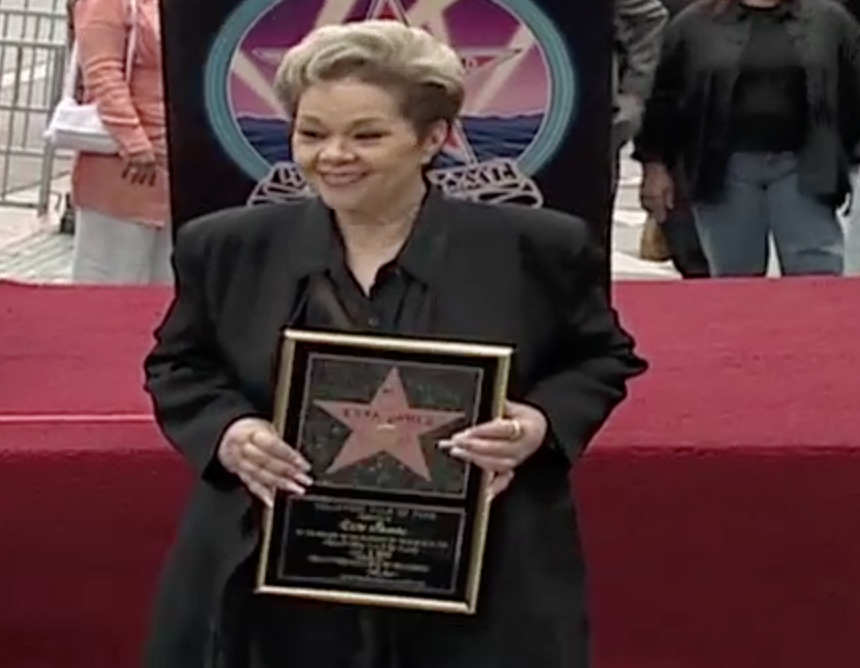 I just learned that today is the 16th anniversary of the moment in time when Etta James was honored with a star on the Hollywood Walk of Fame April 18, 2003 in Hollywood, California.
With this in mind, I thought I'd provide a little history lesson about a song that became Etta's most popular recording.
In 1954, a few years before Richard Berry wrote and recorded LOUIE LOUIE, he actually recorded a cover version of a song with the Dreamers (pre-Blossoms) that would later become a hit for his future friend Etta seven years later…
On YouTube, mutleybird of ModCollectibles.com shared this clip of this version, with this description:
Richard Berry sings lead here. I mixed the piano & background vocals to be heard better. The Dreamers are also Fanita Barrett, Jewell Cobbs, Patricia Howard, Gloria Jones, Annette Williams, and Nannette Williams.
The original version of this song was first shared as an instrumental in the 1941 musical film "Sun Valley Serenade," then shared with full vocals in the 1942 musical film "Orchestra Wives."
ReysMusicLounge shared the backstory of this song with these YouTube notes…
"At Last" is a 1941 song written by Gordon Mack and Harry Warren for the musical film "Sun Valley Serenade" (1941), starring Sonja Henie and John Payne. Prior to release, it was performed in the film by Glenn Miller and his orchestra, with vocal by John Payne and Lynn Bari, dubbed by Pat Friday. Studio head Darryl Zanuck reportedly said, "There are too many big ones in this. Let's save one for the next." The "At Last" vocal by Payne and Bari was thus deleted, although instrumental versions remained in the film, including in the Black Ice Ballet finale.

"At Last" was added to Glenn Miller's subsequent and only other film, "Orchestra Wives" (1942), starring George Montgomery and Ann Rutherford. Vocal was by Ray Eberle and, again, Lynn Bari, dubbed by Pat Friday.

Unreleased recordings of the song had been made in 1941 by Glenn Miller. A new version was recorded by Glenn Miller and His Orchestra in Chicago on May 20, 1942, and released by RCA Victor Records as a 78 single, catalogue number 27934-B, backed with the A side "(I've Got a Gal In) Kalamazoo". The song reached number 9 on the Billboard pop charts in 1942, staying on the charts for nine weeks, and later became a standard.
In 1960, Etta James recorded a completely new arrangement of this song (courtesy of Riley Hampton) which was the title track of her Argo Records debut album "At Last!" (note the extra exclamation point!), which was released in April 1961.
As Wikipedia pointed out, Etta's version of this song appeared in the films Rain Man, Pleasantville, American Pie, and Inland Empire, and such television series as It's Always Sunny in Philadelphia, Northern Exposure, Bates Motel, Criminal Minds, The Simpsons, The Good Place, Two Guys and a Girl, and Chuck. It has also been used in television commercials for such products as Jaguar automobiles, Hoover vacuum cleaners, State Farm insurance, and Applebee's restaurants.
Spotify declared this version of the song as the #2 song played at weddings!
Richard and Etta first met during the recording of the song "Roll With Me, Henry" in 1955, but we'll save that story for another time…
(Special thanks to Deborah Roldan-Dixon for alerting me to the anniversary of Etta's Hollywood star!)
REFERENCE LINKS:
Wikipedia – At Last (the song)
ThisInsider.com – The 50 most popular first dance songs for weddings, according to Spotify