Last Sunday, October 20th, KFJC Radio held an Open House as part of their 60th Anniversary celebration.
As many of you probably know, KFJC Radio was the place where the legendary "Maximum LOUIE LOUIE" marathon took place many decades ago. Songwriter Richard Berry met original Kingsmen vocalist Jack Ely for the very first time, and together, they performed a 45 minute version of LOUIE LOUIE, backed by the Lady Bo Trio. When this event finally ended 63 hours later, there were over 800 unique versions that were broadcast, and Richard's life was forever changed by this experience.
It was wonderful to run into a lot of friends from the KFJC community, including a lot of disc jockeys that participated in the big LOUIE marathon, including Jeff Stretch Riedle, Doc Pelzel, Cookie Baker, Buddy Awreetus, J.C. Clone, Al Monday, Sherman Peabody, Robert Emmett, Cory, Danny Detroit, Keith Sparks, Spliff Skankin, Hawkeye Joe and probably some others that escaped my memories…
Here's a few of the KFJC folks, most of who were part of that part of that LOUIE Marathon …
One of the local newspapers, the (San Jose) Metro had a big cover story on the KFJC 60th Anniversary, which mentions the LOUIE marathon.
It's an excellent article, but there's four statements that I would take issue with.
1) "Inspired by the marathon, Rhino Records released a "Louie Louie" double-album compilation, for which Doc wrote the liner notes."
Actually, the Rhino "Best of LOUIE LOUIE" LP wasn't so much inspired by the marathon, but was more of a project that was released in conjunction with the marathon. Rhino Records was thinking about putting out a LOUIE LOUIE compilation, and this turned into a coordinated effort working with KFJC Radio, releasing the album on the first day of the LOUIE marathon.
It was a single album. The second Best of LOUIE LOUIE" LP came out a years later.
2) "In 1959, Richard Berry was just 24, a poor artist trying to get enough money together to marry his sweetheart."
In 1957, Richard sold the rights to LOUIE LOUIE and three other songs, and then married his girlfriend Dorothy Adams not long afterwards on March 23rd. A few weeks later, LOUIE LOUIE was unveiled to the world in early April as the flip side to Flip Record release of "You Are My Sunshine."
3) "About 30 hours into Maximum "Louie Louie," Berry got a call from an artists' rights firm. Having heard about the marathon, they wanted to help him get the rights to the song back."
Richard Berry had already enlisted the services of the Artists Rights Enforcement organization before he participated in the KFJC event. That being said, this event made the negotiations easier to pursue, especially as this LOUIE event became the subject of a front page article of the Wall Street Journal*.
4) "(Richard Berry) still didn't make as much money as he should have, but at least he was able to end his life by reuniting with his family, playing music with his son and driving a Cadillac."
A few things to note:
– From what I've been told, Richard was always there for his kids and ex-wives, so there was never a need for any type of "reunion."
– As far as I know, Richard didn't own any Cadillacs. The main vehicle I remember him driving was a truck that was photographed for Art Fein's book "The L.A. Musical History Tour," which you can see in this picture below this paragraph.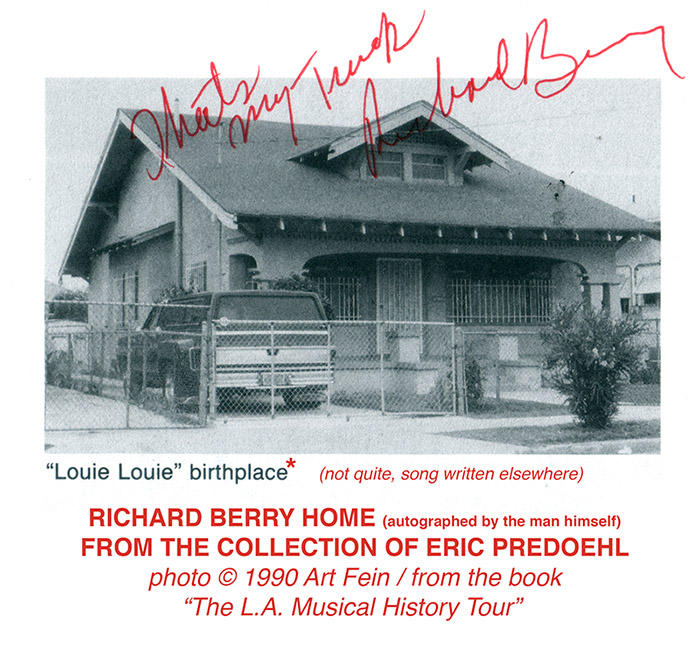 For the record, LOUIE LOUIE was written in 1955 by Richard Berry at the Harmony Park Ballroom in Anaheim, California. According to Dorothy, at that particular time, Richard was living with his father at another house in Los Angeles, and not the one shown in the photograph.
Here's a snippet of the video featuring Richard Berry, Jack Ely and the Lady Bo Trio at the KFJC Maximum LOUIE LOUIE event.

https://www.youtube.com/watch?v=y5bL7lcCwuM
Here's a group shot I created of the KFJC staff – one year before the LOUIE marathon.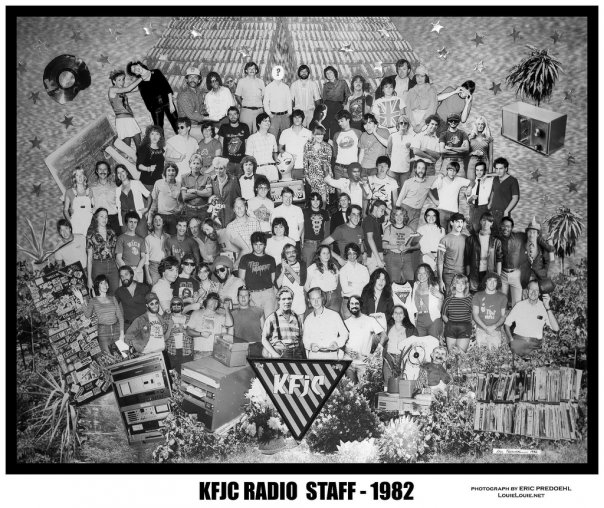 – E.P. of LouieLouie.net
* The August 25, 1983 issue of the Wall Street Journal is the one to find. It's not easy to access via an online search, so visit your local library if you care to view it.
_________________________
Reference Links:
(San Jose) Metro – (webpage title) "Rebel Radio" / (newspaper title) "Alternative Airwaves" / (cover story) "No Rules Radio"
Metro PDF – downloadable issues
Celebrating KFJC Radio 60 Year Anniversary
Memories of KFJC Maximum LOUIE LOUIE