Today is a special anniversary for the KFJC Maximum LOUIE LOUIE marathon event that began at 6 pm (PDT) on Friday, August 19th of 1983 in Los Altos Hills, California. For 63 hours, the song was celebrated with a special live radio broadcast that showcased over 800 unique recordings of the song written by Richard Berry.
This was the event that inspired the documentary project of which this webpage is a part of.
Today to celebrate this event, we're sharing some rare, never-released footage from that wild weekend.
Here is a rare video recording of Richard Berry performing his 1956 composition "No Kissin' And A-Huggin,'" which was part of the un-aired warm-up session before the live 45 minute version of LOUIE LOUIE, both of which were backed up by the Lady Bo Trio along with special guest Jack Ely, original vocalist of the Kingsmen.
Apologies for this being a truncated version of the song. When I originally shot this footage, I really should have captured the whole performance of this song… but what's done is done, and this is what I've got…. one of the very few video recordings of Richard performing this very special song.
My friend Jeff Stretch Riedle also shared some memories of that weekend…
The live 45 minute version was something else. Once it started, and it was done without any rehearsal, it developed a life of it's own. Lady Bo's added lyrics were priceless. In addition to the infamous Jack Ely being there (who barely 24 hours earlier was sitting at home many miles away) and meeting AND performing with Richard for the first time, many of those in the crowd who were locals also got to participate. Musicians and singers alike added to the performance, all done in an impromptu manner. [Even Stretch tried his hand at singing a few words, but he also noted that he forgot them while doing so. Imagine hearing Louie Louie over and over and not being able to remember the words?!!]
Here's a snippet from that legendary 45 minute performance of LOUIE LOUIE…
I'm also sharing some images from that LOUIE LOUIE weekend, many of which have also never been seen before.
Before the Maximum LOUIE LOUIE marathon began, there was a special record release party at Tower Records in Mountain View to celebrate the brand new "BEST OF LOUIE LOUIE" album released by Rhino Records, which came out in conjunction with KFJC Radio.
All these images are screen captures from 3/4″ videotapes.
Richard Berry signs an album for a young woman whose name has been misplaced.
Here's another woman whose name has also been misplaced.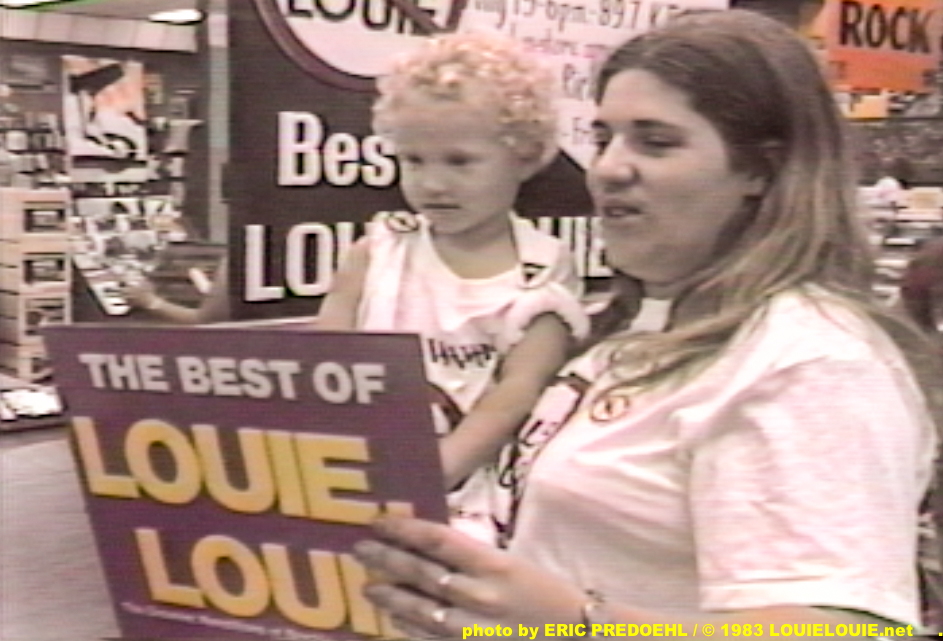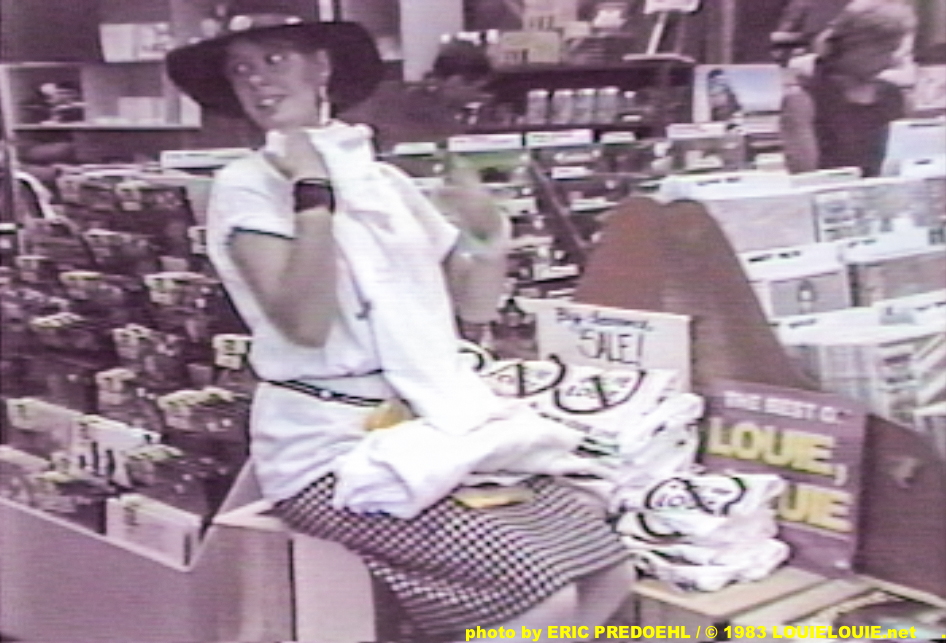 This our friend DJ Robyn Ginsburg (Braverman), aka "Niki Teen."
Here's Robyn with DJ Hannah Seaver, aka "Hazel Fenster."
I loved this special sign Tower created for this event.
Here's some images from KFJC studio hours before the start of the marathon..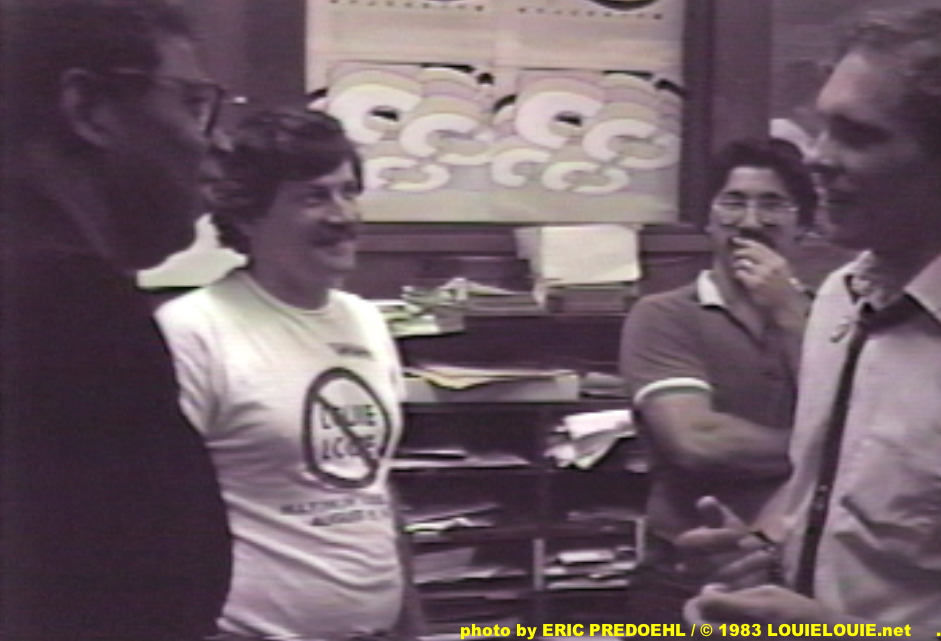 Richard Berry chats with DJ Phil Dirt (aka Frank Luft) and KFJC station manager Robert Zeppernick.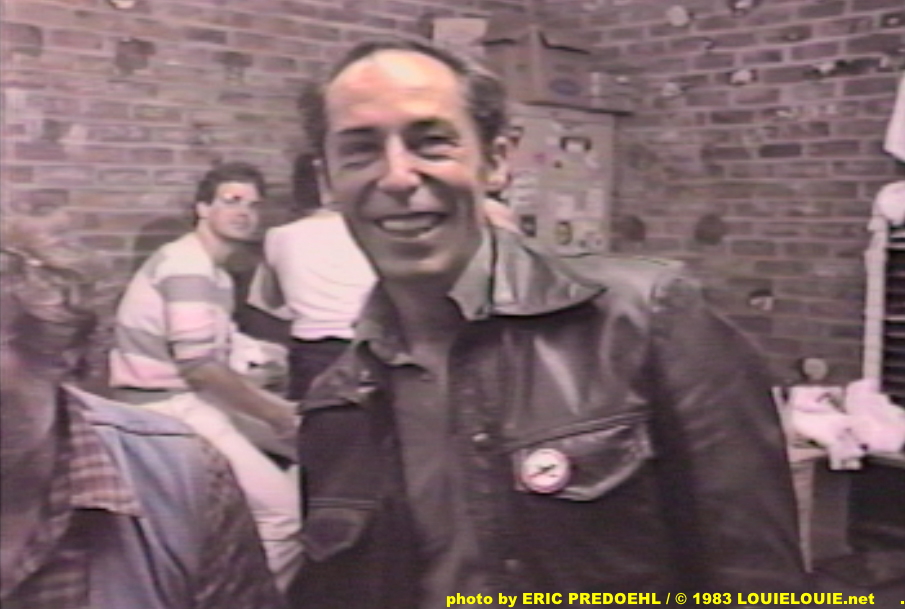 These gentlemen were part of a band known as Mountain Current, who did a one hour performance of LOUIE LOUIE for a Hells Angels party sometime in the 1970s.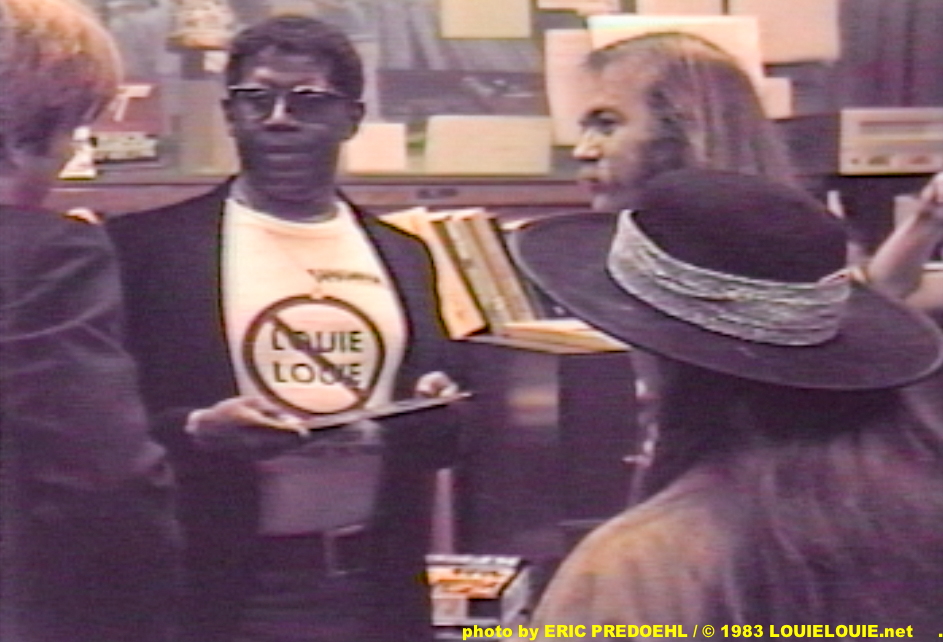 Richard Berry met some serious record collectors, including Glenn Howard, who later founded the American Musical Heritage Foundation.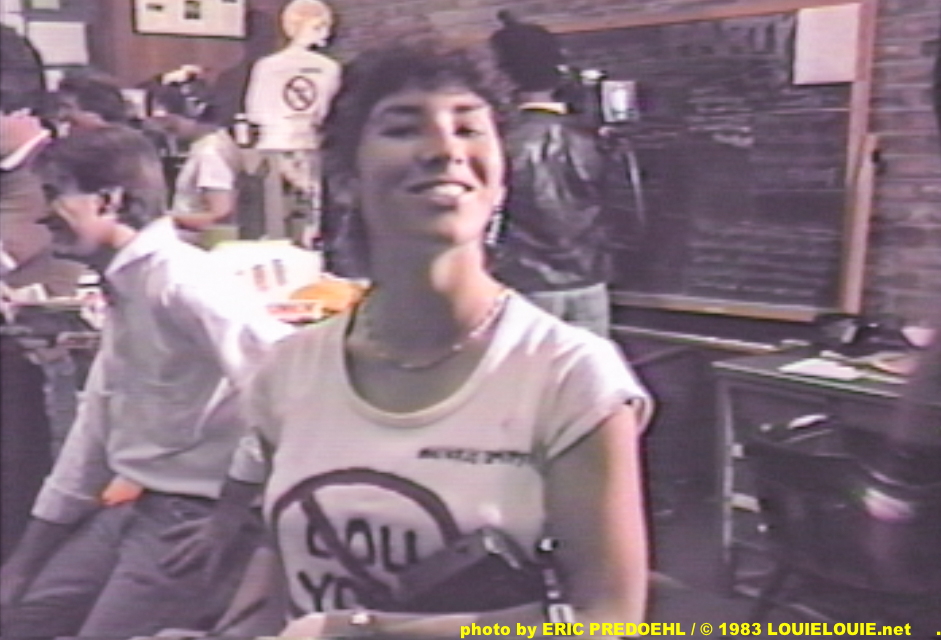 DJ Francie Shaw wore a custom T-shirt to acknowledge DJ Lou York (not to be confused with the official "No LOUIE LOUIE" shirt created in conjunction with this event).
I believe the first live performance for this event might have been the Friday Night Music impromptu performance during DJ Jeff Stretch Riedle's air shift on Friday night.
Then, there was the big performance on Saturday August 20th by Richard Berry and Jack Ely, backed by the Lady Bo Trio.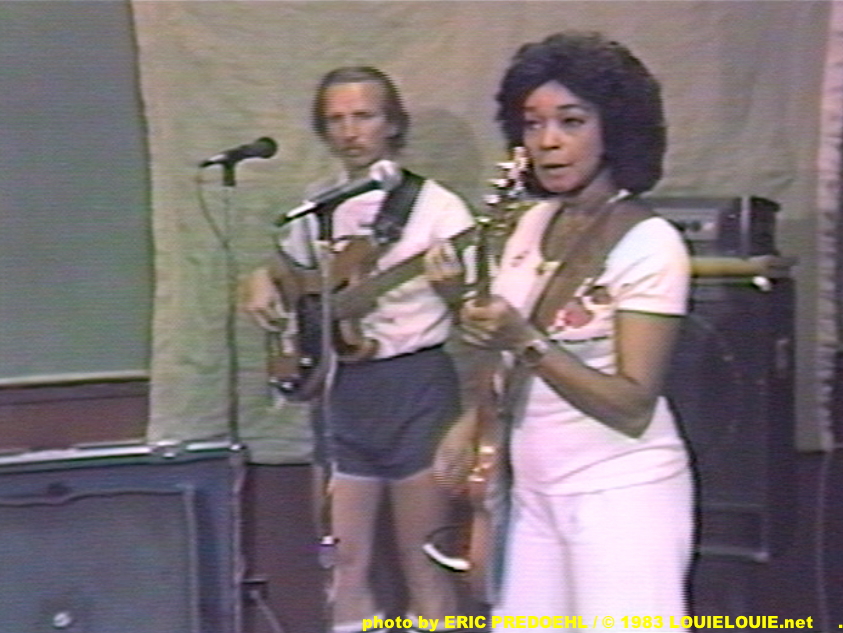 A close-up of Richard Berry's fingers..
A microphone is adjusted for Jack Ely.
Jack had some serious fans paying attention to his every move.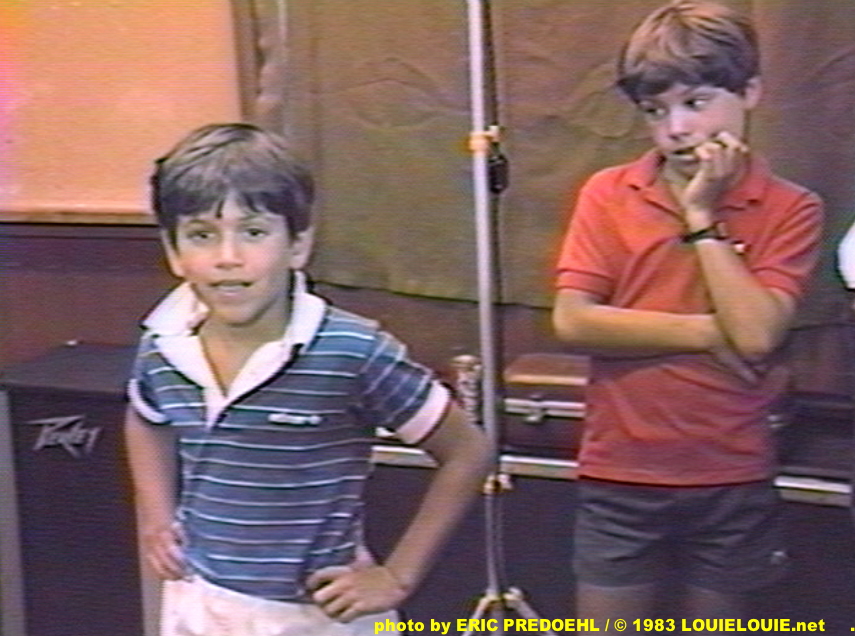 If someone could help me identify these kids, that would be wonderful.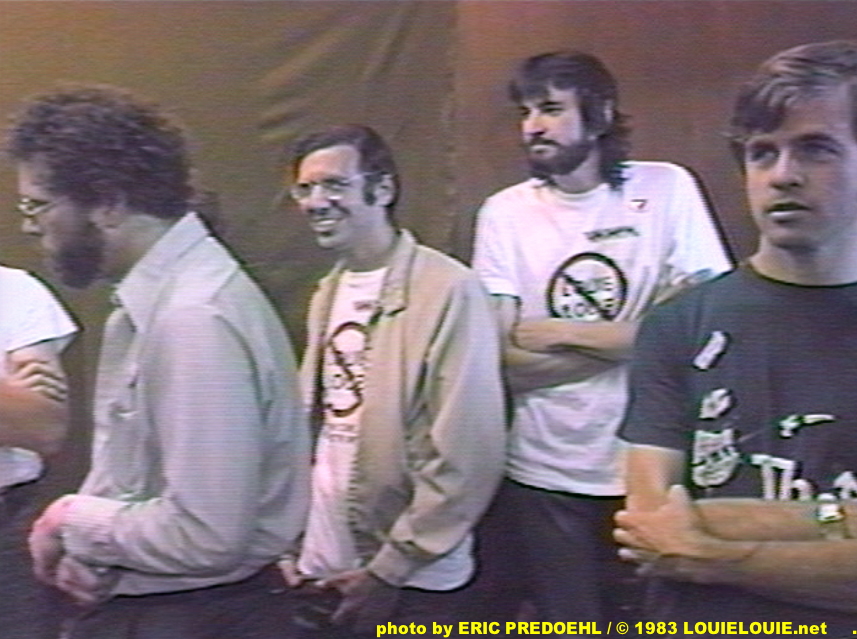 The two guys in the middle of this image are Mel Cheplowitz (aka the "Mystery DJ"), who created the KALX LOUIE LOUIE marathon, and Stretch Riedle, who started this thing with the first Bay Area LOUIE LOUIE marathon.
Here's another woman I can't identify….
She sang a great version of LOUIE LOUIE, assisted by Ricky Sludge, who quickly adjusted her mike stand..
I do need more help identifying more of these folks..
The crowd was definitely grooving.. (Hi Francie!)
Even Richard's daughter Christy was digging it!
Here's a shot of my friend DJ Karen Howe, who took some wonderful photographs of this event.
This is truly the proverbial tip of the iceberg..
In the meantime, if you have any memories of this event, and maybe could help us identify some of these folks we're not sure of, that would be truly wonderful.
(To be continued…)
– E.P. of LouieLouie.net