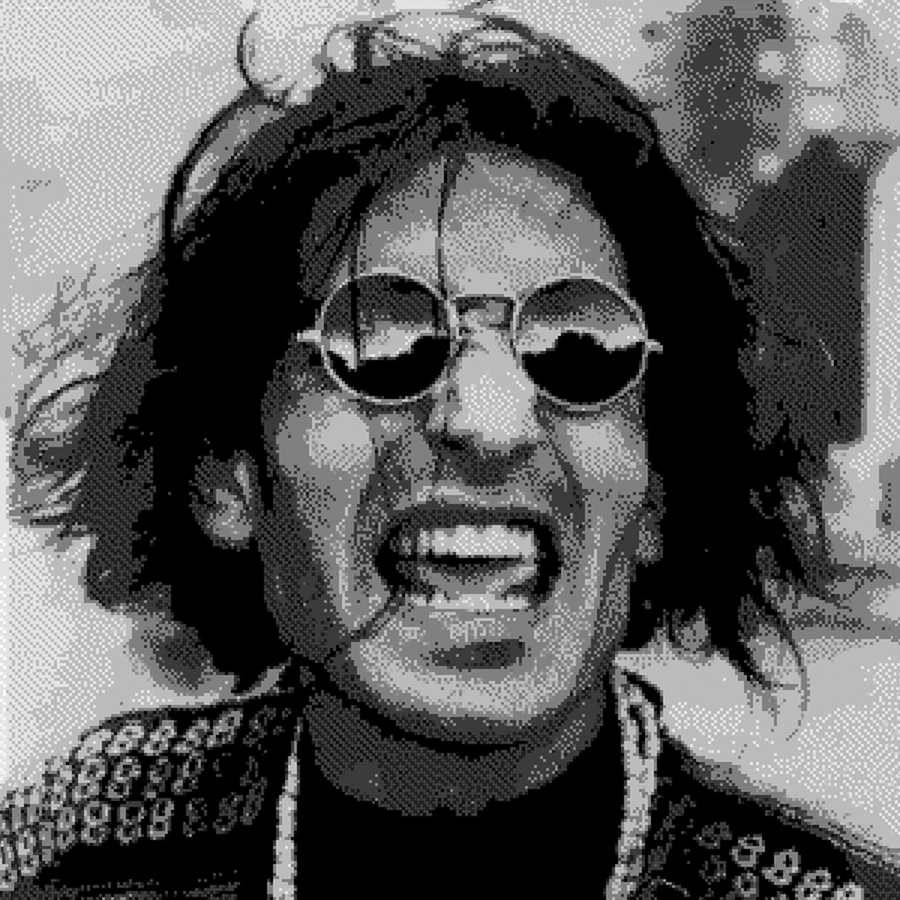 My old friend David Peel died a few days ago.
Believe it or not, he actually had a connection to this LOUIE project.
Years ago, before I ever even thought about LOUIE LOUIE and this documentary project, I wound up working with David Peel.
In 1982, I lived briefly in New York City. Before I made the move back to California, I decided to track down David Peel, the radical anti-establishment street singer whose music was difficult to find in California.
Peel's phone number was pretty easy to find in NYC, so I called him up, and was able to visit with him about an hour later at his apartment. As a Beatle-enthusiast, I knew about with his work with John Lennon and Yoko Ono on Apple Records, even though I never actually heard that particular album (it had been out of print for ages).
Before I left on my big trek to N.Y., a friend of mine had played me Peel's "King of Punk" album, which I thought I was pretty amazing. Peel was known as a radical folk singer, banging out crazy little anti-establishment ditties on an acoustic guitar, and this album was a direct response, calling out the Ramones and others for "stealing" his schtick, so to speak.
I always thought of Peel as the "missing link" between folk and punk.
Anyways, Peel and I hit it off quite well, yacking for hours. He wound up offering me an opportunity to create my own division of his record company, which would be known as Orange Records West.
For the next four years, it was quite an interesting run. I ran Orange Records West as a satellite operation, promoting and distributing products from New York, as well as creating new products that repackaged Peel's music and a handful of west coast musicians.
During this time, I also attended college part time, and wound up spending more time at KFJC Radio, a community radio station that was doing some remarkable things.
At KFJC there was a serious organization going on the station to orchestrate an extremely ambitious LOUIE LOUIE marathon, and a major effort was made to encourage as many musicians as possible to record that song. I contacted Peel to see if he wanted to participate in this thing, and he sent me back an exclusive recording of the song, accompanied by his bandmate Tom Acosta.
As fate would have it, that LOUIE marathon opened up yet another interesting door in my life. I borrowed some public access video equipment to document that special event, and wound up capturing some unique footage that nobody else was recording, including the first and only performance by the original songwriter (Richard Berry) with the original singer of the band that transformed the song into a major hit (Jack Ely).
A few years later, I reached a point where i felt Orange Records West was at a standstill and I felt that bringing David Peel out to California for a series of shows would be the best way to keep this company active.
As it turned out, one of David's old friends was based in the San Francisco bay area, and they'd both been anxious to collaborate on a new project. Muruga Booker, a super-talented percussionist that worked with a ton of prominent musicians (George Clinton & Parliament, Stevie Wonder, Dave Brubeck, John Lee Hooker, Weather Report, among others), linked up with David Peel to create a brand new musical project that would known as the Peel-Muruga Experience. Muruga was based in Oakland, I brought in my friends Mark Renner and Kenny Schick of Dot 3 to be a part of this band that would play for three nights in the SF Bay Area.
During the week of these shows, I was contacted by an independent video producer by the name of Jesse Block that wanted to shoot some video of the San Francisco show at the Farm. While I had some shot some video of the rehearsals, as well as a segment with Peel and Murugua walking around in the Haight-Ashbury district, I wasn't set up to shoot the actual concert, so I gave this guy Jesse a green light, as long as he gave me a copy of whatever video was shot.
By the end of the mini-tour, I was completely exhausted, and decided I no longer wanted to work with David Peel. Orange Records West was dissolved, I decided to devote more time in college to finish off a few degrees, and my focus was shifted back to my primary interests of photography and video production.
…and that guy who shot the Peel footage, Jesse… became my co-producer on the LOUIE documentary as well as well as a collaborator on hundreds of other projects.
To celebrate the life of my old friend David Peel, i'm sharing some never-before-seen video from the E.P. archives….
First, here's a clip that uses the audio of David's performance of LOUIE LOUIE with bandmate Tom Acosta. I'm using some of Tom's photos of him with Peel (as seen on Facebook), as well as some roughy-edited videos that I captured during the 1986 mini-tour.
Second, here's a clip of the David Peel / Muruga Experience running through a rehearsal of John Lennon's "Imagine," captured at Muruga's apartment in Oakland in August 1986. It's a bit ragged, and there's no real color correction to speak of… but it's real…!!
Anyways, rest in peace, my friend.
…. and Happy International LOUIE LOUIE DAY – April 11th!!
– Eric Predoehl, producer / director / archivist / janitor for the LOUIE LOUIE documentary project
____________________________
Reference obits:
Billboard obituary on David Peel
New York Times obituary on David Peel
UK Telegraph obituary on David Peel
UPDATE – APRIL 28th, 2017:
As the Inquisitr so eloquently stated….
Harold C. Black has been tickling the fancy of the ladies for decades. Black co-founded the Lower East Side band with David Peel in 1967. Half a century later, Harold's humbly passing the hat on behalf of his recently departed chum. He has to. Most of the cost of David's demise is on Black's personal credit card, and it's an expense the man is ill-equipped to pay. Harold is at all times a gentleman, however, and gentlemen step up to help a friend in need. Even when that friend is dead.

Paying for funerals is something kindhearted humans do for one another, especially when everyone else looks aside or is too busy to pay attention when the undertaker has his hand out. The thing is, maybe nobody else understood that David Peel died lacking the dollars to deal with his own demise.
Harold's friend Leonard Alfred Schneider made this statement:
"NY ROCKERS please help out Harold C. Black if you can. Everybody wrongly presumed David Peel's many super rich rockstar friends would have naturally covered the expenses of burying him, but sadly, this is the Greed is God era and even the rich rockstar ex rebels are all out for themselves. 'If every motherfucker who posted a picture of themself with David Peel last week could find it in their hearts to send ten or twenty bucks to help with funeral expenses, it wouldn't all rest on the shoulders of that good man, Harold C. Black…we all know how many millionaire "friends" David Peel had, because they all flash their pix of themselves with him like hippie punk radical credibility credentials, but nobody but Harold stepped up to help bury the brother-even twenty bucks…something to think about…the millionaires and billionaires he knew have not kicked in a dime, so Harold put it all on his credit card, because he is a real man and a real friend. Let's all step up this week and donate something(!!) to help Harold, who is not a billionaire. I'll have an address in a day or two, meanwhile, please start just thinking about donating a ten, twenty, fifty, OR MORE if you have grownup job money, and the LOWER EAST SIDE ever meant anything to ya. Everybody wants to be a radical revolutionary until it's time to do radical revolutionary stuff like putting your money where your bumper sticker is. Brothers and sisters, I know many of you will contact the counterculture icon, HCB, and make a small donation. Thank you for doing the right thing. Many hands make light work, and those cats have given NY rocknroll culture so much.
Peace."
I'd like to encourage folks to send donations directly to [email protected] via PayPal.