Following up on part 1 and part 2, it's time to return with part 3 of the big LOUIE LOUIE Club List, now expanded to include stores and defunct businesses that used the "LOUIE LOUIE" name for their business…

11. Louie Louie Record Shop (with Café) in Lisbon and Porto (Portugal)
A few days ago, I received this photo and message from our friends at Orme Radio….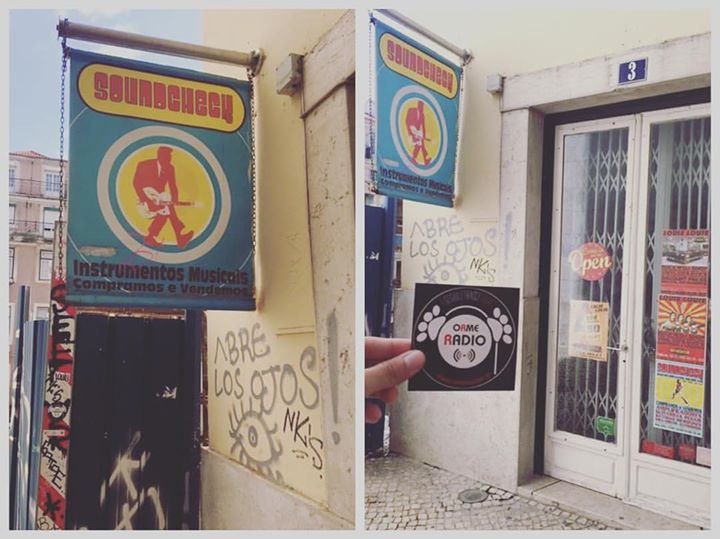 Little postcard from Lisbon: one of the Orme Radio founders, Marco, is there for job shadowing and as suggested by Riccardo Lancioni – our radio marathon man – took this pic in front of the music shop called Louie Louie!
Hope you like it!
Cheers from Italy, too!
Lisbonrecordshops.com also provided a nice introduction to this LOUIE LOUIE business:
Originally a shop on Porto (the capital city of the North of Portugal), LOUIE LOUIE opened a branch in Lisbon (managed by Jorge Dias, one of the pioneers of the used records business in Lisbon), which is nowadays one of the most popular record stores in the city.

Right in the middle of downtown Lisbon, LOUIE LOUIE has a bit of everything for all tastes: CD and vinyl (and also DVDs), used and new, all genres. The new premises (open since June 2013) include a small coffee shop, which only enhances the welcoming feel and the friendly atmosphere of a great place to listen to and buy your favourite music.
http://www.louielouie.biz
https://www.facebook.com/louielouieLX
http://www.lisbonrecordshops.com/2013/07/louie-louie.html

12. The Louie Louie Bar in Madrid, Spain
According to their official Facebook page, the Louie Louie Bar in Madrid is a cocktail bar, that specializes in Rock'n'Roll Anglo-Saxon music in its various variants.
https://www.facebook.com/Louie-Louie-138673519521886/
https://www.yelp.com/biz/louie-louie-madrid

13. Café Louie Louie at the Stevenson School in Pebble Beach, CA
There is a Café Louie Louie at the Stevenson School in Pebble Beach, California, serving children from grades 9-12.
http://www.stevensonschool.org/studentlife/pebblebeach/cafe/index.aspx
14. Louie Louie's Diner of Victoria BC, Canada
Louie Louie's Diner of Victoria BC, Canada was a restaurant that existed for 16 years from April 1987 until March 2003.
I found about this place when proprietor George Acs contacted me after learning about the LOUIE documentary project. He wrote:
As you can see by my letterhead, I too, have somewhat of a special interest in LOUIE LOUIE, although I must admit the naming of my diner did not have its origins in the song, rather it was to be a rebirth of LOUIE's Cafe, a diner my family owned during the late fifties. (LOUIE LOUIE being the second LOUIE ??)

However long before we opened the doors, people were associating the diner with the song and the good times and parties they so well remembered.
George also enclosed some nice momentoes from the diner, which you can see in this photograph.
Unfortunately, I never had a chance to visit George's diner. Luckily,thanks to the power of the internet, I found George's LinkedIn page, where I discovered a timeline for Louie Louie's Diner, as well as details about what George has been up since he last wrote me. Thank you again, George!
https://www.linkedin.com/in/george-acs-b474276a/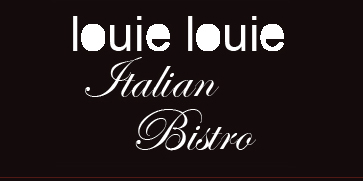 15. Louie Louie Italian Bistro of Ft. Lauderdale, Florida
The Louie Louie Italian Bistro of Ft. Lauderdale, Florida was another restaurant that no longer exists.
The Breward-Palm Beach New Times gave it the "Best Pizza" award in 2004, calling it "perfection on a platter."
Yelp reviewers gave it a 4-star average rating.
The Wayback Machine of the Internet Archive saved bits of their old louielouiebistro.com webpage.
Reference:
Yelp on Louie Louie Italian Bistro
BrowardPalmBeach.com on Louie Louie Italian Bistro
Wayback Machine on Louie Louie Italian Bistro
Thanks again to our friend Clay Stabler for his extensive research in tracking down most of these organizations.
If you can think of any LOUIE LOUIE venues we might have missed, please let us know.
You can leave comments at this page, or by visiting the LOUIE LOUIE Party Facebook page at: https://www.facebook.com/groups/68073899480/