On Tuesday night, I received some sad news on Facebook about my friend Buck Munger.
April 19, 2016
just before 2:00 on a beautiful afternoon.
Buck Munger joined his favorite dog Lucee, his favorite bass player John, his best friend Jack and the best soft player he ever played with Richard on the other side of where ever.
So now it is time to go out and celebrate his life.
Go to a record store and buy a CD. No not Amazon or Target, a real record store with people working behind the register who want to turn you on to some great music. If you live in Portland try Music Millennium.
How about some live music entertainment? Go to a club this weekend and see some live music, not a DJ. Make it original music for extra credit. Pay the cover and remember to tip your bartender and cocktail waitress.
All you musicians out there, inspire a kid to play, give a less fortunate musician an instrument you aren't using, play a gig with an old friend and remember how much fun it is to just play.
Support your local musician and you will celebrate the best part of Buck's real cool, incredibly interested and too short life.
Thank You,
Mrs. Jayne (Jablonski) Munger
Buck was a supporter of the LOUIE documentary, and one of the biggest advocates of the music community in his home state of Oregon. He had extremely colorful life, and was an extraordinary storyteller.
His career began in the Alaska as a drummer for a country western band during the late 1950s. From there, he would end up joining the U.S. Marine Corp, playing rock music with a government-sponsored band known as the Mark Five, which lasted for a few years. As his tour of duty ended, he moved to Los Angeles, where he worked various jobs in the music industry, before throwing in the hat, and moving back to Oregon in 1967.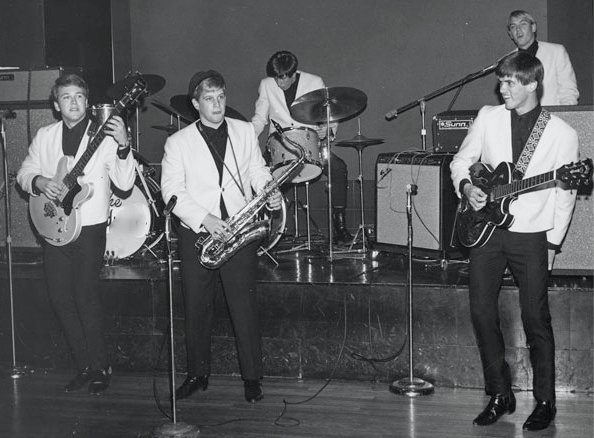 Strangely enough, a job with a new company founded by the Kingsmen's bassist, Norm Sunnholm, was the key to Buck's first big break in the music industry. Buck was hired to work for the Sunn Musical Equipment Company of Tualatin, Oregon, moving back to Los Angeles to promote their new amplifiers. With a company van loaded with Sunn products and a new place in Southern California, Buck was given the mission of finding prominent musicians that would be willing to use and endorse their products.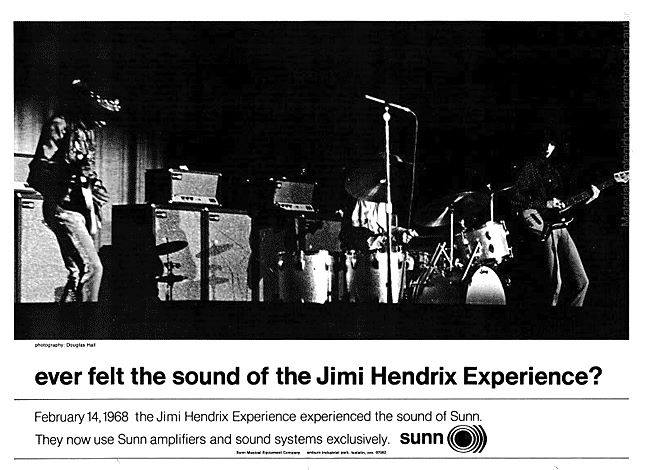 Jimi Hendrix turned out to be Buck's first major celebrity endorsement deal – a musician from the Pacific Northwest whose career exploded when when he moved to England. Buck witnessed Jimi's pivotal performance at the Monterey Pops Festival and negotiated an endorsement deal that very weekend.
Buck wound up setting up a variety of other endorsements for Sunn, but setting up an alignment with the Who turned out to another major feather for his proverbial cap. His kinship with the band, particularly with John Entwistle, which turned out to a lifetime friendship.
Buck used to share some truly amazing stories about his adventures with The Who on his Facebook wall, including this funny moment involving Keith Moon at an Eric Burdon & Animals show at the Whisky in Hollywood…
There I was, left standing in the intersection, next to the XKE watching Keith Moon run laughing into the hotel waving my car keys. John Entwistle sighed, and said he'd go try to retrieve them. It had been a wild night out. I had picked up John and Keith earlier and we all crammed into the E-Type to cruise out on the Sunset Strip. We rolled up to the Whisky and handed over the keys to the valet. Keith and John were wearing their stage clothes and if not instantly recognizable, certainly somebody out of the ordinary. We were escorted up to the VIP balcony overlooking the stage. On stage were Eric Burdon & The Animals, a group that Moon and Entwistle knew well back home. After several rounds and increasingly rowdy behavior Moon leaned over and yelled in my ear. "He's bald you know, hasn't got a hair on his head." Who? "The guitar player!" I looked down and it seemed to me the guitarist had not only a full head of hair, but flowing locks to boot. Huh? Moon was out of his seat, off like a shot, down the stairs, across the crowded room, up to the corner of the stage, on stage, behind the guitar player, "See!" he yelled, pulling off the wig. Holy shit! It was bedlam on stage. The bald guitarist turned and grabbed at Moon, who threw the wig into the crowd and jumped down. The guitar player dropped his instrument and took off in full pursuit across the room, catching Moon about half-way up the balcony stairs. Thankfully the Whisky bouncers arrived simultaneously and Moon was spared a beating, however we were informed our presence would no longer be tolerated and escorted to the door. Outside, waiting for the car Moonie bowed and smiled to the crowd of clapping patrons that followed us out.
One of Buck's earliest videos, captured in 1975, shared by LOUIE associate producer David Jester, featured one of Pete Townshend's guitars..
Buck played a pivotal role in Sunn's success, which transformed into a major player in the music industry during his time there. After a few years, Buck wound up doing similar work with Norlin which was the home for Gibson and Moog products. With this new job, he was able to work from his homebase in Portland.
After seven years with Norlin, the company decided to consolidate operations, and invited Buck to work at their main headquarters in Chicago.
Buck decided he wanted to stay in Portland, so he turned down the offer and decided to launch a brand new trade publication that would focus on the music scene in Oregon. He would name this new publication "Two Louies" as tip of the hat to the most famous song that was ever recorded in Portland.
Buck created a wonderful resource for the Oregon community with this publication. In era before the internet was an option, bands, nightclubs, recording studios, music shops, photographers and music fans had a place where they could share a lot of information. As a leader in his community, Buck became the instigator a lot of great things in Oregon – big celebrations for various causes and the eventual creation of the Oregon Music Hall of Fame.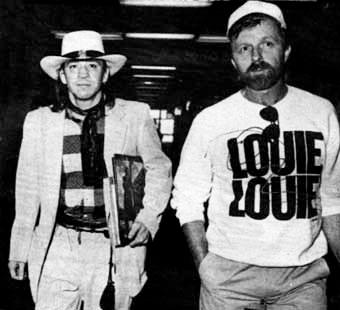 And with all of this, Buck made sure that people never forgot the legacy of Oregon music, and the very famous song that was recorded by Kingsmen and Paul Revere & the Raiders at a Portland recording studio in 1963.
We are all going to miss you, my friend.
Reference:
Buck Munger's Facebook page
UPDATE: Some of the original statements have been revised.
David Jester shared some details that I missed…
Buck was the founder of The Portland Music Association that started when his friend Peter Burke, (the founder of BMI) came to Portland and talked at a meeting of all the musicians in town at Key Largo.. I recorded that also… I was one of the founding members who put up $20 are the first meeting to put out the first PMA newsletter in 1984 ? or maybe it was 1985?… Buck was the 1st President I believe… Buck was instrumental in establishing the Mayor's Ball tradition which really put Portland on the International Musical Map…
Terry Currier discussed Buck's involvement with the Oregon Music Hall of Fame on the OMHOF Facebook page:
Today we lost one of the greats of the Portland Music scene…Buck Munger. Though the 70's, 80's and 90's, his publication Two Louies covered the Portland Music scene. Buck championed a lot of artists over this time and after. Before all that, he was the artist rep for Sunn amplifiers. Buck hung with the stars like Eric Clapton, The Who, ZZ Top and here scene with Tom Petty. One of my favorite photos is Buck with Eric Clapton during the Cream years at an empty Memorial Coliseum probably before or after soundcheck. He was involved in the Portland Music Association and putting on the Mayor's Balls. He was a wealth of information about what went on in Portland. For 3 plus years, Buck called me regularly, trying to get me to start what eventually became the Oregon Music Hall of Fame. I had a full plate and told him I just did not have time to do that on top of having a record store, a record label and a record distribution company as well as being involved in many music based organizations. One day I had a weak moment and said "Yes Buck…I'm going to do it." I've never regretted it and because of the prodding by Buck, The Oregon Music Hall of Fame was created.
There are so many stories and memories I could tell about Buck but today, I think I'll just reflect my conversations and encounters with Buck. He was a one of a kind character with a passion for music…especially the music that was being made in Portland. Buck was inducted into the Oregon Music Hall of Fame because of this passion and all he did to help to champion the music scene here. He got Billboard magazine to do a multi-page feature on what was going on here. We will miss you Buck