Singer-songwriter P.F. Sloan died on Sunday, November 15th.
Last year, the LOUIE team (myself, Eric Predoehl + Jesse Block, co-owner of the Octalouie.com video production company) had an opportunity to document his performance last year at the Art House Gallery in Berkeley, CA.
His concert felt like a stage version of a documentary- sharing stories of his life, discussing how he constructed songs, and then performing those songs live. He wrote a lot of songs that became hit records for other artists, including "Eve of Destruction," "Secret Agent Man," among others.
So many of the stories he shared seemed so much larger than life … one of his first jobs during high school, working as in an A&R department of prominent record label, playing a prominent role in getting the Beatles their very first record contract in the USA … the challenges of writing socially-responsible songs in an era when the industry didn't want to broadcast such messages . .. his story about having himself institutionalized in a mental hospital … and so much more …
While I had no idea before the event, I discovered at the performance that P.F. Sloan had a LOUIE LOUIE connection…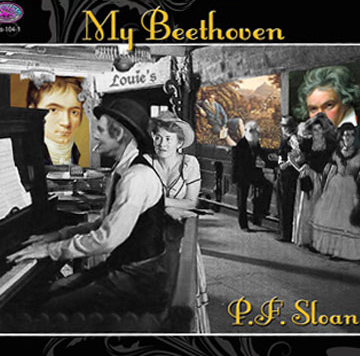 For the past 10+ years of his life, Philip Sloan had been working on a musical project that celebrated the life of Ludwig van Beethoven. A few months before this event in Berkeley took place, he released a CD from the project entitled "My Beethoven."
The big project, as designed, is an original, contemporary opera that utilizes Beethoven classic compositions and brand new P.F. Sloan compositions.
This project is titled "LOUIS! LOUIS! (The Real Life and Times Of Beethoven)" as written by S.E. Feinberg and P.F. Sloan. S.E. Feinberg is also the co-author of P.F. Sloan's autobiography – "What's Exactly The Matter With Me?"
If you visit the official P.F. Sloan page on the My Beethoven project, you can download two sample chapters of this very special production.
​
Rest in peace, Phil. I wish I could have had more conversations with you, but I'm grateful to have made your acquaintance….
READ MORE at..
The official P.F. Sloan page on "My Beethoven" / LOUIS LOUIS stage production
N.Y. Times obit on P.F. Sloan by Bruce Weber
PF Sloan: the 1960s enigma admired by Bob Dylan and Jimmy Webb by Michael Hann
American Songwriter tribute to P.F. Sloan by Paul Zollo
Examiner tribute to P.F. Sloan by Jim Bessman
10 Essentially '60s Songs Written By P.F. Sloan (ReBeatMag.com)