Dick Dodd, vocalist and drummer for The Standells for their 1966 hit recording "Dirty Water," has died at the age of 68 years old. He had been admitted to a hospital in Orange Country for stage 4 cancer, where he passed away.
Jonny Whiteside provided an excellent biographical overview of Dick Dodd at LA Weekly:
Born in Hermosa Beach, Dodd was one of the original Mickey Mouse Club mousketeers–he bought his first snare drum from Annette Funicello, but got a pink slip at age 11. He next signed on as one of singer Giselle Mackenzie's "Curfew Kids," performing on her NBC variety TV show and on stages in Vegas, Tahoe and Reno.

Dodd may have been a successful child actor but he was no square; by 17, he was already a veteran rock & roller, drumming with surf bands The Bel Airs (that's Dodd keeping the beat on "Mr. Moto") and Eddie & the Showmen until he left the OC surf scene for darkest Hollywood, where he worked as, among others things, singer Jackie DeShannon's drummer.

"I was doing all the demo sessions with Glen Campbell, James Burton, and the Wrecking Crew," Dodd told us in April, during the last interview he gave. "It was amazing — the first guys I ever saw with long hair were Jack Nitzsche, Sonny Bono and Phil Spector. I backed up Sonny and Cher when they were Caesar and Cleo, and doing all this studio stuff and making good money, but I wanted to be in a band."

"Jackie heard that the Standells were losing their drummer, so I auditioned for them and they just handed me five suits: 'We wear the black ones on Monday the blue ones on Wednesday.' That was it."
It was at the Standells where Dick Dodd found his greatest fame. He became the lead singer and drummer, providing an unforgettable voice for their 1966 hit, "Dirty Water."
Not long after recording "Dirty Water", Dodd left the Standells, and was replaced by Dewey Martin, who later joined Buffalo Springfield. Dodd returned to the group several months later, as the song began to climb the charts. "Dirty Water" reached No. 11 on the Billboard charts on June 11, 1966, No. 8 on the Cashbox charts on July 9, 1966 and No. 1 on the Record World charts. "Dirty Water" was on the WLS playlist for 17 total weeks, tied only by "California Dreamin'" for most weeks on that playlist during the 1960s.
In 1968, Dick Dodd left the band to pursue a solo career, returning to The Standells off and on for the next 40+ years.
As fate would have it, I was invited to be a camera operator for what might have been the final performance of Dick Dodd with the Standells.
The performance took place November 17, 2012 at the Uptown Nightclub in Oakland, California. My friend Karl Anderson, president of the Global Recording Artists record label, brought in the cameras and the team to capture what would be a very special moment. The plan was release a live DVD in conjunction with the upcoming new album released on Karl's label. Unfortunately a few things changed the original plans. A tech snafu crashed the master multi-track audio recording that night. A few months later, Dick Dodd was no longer a member of the Standells.
Things have been so hectic, we hadn't really given that project much thought, but in light of the latest circumstances, I have a feeling that will probably change in the near future…
In the meantime, here's some LOUIE-centric notes on The Standells…..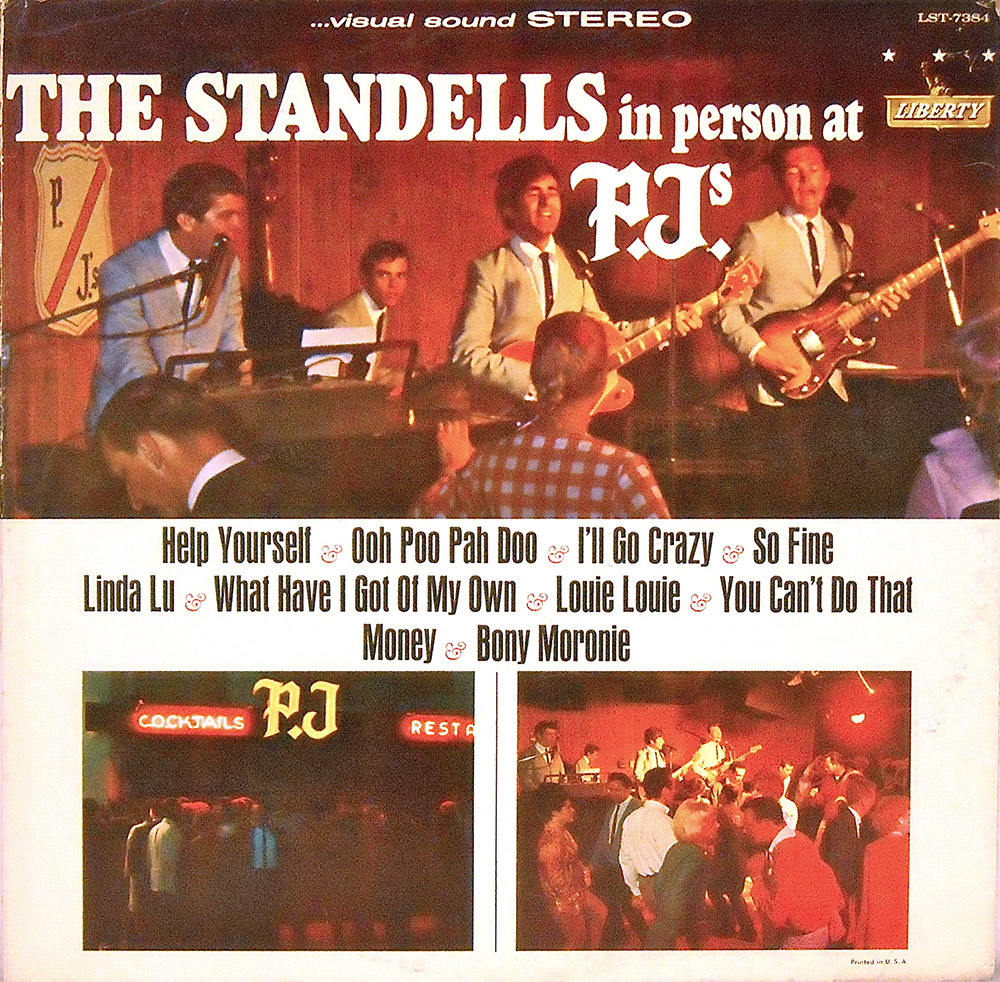 The Standells did actually record their own version of LOUIE LOUIE for their very first album- "The Standells In Person At P.J.'s," released by Liberty Records in 1964…

…. which had some cover variations, but I'm not sure which cover was the original version.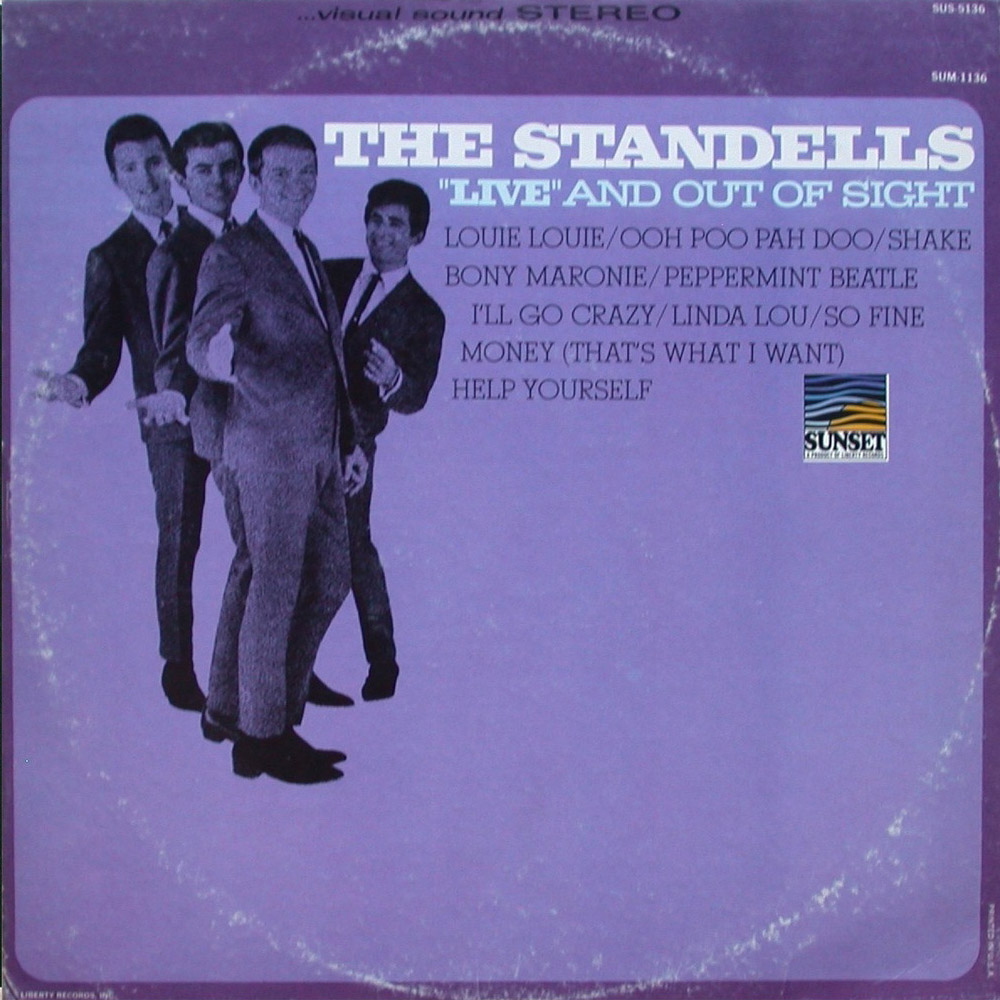 The album was also re-issued in 1966 as "The Standells Live and Out of Sight" with two bonus songs.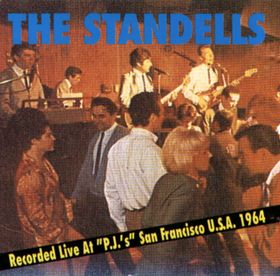 I have a CD reissue that's titled "The Standells – Recorded Live at P.J.'s San Francisco USA 1964."
At the Apple iTunes and Amazon MP3 store, it's now listed as simply "Standells – Live at P.J.'s" with rather bland cover art.
There are three interesting parallels the Standells shared with the Kingsmen's LOUIE LOUIE.
1) Both bands had lead singers that quit the band not long after the original recording was made – many months before they became big hits.
2) Both bands had songs that politicians tried to ban from the radio… with allegations of "sexually-suggestive lyrics."
3) Both "LOUIE LOUIE" and "Dirty Water" had a thousand guitar players (give or take a few hundred) performing their song in public arenas – Tacoma and Boston.
To pay tribute to Dick Dodd and the Standells, their version of LOUIE LOUIE shall be this week's LOUIE LOUIE.
I don't see any YouTube or Soundcloud clips of this performance, so I will instead refer you to three commercial digital stores where you can hear a sample of the song and/or purchase the complete digital download:
ITUNES- Standells – Live at P.J.'s
AMAZON- Standells – Live at P.J.'s
GOOGLE PLAY- Standells – Live at P.J.'s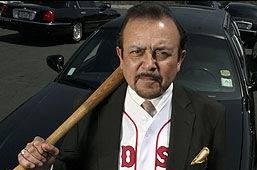 Before Dick died, a special support page at GoFundMe was set up to help pay for the massive medical bills that he was facing. After his death, his family is facing some significant bills. If you could make any donation, that would be a kind gesture for his family.
– E.P.
Reference Links:
The Standells – official webpage
Dick Dodd support page on Go Fund Me
Wikipedia page on The Standells
USA Today obituary
LA Weekly obituary
Global Recording Artists