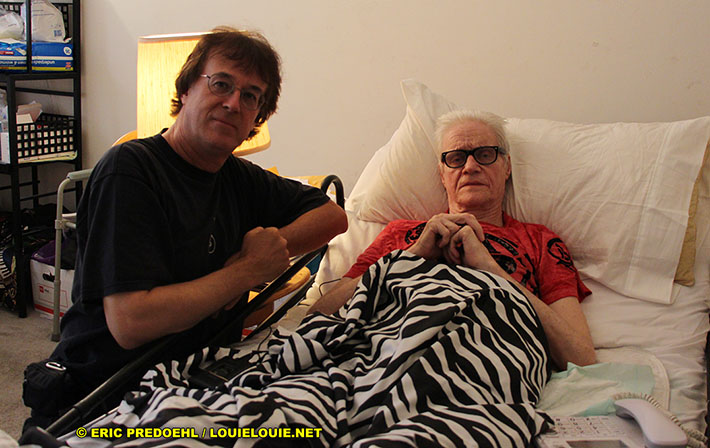 Last week, I had an opportunity to meet and shoot an interview with Kim Fowley for the long-awaited documentary on the song LOUIE LOUIE. Kim worked with Richard Berry in early 1960's – after Richard made his original LOUIE recording of 1957, but before the Kingsmen made their iconic hit recording of the song. Kim co-produced, along with Gary S. Paxton, four different Richard Berry singles that be heard on the "Have Louie, Will Travel" compilation CD from Ace Records.
Kim also shared co-production duties on the very first record by Paul Revere & the Raiders– "Like Long Hair," which was released on Gardena Records in 1961, two years before they were signed as the first rock band on Columbia Records – the largest record company in the world at the time.
It was a fascinating experience to finally meet and interview Kim. He's a man that's lived a very exciting life, and he continues to be extremely productive in spite of the limitations of his current medical condition. As I arrived at his home office, I had to wait until he had finished a session with another documentary crew that arrived before I did.
Right now, Kim is fighting bladder cancer, and preparing for what he calls his "next long term project" – his own demise. He recently released his first book of a three-volume autobiography – "Lord of Garbage," published by Kicks Records, a company created by Miriam Linna of Norton Records.
Here's a little press release that Kim wrote to promote his new book:
Kicks Books must be gluttons for punishment for publishing Kim Fowley's First Book of a 3 Volume series that features Sex, Death, Dope, & Violence as its basis. Don't worry folks, Lust & No Love is also covered. Notorious for his Bad Behavior Kim Fowley has launched LORD OF GARBAGE from his Battered Loins to your Soon-To-Be Shattered Body & Soul. Expect yourself to be abused by these Terrible Tales of 30 years of Torture, from 1939-1969. Sickened by his Big Orange Childhood Damage. KF gets even on the printed page, with the Ghosts Of Hollywood, who left him for dead in The Vinyl Jungle. The Canyons of Your Mind's War Crimes, will drive all you crazies wild. You can find Kim Fowley's name on Liner Notes/Set Lists/& Label Copy of His works, recorded and/or performed by such Household Names as: The Hollywood Argyles, B. Bumble & The Stingers, The Murmaids, Paul Revere & The Raiders, Manfred Mann, The Seekers, Cat Stevens, Steppenwolf, The Byrds, NRPS, Flying Burrito Brothers, Sir Douglas Quintet, Kris Kristofferson, ELP, BTO, Leo Kottke, Stars On 45, KISS, Alice Cooper, Blue Cheer, The Runaways, Leon Russell, Dead Boys, Germs, Helen Reddy, Van Halen, Wayne Newton, Gene Vincent, Herman Brood, The Mothers Of Invention, The Seeds, Wildman Fisher, Soft Machine, Motley Crue, The Leather Nun, Nirvana, Teenage Fan Club, BMX Bandits, Them aka Belfast Gypsies= Minus Van Morrison & Guitar/Bass (Keyboard/Drummer remain the same). , British Lions (formerly Mott The Hoople Minus Ian Hunter), Rose Garden, 45 Grave, Venus & The Razorblades, St. John Green, Lance Romance, Jimmy Jukebox, Frankenstein & The All Girl Monster Band, Modern Lovers, Gram Parsons, etc. etc. etc.

"So What?" you might say. Can Kim Fowley write a book that a reader can't put down? Of course he can. KVF= Kim Vincent Fowley. He has sold Creative Contributions of Music & Movies, in 110 Countries Of The World. For over 50 years. The pages of LORD OF GARBAGE contain the Confessions of a Madman. In luxurious Prose, & dynamite poetry. Combining both Literary Disciplines, in a Book Format First. Kim Fowley is NOT a nice guy. But, he wrote 3 separate books that are more interesting than he is. Completed & turned into the Executive Offices of Kicks Books… covered in Blood, Pain, & Tears.

Don't invite Kim to any of your Holiday Parties. He is no fun in a Polite Society Situation. He's not good company, but his books will be, if you're Empty, Bored, or Insanely Curious. KVF Wrote this PR Announcement. Nobody, can put words in Kim Fowley's Mouth. Once a Control Freak/ Always a Control Freak.
One thing you can say about Kim is that he is truly man of his own design; an individual unlike any other.
If you haven't checked out Kim Fowley's massive list of music credits, I'd highly recommend you do so.
I asked Kim if he ever borrowed any elements from LOUIE LOUIE for any of his musical creations, and not surprisingly, he denied ever doing such a thing.
I knew that Kim produced a recording of LOUIE LOUIE when he recorded a few songs with Flash Cadillac and the Continental Kids for the George Lucas film "American Graffiti," but didn't get around to asking him about that particular experience.
In the spirit of celebrating Kim Fowley's work for this LOUIE-centric website, I thought about posting a snippet of the Flash Cadillac recording for the LOUIE of the Week, but couldn't find any free samples out in cyberspace.
Instead, I thought I'd share a Kim Fowley song that reminds me of LOUIE. It's got a title that some people have actually used to describe LOUIE LOUIE!
What the hey… let's give it to 'em, right now!
"The Worst Record Ever Made" – Althea & The Memories (aka Kim Fowley & company)

http://www.youtube.com/watch?v=3cCIUhjYpDE
Rock on, Kim!
May you continue defy the odds a bit longer… as I'm still hoping to be able to share the completed documentary with you.
(Big thanks to Harold Sherrick for taking the photograph of me and Kim)
– E.P.