This week, the LOUIE of the Week spotlight goes out to a song that's not quite LOUIE, but a close relative of the song… a variation that we in the LOUIE circle would refer to as a "LOUIE Mutant."
It's also an extra special tribute to our friend John Thoennes, who just passed away recently. John was the promoter/organizer of the 1999 event in Seaside, Oregon where this performance took place. It was a 30th year high school reunion that turned into a big reunion party for a handful Pacific Northwest bands that would play in Seaside on a regular basis.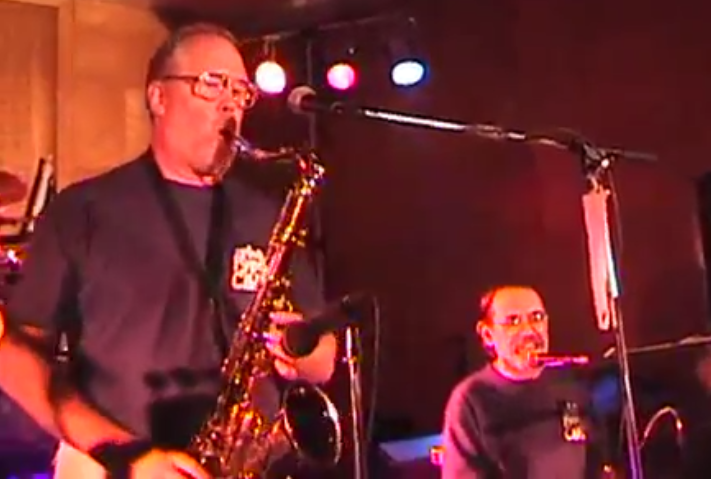 The clip I'm sharing today is by James Henry & the Olympics, a band fronted by Jim Manolides. The song is "My Girl Sloopy," which was written by Wes Farrell and Bert Russell, and first performed by The Vibrations in 1964. James Henry & the Olympics recorded and released this song in 1965 on the Jerden label, but it became a major hit later that year when The McCoys released it with the new title of "Hang On Sloopy" for Bang Records.
Jim Manolides, the leader of James Henry & the Olympics, had a similar situation with his previous band, The Frantics. In the late 1950's, this band discovered a cool song by Richard Berry that they liked to play in their home base of Seattle. They never recorded that particular song, but others beat them to the punch, including Rockin' Roberts (with the Wailers), Little Bill with the Adventurers, Paul Revere & the Raiders, and The Kingsmen, who released the iconic recording of the song that inspired millions of garage bands all around the world.
That song was, of course, LOUIE LOUIE.
On this clip of "My Girl Sloopy" you can see saxophone player Jim Peterson really playing his heart out. Within 6 months, he would be gone, leaving this video clip as one of the few, if not the only footage that exists of him playing this song with the band.
Today, I pay tribute to James Henry & the Olympics, and the promoter that brought them together for their last reunion!
(Apologies for the less-than-stellar audio recording. Big plans for a decent audio documentation of the entire show ran into some serious technical glitches…)
REFERENCE:
Wikipedia on Hang On Sloopy/My Girl Sloopy
http://en.wikipedia.org/wiki/Hang_On_Sloopy
Seaside Memories with James Henry & the Olympics
https://www.louielouie.net/blog/?p=2543