The Pacific Northwest music scene has lost another legend.
Seattle DJ & music historian Danny Holiday, has passed away after an extended illness. Looking at the various online articles about Danny, I discovered….
– Danny was born Daniel Prescott Thygesen in March 23, 1943 in Everett, Washington.
– Danny was a disc jockey at KPUG (Bellingham), KOL (Seattle), KBSG (Seattle)
and KZOK (Seattle), where he hosted "The Rock N Roll Time Machine."
– Danny worked for several years doing promotion for Columbia Records.
– Danny was a former President of the "OFC," an organization comprised of many of the legendary SEATTLE radio professionals.
I once had a phone call with Danny that made me feel like I was talking with an old friend. We talked about the LOUIE LOUIE legacy, and compared notes on LOUIE LOUIE film projects. Danny had some ideas for a LOUIE LOUIE comedy feature film based on some of the events in the Northwest that he personally witnessed. I have no idea how far he got with developing his script, but it sounded like a great project.
Danny was a prominent advocate of the LOUIE legacy, and was proud to show his support in an appropriate fashion.
Here's a nice photo Danny wearing a rather stylish shirt when he met with Roy Orbison.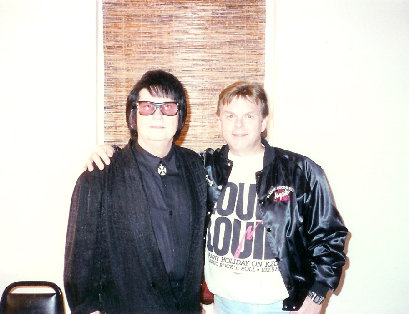 Here's Danny singing LOUIE LOUIE with Paul Revere & the Raiders at the final show at Parker's (Seattle).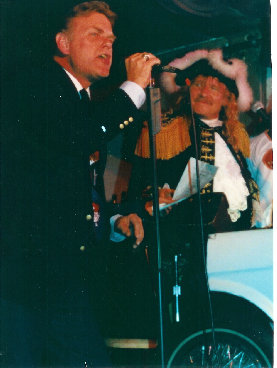 …and as far as I'm concerned, anyone that had their picture taken with Groucho Marx was cooler than cool!
I'm sorry Danny wasn't able to finish his LOUIE film or see mine, which I'm hoping to wrap up soon…. powers be willing.
In the meantime, here's a nice little video tribute for Danny to celebrate his legacy.

http://www.youtube.com/watch?v=SuioqFO45nE
To pay tribute to his memory, his family has asked that donations can be made to Camano Animal Shelter Association.
All photos of Danny came from the Official DannyHoliday.com website
You can learn more about Danny by viewing…
Seattle Times Legacy.com obituary