There's very little LOUIE-specific news in today's posting. This particular posting will be somewhat more self-indulgent than usual, so you've been warned…. but there is some stuff about music in the end of this…
One of the things I've discovered is that writing from frustration is one of the easiest things one can write about. It's so very easy to vent about all the crap that doesn't work – broken cars, relationships, home repairs, health issues, gizmos, and of course, the motherlode of infinite frustrations- politics. There have been some periods in my life where I spent more time writing complaint letters than anything else. It's not nearly as glamorous as writing essays, scripts, novels or poetry, but it does serve a useful purpose. I've told many of my friends that I believe that writing is really great therapy, and it doesn't matter if you're writing complaint letters or bad poetry. It's all good for the soul, even if you don't think of yourself as a writer. It just feels good to get this crap out of your system.
I've tried to avoid sharing the bulk of my frustrations on this blog, because, frankly… it really doesn't help the project to air too much dirty laundry in public. That being said, I do a lot of writing for myself that may never be seen by anyone else.
Today, I want to try something different. It's time to acknowledge some really good things that happened this month.
Reasonable Cell Phone Repair
I will admit it, I've had more headaches dealing with my damned cell phone than I care to think about. I get over-charged on a regular basis, I deal with too many dropped calls, and there's a lot of places where I just can't get any calls whatsoever. I did a lot of research before I settled on the current cell phone provider. I spent even more time trying to find the right piece of hardware. After using three different providers, going through at least five different phones over the course of 5-8 years, I finally found a combination that seemed to work fine, at least up until 6 months ago. Unfortunately, my favorite digital-analog device got dropped a few times, and just wouldn't work like it used to. I could have extended my contract for another two years and received a new-fangled phone. Or I could have spent more money, signed up with another phone company, and picked up one of those beautiful, but completely overpriced Apple iPhones I've been drooling over.
All I really wanted was for my old cell phone to work like it used to work. I didn't want to spend a lot of money, and I certainly didn't want to send it across the country to the only authorized repair place in the USA.
Luckily, I discovered a great solution to my cell phone headaches. Across the street from Streetlight, one of the last record stores in San Jose, I found a little repair place called simply "Cellular Repair Center." The guy who runs this place is a guy named Andy, who's the guy sitting in the photo, wearing the green sweater. The other guys happened to be around when I was there. There's a lot of things that I like about this place. Besides the fact that Andy charges fair prices for repairs, I like the idea that he seems like a real sincere human being that actually cares about the customer. His old parts may not always be in pristine condition, but he knows how to make this stuff work. In an era of disposable electronics, where folks are constantly upgrading to the latest piece of crap, it's great to find a place that understands the value of fixing what you've got. Recycling is alive and well at Cellular Repair Center.
And if you're nowhere near San Jose, you can also visit him at CellularParts.com. Tell him LOUIE sent cha!
Mac World
I've been going to the annual MacWorld for many years. It's not just about Steve Jobs unveiling some overpriced new-fangled gizmo that will drive uber-nerds bonkers with techno-lust. It's about tech-savvy Apple users getting together with other tech-savvy Apple users to figure out new ways to use these digital devices. It's a shmooze fest where folks can see some really cool tools that aren't necessarily made by Apple, even if Apple is the proverbial top dog in this event by which all other companies are judged in relation to.
It's a chance to see some goofy little USB flash drives that happen to be encased in little penguin suits. (Sorry Andy M…. I wasn't able to get you one…)
It's an opportunity to drink delicious free beer provided by tech companies that want you to attend their special promotional parties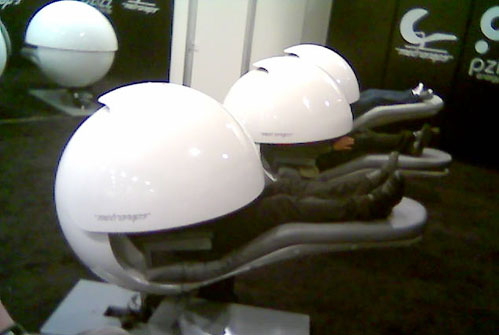 It's a way to experience how some innovative companies like Pzizz have designed special relaxation devices that companies can utilize to help their employees work more efficiently…. by encouraging occasional naps, a sign of a truly civilized work ethic.
Yes, MacWorld is a place where folks can see the "future" right now – a place where things are much nicer than usual.
FCP SuperMeet
One of the big events that happens during the MacWorld is the annual FCP SuperMeet, the largest party of Final Cut Pro video editors in one place. It's a wonderful opportunity to compare tech notes, see some great demonstrations, and maybe even win some fab prizes in the big raffle.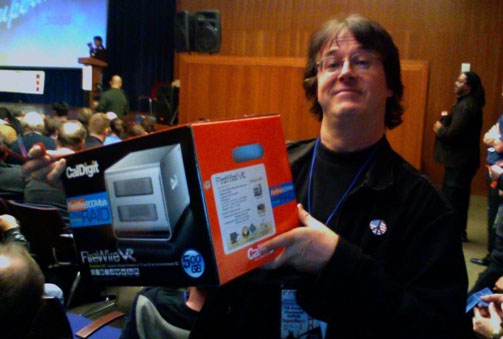 I actually got lucky this year. I walked away with a nice RAID hard drive enclosure, courtesy of CalDigit. Big thanks go out to Claudia Crask of SF Cutters for being the primary person responsible for assembling this grand event, and Ted Langdell for taking the silly photo of yours truly.
When it comes to hard drives, I can never have enough. Right now, I'm utilizing about 6 or 7 TB of hard drive space for this documentary, so I'm always glad to have more….
Damned Good Music
Music has always been one of my favorite vices, and I'm grateful to have seen some exceptional shows in my lifetime. This year has certainly started with a bang. The first week, I saw two performances of Maids of Honor, a fun new band featuring Lex of Frontier Wives (as well as that silly "Survivor" TV show) and Greg of Smashmouth. Somewhere around the same time, I also shot some footage of my friends, Sukay, the house band at Pena Pachamama, one of the coolest restaurants in San Francisco's North Beach.
The one show that really blew me away this week was the triple line-up last Saturday of Big Sandy & the Fly-Rite Boys, Red Meat, and The Careless Hearts at the Blank Club in San Jose. Three great bands doing traditional roots music, and all for a whopping price of $10!
Every one of these bands were excellent! I've always loved Red Meat, a country band that seems like a natural continuation of the legacy of such icons as Buck Owens, Patsy Cline, Johny Cash, Johnny Paycheck, and others ignored by contemporary country radio stations. Big Sandy was the wild card – a very talented musician that could have been a contemporary of Buddy Holly, Little Richard, or Sam Cooke…. if only he was doing this stuff 50 years ago! Whatever the case, he's doing great music RIGHT NOW, and it's always a treat to see him perform.
Of course, I've gotta dig anyone that can handle "Yama Yama Pretty Mama" – one of the OTHER great songs (besides LOUIE) by Richard Berry! You gotta admit – the guy's got damned good taste! Check out this little video I shot with my little Panasonic-Leica still camera…
Later on tonight…. less than 24 hours from now, I'll be seeing Bill Haley's Original Comets, who always put on a great show!