Last week, we lost Johnny Otis. He was truly a renaissance man with many different talents – singer, songwriter, disc jockey, keyboardist, drummer, bandleader, talent scout, music producer, television show host, record label owner, cartoonist, painter, politician, organic farmer, and so much more.
He'd been called "the godfather of rhythm and blues," often credited as the man who discovered Little Richard, Jackie Wilson, Esther Phillips, Big Mama Thornton, and Etta James, who passed away just a few days after Johnny.
Reading the obituaries of his life, we were reminded of how this white Greek man embraced African-American culture from an early age. As he told a reporter from the San Jose Mercury News in 1994, "Genetically, I'm pure Greek. Psychologically, environmentally, culturally, by choice, I'm a member of the black community."
The unique path of Johnny Otis was certainly not one of "least resistance," but one that made perfect sense to the essence of his being.
The life of Johnny Otis encapsulated a lot of major turning points in the timeline of rhythm & blues / rock 'n' roll music. He made a lot of things happen, opened some significant doors for some people that were transformed into major stars in the music industry, and inspired a tidal wave of appreciation for a musical genre that was commonly defined in derogatory terms as simply "race music."
I felt extremely honored to have known Johnny Otis.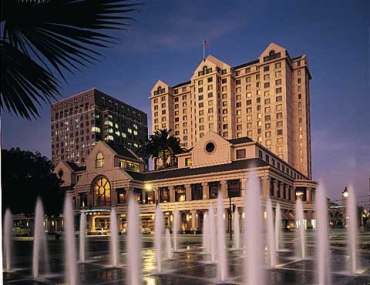 In 1987, San Jose, California was the location for a newly-constructed Fairmont hotel. At the time of this construction, the Silicon Valley area was certainly a hotbed for the ever-blossoming computer industry, but it had very few luxury hotels. The San Jose Fairmont was about to change all that, bringing a big change to downtown San Jose.
Johnny Otis and his band were brought in as the house band for the first year (maybe 2) of this luxurious hi-rise facility. It was a major coup for the hotel, or at least for the local music enthusiasts like myself that were hip enough to recognize the significance of this musical legend.
A few blocks away from this swanky hotel was the Comic Collector Shop, run by my friend Bob Sidebottom. Bob's shop was not only a great source for picking up comic books, but also an epicenter for folks that loved authentic jazz, rhythm & blues, rock and soul music. It was only natural that Bob and Johnny would become friends once they discovered each other. As Johnny was gracious enough to offer free admission for Bob and his entourage at the Fairmont, a group of us were more than happy to always provide an appreciative audience, often bringing in new friends that had never even heard of Johnny Otis.
As Johnny Otis had to come to the San Jose area around the time I started to get serious about researching my LOUIE documentary project, an interview with Johnny made perfect sense, and he became one of my very first interview subjects after the KFJC marathon.
My interview with Johnny took place at his VIP suite at the Fairmont. I remember being awestruck by a large collection of paintings and sculptures in his room. I had no idea he was such a prolific artist, as the room seemed to be overflowing with Johnny Otis originals.
In the interview, Johnny talked about his 1954 recording session with Etta James, producing the song "Roll With Me Henry," which became the hit record that launched Etta's career as a solo artist. Richard Berry, who wrote LOUIE LOUIE a year later, was brought in to sing with Etta, singing as the character of "Henry."
Johnny and Richard were solid friends for over 40 years. When Richard recorded his live album at Hover Restaurant in the late 1960s, Johnny provided the liner notes.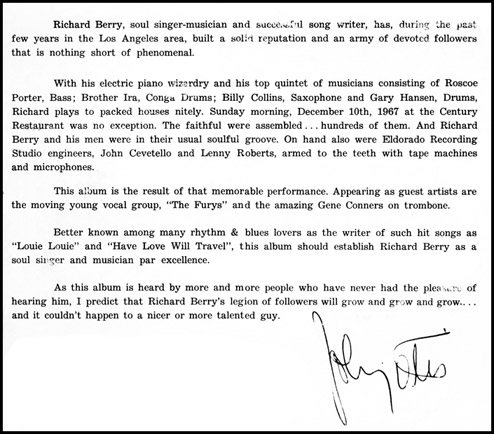 When Johnny launched the Blues Spectrum record label in the 1970's to produce contemporary re-recordings by rhythm & blues legends that could use some extra acknowledgement, Richard Berry was one of artists signed to the new label.
When Johnny began a series of Red Beans & Rice Festivals in Santa Rosa (CA) during the 1990s, Richard was one of the star performers for the first shows.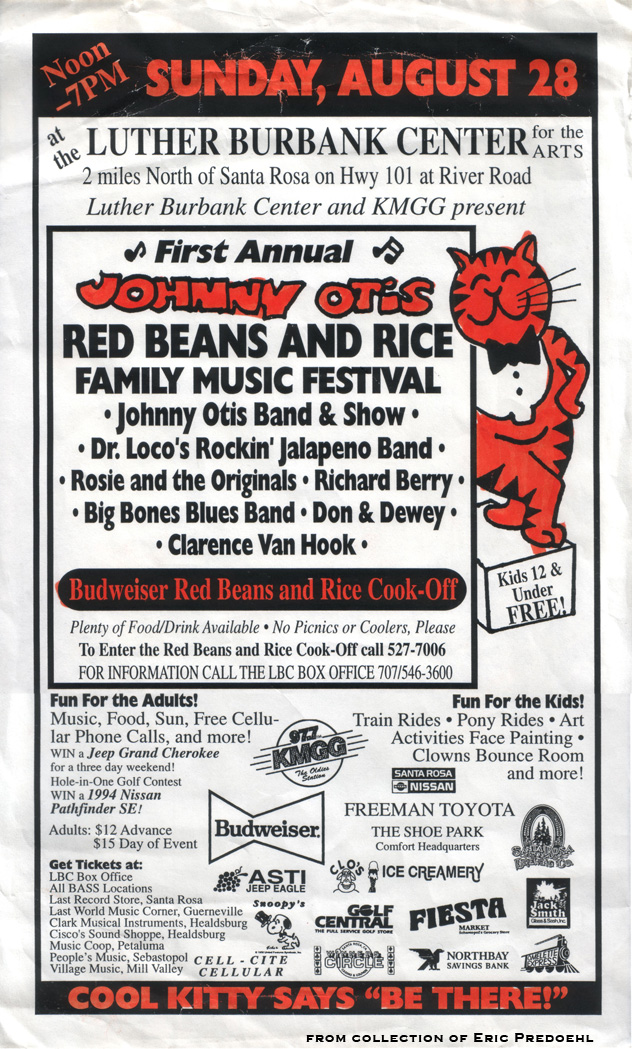 Johnny died at the age of 90 years old on Tuesday, January 17th.
It's not a bad age to live to, but it's still a bummer that he's no longer with us.
Thank you, Johnny for making a difference!
Eric Predoehl
-producer/director of the LOUIE documentary project
OTHER JOHNNY OTIS REFERENCES:
An appreciation: Dave Alvin remembers Johnny Otis
San Francisco Chronicle obituary by Aidin Vaziri
San Francisco Chronicle obituary by Joel Selvin