A few months ago, I posted something about the death of my friend Shasta Bates, a gifted singer-songwriter that I thought deserved to find success in the music industry.
Sadly, I've got another friend that add to to that category.
My friend Tim Alexander was one of the most creative singer-songwriters I've ever known. I met him years before I ever got involved with the LOUIE LOUIE documentary project. I loved the way he constructed music, blending catchy pop hooks with exotic sounds to create uniquely original compositions unlike anything I'd ever heard before.
I was not only a fan and friend, but I was also an investor in his music. Back in the early 80s, I stumbled upon an opportunity to work with a small record label with a New York musician that I believed was a geniune missing link between crazy hippy folk music and primal punk rock music. I wound up working with David Peel and his Orange Records DIY musical empire. I established Orange Records West to help coordinate promotion and distribution with the New York office, as well as work with up-and-coming musicians on the West Coast.
One of the few California artists I brought to the Orange Records empire was Tim and his band, A Western Front. Tim and the band moved from the Bay Area to Los Angeles, where they hoped they would find success in the music industry. Lacking a proper label to share his music, I offered to help Tim distribute his various cassette releases and his self-produced album "OFF TO THE ANGELS" with my Orange Records West business, as I was already working with various distributors.
When one of Tim's songs was licensed as part of a soundtrack of new feature film, I thought it might be a good idea to release some type of record to cash in this new opportunity. I invested in a 4-song EP that I hoped would do well. With the then-current attention by the PMRC to encourage record labels to put warning labels to identify "dangerous music," I came up with what I thought would be a novel way to market the product. On every record, I slapped on a label with the warning "Caution: the surgeon general has determined that reading these lyrics during the operation of an automobile may be hazardous to your health."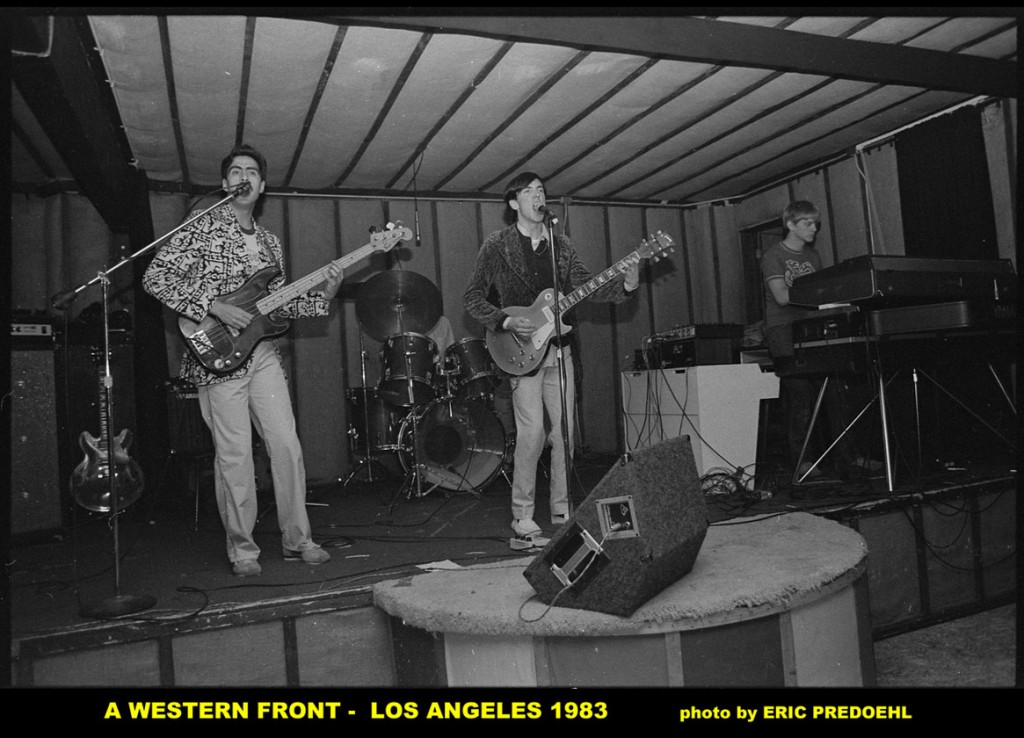 Sadly, the record didn't sell very well. To make matters worse, the film that we thought would include Tim's music was released with another name, and an entirely different soundtrack.
Later on, I decided I didn't really want to run a record label anymore. I was more interested in video production, and didn't want to deal with any additional headaches, other than the ones I already had….
I never gave up on Tim, as I've always been a major fan of his music, and loved hearing about whatever creations he shared with me. I did create some video productions for Tim, including this little film production that utilized one of the songs on the 4-song EP that I released….
Here's a little video I shot when I was attending San Jose State. At the time, I was into using moire-type visual effects, so I used some artsy-fartsy special for this studio production. In retrospect, I think I probably over-did it with the effects, but it is what it is- a special moment in time that turned out to be the only video of this particular song.

Tim Alexander – "I Could Live in the Orchard"
Over the years, I had a hard time keeping track of all of Tim's musical projects and aliases. Besides A Western Front, there was also IMRU, The Sweet Life, Baby, The Slowest Train in the World, Elijah Craig, and simply "Bab."
Luckily, he linked with a guy named Beach and joined forces to create Quagmire Records, which allowed him the freedom to release his music in exactly the manner he chose to release his music.
Here's one particular composition he did with The Slowest Train in the World that I really loved…

The Slowest Train in the World – I'm Without My Rider
I wish I could say I kept in better touch with Tim. It saddens on me on so many different levels that he's no longer with us. It's been a week since I heard the news, and it's still a bit of a shock. There's so much more I can say about Tim, but I think I'll save it for later…
Rest in peace, my friend. You will absolutely not be forgotten.
(P.S. As far as I know, Tim never performed LOUIE LOUIE)