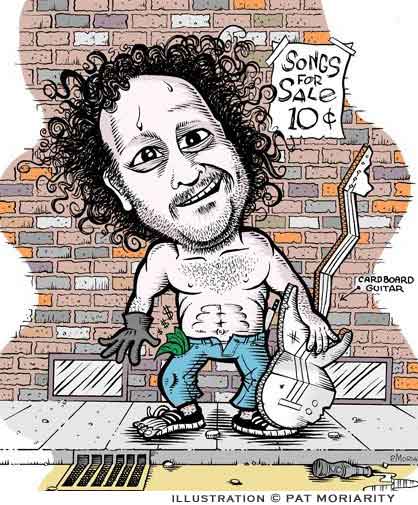 Today, I'm saddened to report another casualty in the music universe.
Larry "Wild Man" Fischer, as far as I know, didn't record LOUIE LOUIE, nor did he have any obvious connections to the song.
Wild Man Fischer, was however, the very first musician to record for Rhino Records. The first release was a 45 single from Larry entitled "Go to Rhino Records," released in 1975 to promote the original Rhino Records store on Westwood Boulevard in Los Angeles. A few years later in 1975, Rhino Records released it's first album ever – a Wild Man Fischer LP entitled "Wildmania."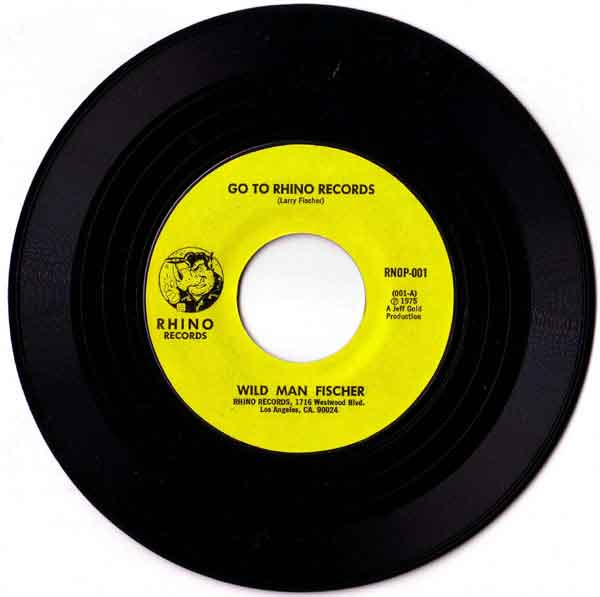 In 1983, Rhino Records collaborated with KFJC Radio to release the compilation "The Best of LOUIE LOUIE," which was released in conjunction with the KFJC Maximum LOUIE LOUIE marathon. Richard Foos, co-founder of Rhino, told me that the LOUIE LOUIE compilation was one of Rhino's early success stories, selling a lot of records.
Rhino Records became one of the most successful reissue record labels, and was eventually purchased by a larger company, becoming a wholly owned unit of Time Warner in 1998.
In 1999, Rhino created a spinoff divsion entitled "Rhino Handmade" which focused on extremely limited editions of hard-to-find rarities. Their very first release – RHM2 7701, was "The Fischer King," a 2 CD compilation of all the WIld Man recordings made for Rhino Records. It sold out within a weeks of it's release. and is now selling for top dollar on eBay and Amazon.
One could argue that without Rhino Records, "The Best of LOUIE LOUIE," and all beautiful connections that made the KFJC event so memorable, I would have never known about the LOUIE LOUIE universe.
One might also argue that without Wild Man Fischer, maybe the Rhino Records label may not have existed…?
Hard to say. To paraphrase a Ray Bradbury concept, the "sound of thunder" may or may not have happened at all….
Wild Man Fischer, was always a fascinating character to me. I was exposed to his music via Dr Demento radio shows. It took many years for me to track down his very first album "An Evening with Wild Man Fischer," produced by Frank Zappa in 1968 for the Bizarre record label, which remains out of print to this day.
Dennis Eichhorn wrote about some of his adventures with Wild Man in his autobiographical comic book series "Real Stuff." Those particular stories were later assembled into a biography co-written by illustrator J.R. WIlliams entitled "The Legend Of Wild Man Fischer."
(On a side note, I did get Dennis on camera to talk about Paul Revere being his barber in Idaho during the early 60's, but we'll save that for later….)
A few years ago, a documentary was produced on the life of Wild Man Fischer. It took awhile to get released in the United States, but this year MVD released "Derailroaded: Inside the Mind of Larry 'Wild Man' Fischer" on DVD.
Josh Rubin did a great job of directing this film, which I saw for the first time two weeks ago. Larry was a paranoid schizophrenic with bipolar tendencies. He alienated his (former) best friends, and mistrusted everybody. It was difficult for anyone to be close to him. This documentary was fascinating, yet painful on various levels.
Check out the trailer for the Derailroaded film…
Pat Moriarity, who created the illustration I used for the top of this posting, created some great animation for the documentary. He shared the uncut version of this animation on YouTube.
Here's some other links worth checking for those that want to learn more…
The official Derailroaded documentary website
Kurt Browne writes about the Legend of Wild Man Fischer
Mark Prindle provides an overview on Wild Man Fischer
ADDITIONS: (added about 12 hours later…)
Richard Foos, Rhino co-founder, writes about Larry Fischer
Dr. Demento mentions death of Larry Fischer
Wild Man Fischer's last TV appearance – the Jimmy Kimmel show