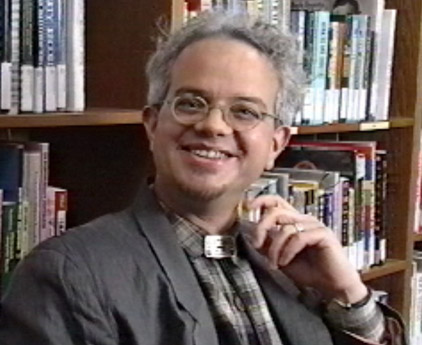 Strange as it may seem to some of my friends, there was a period when LOUIE LOUIE had absolutely no significance in my life. I had absolutely no knowledge about the song, Richard Berry, or the rich musical heritage of the Pacific Northwest.
As I've mentioned various times before, my life took a dramatic change when I met Richard Berry and Jack Ely at the KFJC Maximum LOUIE LOUIE marathon. Borrowing a public access video camera, I decided to document this special moment when a local radio station decided to produce a rather ambitious marathon that sought to broadcast every known version of the song "LOUIE LOUIE." It was at this event where I discovered the fascinating story of a relatively unknown songwriter as well as the man with the iconic voice behind the world's most recognizable version of this song. They had never met before, and I found their personal stories to be quite captivating. I had somehow stumbled upon a unique story that hadn't received any acknowledgement in any history books that I'd ever read.
At the time, I had no idea the impact that LOUIE LOUIE had on the psyche of the Pacific Northwest music scene during the 1960s. Neither Richard Berry or I had ever heard of Rockin Robin Roberts, the Wailers, Little Bill Engelhart & the Adventurers, who had all recorded the song years before The Kingsmen or Paul Revere & the Raiders ever covered it.
In the course of my research for my documentary, I've spent a lot of time researching the Pacific Northwest music scene, interviewing hundreds of people, and reading every little article on the subject I could get my hands on.
Peter Blecha was one of a handful music historians that wrote extensively on the subject of the Pacific Northwest Music legacy. I discovered his writings in a variety of different music publications and album liner notes. Based in Seattle, the passion he shared for the rich musical legacy of his home base was a wondrous thing to behold, and I really appreciated all the articles that he wrote about the subject.
I'm proud to acknowledge Peter as a solid resource for the LOUIE project. He's not only shared some great articles, but he's provided me with an excellent interview for the documentary. Here's a few books he's written that I'd like to personally recommend:
Sonic Book: The History of Northwest Rock from 'Louie Louie' to 'Smells Like Teen Spirit is an exceptional book. It's the most comprehensive book of its kind, documenting an important part of rock and roll musical history that had been ignored for too long. From Jackson Street Jazz of the1940s to the Grunge Revolution of the 1990s heard around the world, this book provides a great overview of a rich musical heritage.
For those that want to learn about the history of Northwest rock and roll, this is an essential reference book.
Music In Washington: Seattle and Beyond is a beautiful historic picture book from Arcadia Press, with a full chapter devoted to "the LOUIE LOUIE craze." In this book, you can see a photo of the Eagles Ballroom where Richard Berry played in 1957 on a billing that included Bobby Bland and Junior Parker. There's also some jaw-dropping photographs of the Birdland Club, Rockin' Robin Roberts, Little Bill Engelhart, the Frantics, the Ventures, the Wailers, Don & the Goodtimes, the Kingsmen, and a lot of others relevant to the LOUIE legend. On the cover of this book is an incredible photo of Paul Revere & the Raiders, captured by Gino Rossi, who also took some of the finest photos ever taken of the original Kingsmen.
Taboo Tunes: A History of Banned Bands & Censored Songs is another great book by Peter, focusing on musicians whose works inspired big controversies, including Billie Holiday, Woody Guthrie, Ray Charles, Jimi Hendrix, Public Enemy, 2 Live Crew, Dixie Chicks and hundreds of others.
Thank you, Peter!
Visit his website at
http://peterblecha.blogspot.com
and his Northwest Music Archives blog at:
http://nw-music-archives.blogspot.com