This week's LOUIE is a rare live recording of the Doors performing LOUIE LOUIE in San Diego in 1970. High fidelity is something this recording is definitely not. It's a low-grade, distorted audio recording that will probably never get released on any official Doors product, but it is indeed a historic moment that has luckily been preserved for posterity.
http://www.youtube.com/watch?v=X_SZIXXXwq8

In a previous posting to this blog, I wrote about Jim Morrison, the Doors, the Turkey Joint West, and Ray Manzarek's old band before the Doors- Rick & the Ravens. Thanks to the source material provided by the late Judd Whitcher, a member of that early band, I was able to share some previously unseen images from the Doors universe.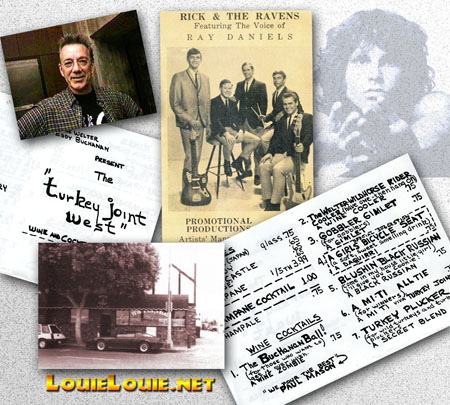 As fate would have it, that particular blog post led to author Rui Pedro Silva of Portugal contacting me to see if I'd like participate in an ambitious book he was assembling on the history of The Doors. He wanted to use some of those very rare images that Judd had provided to me, which apparently had never been published anywhere else. His book would be initially published in Portugese as "Contigo Torno-Me Real," with a later edition to be published in English.

In November 2010, Rui came to the United States to celebrate the publication of the English edition of his book, which was titled "You Make Me Real." There was a special event for this book at UCLA Royce Hall in Los Angeles, where I got a chance to meet Rui in person, and get a copy of this very special book on the Doors.
It's a very ambitious book that's unlike any other book I've ever seen on the Doors. It's a rather heavy 510 page trade paperback with a wealth of information from a variety of people that were part of the Doors universe, which includes some pieces specifically written for this book by surviving Doors- Ray Manzarek, Robbie Krieger and John Densmore. Jac Holzman, founder & chairman of the Elektra Records, who signed the Doors to his label in 1966, provided the special Foreward to this book. There's also some great memories shared by Bruce Botnick, Bill Siddons, Kathy Lisciandro, Vince Treanor, Larry Knechtel, Doug Lubahn, Marc Benno, Emil Richards, Leland Sklar, Gene Youngblood, Jose Feliciano, Tom Smothers and a lot of other people. There's even something written by Jerry Hopkins, co-author of the most famous Doors book of all time (Nobody Here Gets Out Alive), who's proud to mention how that particular book stays pays for his seemingly-endless entertainment expenses.
The book signing event at UCLA was a lot of fun, as it was a chance to hear some stories by some of the contributors, as well as a live performance by Peace Frog, a Doors tribute band, who posed with Rui in this photo I took.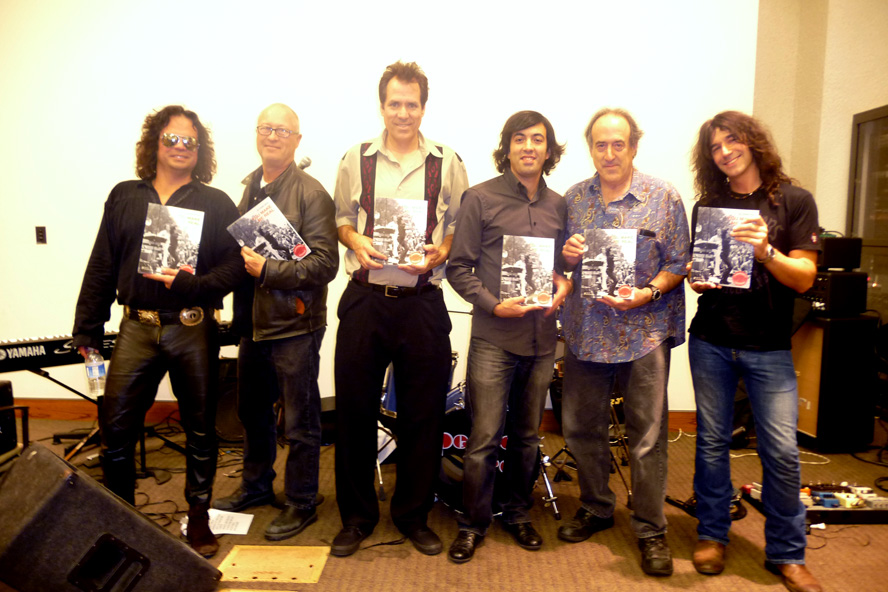 I'm very proud to be a participant in this project, and I wish Rui all the best wishes in getting this book out to the public. So far, I haven't seen any special webpage or even a listing on Amazon to sell this book, but if you drop a line to Rui, I'm sure he'll be happy to sell you a book directly.
Here's a photo of yours truly with the author, somewhat over-exposed by a buggy camera…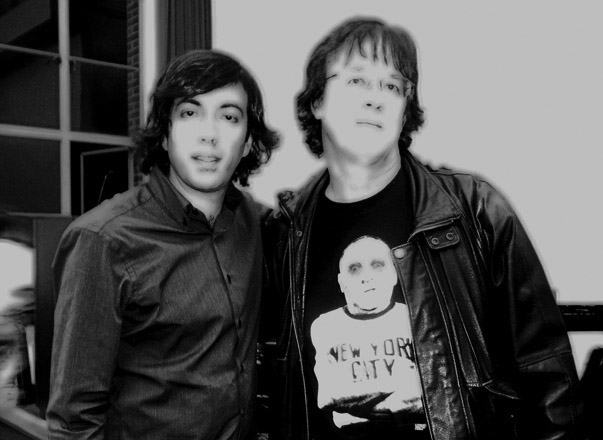 UPDATE: Rui Silva added an update to this story:
Next Saturday (March 5th) it will be the official release of the book in Europe. I was invited for an Italian event (book release, concert celebrating Doors music, photo exhibit, etc). I'm sending you the poster of the event as an attachment. Hope you like it.

The book will be soon available through internet (Amazon) etc.