You may have heard of Dennis Mitchell.
As it turns out, there's actually more than one.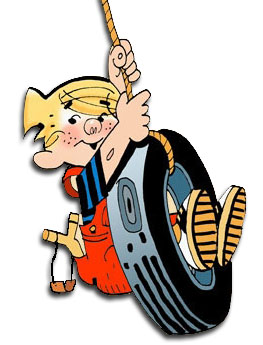 The most popular Dennis Mitchell is not a real person, but a comic strip character. He's the star of the syndicated comic strip "Dennis the Menace," invented by Hank Ketcham in 1951. Now written and drawn by Ketcham's former assistants, Marcus Hamilton and Ron Ferdinand, this strip is distributed to more than at least 10,000 newspapers in 48 countries and 19 languages by King Features Syndicate. This particular Dennis has been the star of a live action TV show that lasted four years (1959-1963), two motion picture comedies (1993 +1998), a handful of animated TV shows, and was used as the cartoon mascot for the Dairy Queen restaurant chain.
There is both an official Dennis the Menace website, and unauthorized Wikipedia webpage for this beloved character.
There's also another Dennis Mitchell that you should know about. He's a singer-songwriter based in Portland, Oregon with a band that's simply called The Dennis Mitchell Band. He was previously in a band called No Ties. His older brother, Mike Mitchell is from another band from Portland that you have heard of. When Mike's band recently went through personnel changes, Dennis was invited to become a member.
Ladies and gentlemen, meet Dennis Mitchell, the newest member of the Kingsmen!
There are other guys named Dennis Mitchell, including a gold medal athlete, a disc jockey that likes to play Beatles music, a portfolio manager for an investment company, an owner of an auto repair facility in Tennessee, and even some guy on MySpace that used to have a band called Dennis Mitchell & the Wilsons, but we won't talk about them…
If you want to learn more about Dennis Mitchell, the guy who is now a new member of the famous garage band that put LOUIE LOUIE on the charts, go to:
DennisMitchellBand.com