I've been putting off this posting for some time. I've got way too many good memories, and I wasn't sure how I wanted to address this. With less than two weeks to go, I figured I might as well get off my butt and write something.
One of my favorite record stores, Village Music in Mill Valley, California, will soon be be shutting down forever.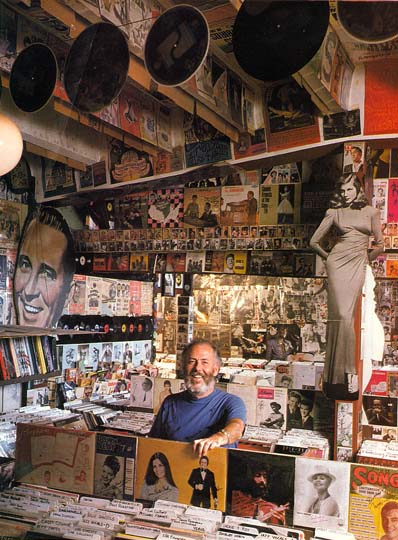 Back in the early 1980s, before I ever thought about LOUIE LOUIE, I ran a little record label, releasing music that I thought deserved more attention. One of the things that helped me deal with the challenges of this business was a DIY-type book about how to run an independent record label. In this particular book, there was a lot of advice from a storekeeper that made a lot of sense to a novice like myself. That particular storekeeper was John Goddard, and his store was Village Music. Not long after I thoroughly devoured the words in that book, I was introduced to John by my good friend Bob Sidebottom, who ran the Comic Collector Shop in San Jose, California.
I remember the first time I visited John's store, I felt like my eyes had popped out of my head. It seemed like very single inch of the store had amazing vintage musical memorabilia covering the bare walls- old concert posters, autographed photographs from iconic musicians, picture discs from all over the world, sheet music, and crusty old magazines I've never seen before. On one wall, I saw one of Bing Crosby's driver's licenses, framed alongside an 8×10 of the popular crooner. Not far from that spot, I saw autographed photos of Buddy Holly, Elvis Presley, and Johnny Cash. On the other side of the store, I saw autographs by W.C. Handy, Billy Holliday and Janis Joplin side-by-side , linked together as spiritual siblings. Near the entrance of the store, I gasped as I saw all of the Beatles' autographs on a Carl Perkins Fan Club letterhead, positioned close to autographs by Howlin' Wolf, Hank Williams, and Charlie Parker. The entire store seemed to be an exercise in sensory overload. Every time I would visit, I would continue to see more items I'd never seen before! Cooler than any music museum I'd ever visited, this store was an epicenter for some outrageous material that could drive a serious music archivist to absolute ecstasy!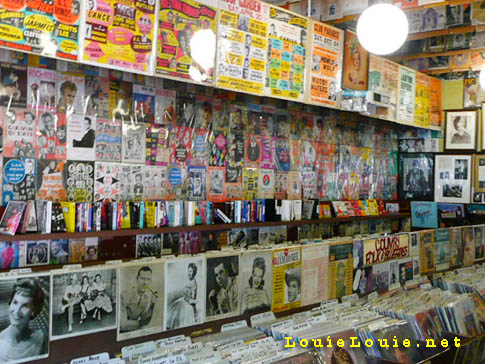 One day, Bob got an invitation to one of John's parties at the Sweetwater Saloon, and Bob asked me if I wanted to be his guest. I had a reliable car, and was happy to drive us both there, which was a 90 minute drive from Bob's shop. That particular party featured Elvis Costello and Nick Lowe. At the time, Costello had just released his "Spike" album, so he did a lot of tracks from that album, including "God's Comic," which I thought was hysterical.
The evening's performance was certainly an eclectic mix of musicians. In addition to Costello and Lowe, there were some other great musicians onstage that night, including Charles Brown, Commander Cody, James Burton, Bob Weir, and Mitch Woods. The strangest moment for me was seeing Elvis Costello onstage with Jerry Garcia, Sammy Hagar and Annie Sampson. If I wasn't there, I wouldn't have believed it, but there they were … right in front of my own eyes!
Not long after that initial show, I attended more Village Music parties at Sweetwater. Richard Berry invited me to be his guest when he headlined one of these parties, backed by Ry Cooder and Steve Douglas. Then, John hired my pal Jesse Block and myself to videotape some of these parties, which turned out to be an absolute joy. Over the course of approximately 10 years, we documented some amazing performances by John Lee Hooker, Albert Collins, Ann Peebles, NRBQ, Little Jimmy Scott, Maria Muldaur, Carlos Santana, Pop Staples, and so many others.
Some of our concert footage of Jerry Garcia and David Grisman was used in the Grateful Dawg documentary. I remember chatting with Jerry during the soundcheck, which led to an exclusive interview for THE MEANING OF LOUIE. Jerry was definitely hip to LOUIE LOUIE and was very familiar with it's author, Mr. Richard Berry.
I was extremely saddened when I heard that John announced he would be closing down the shop by the end of September. Adding a double-whammy to the mix, the Sweetwater Saloon announced it would also be shutting down, due to some nasty rent increases from the landlords.
A few months ago, Elvis Costello showed up to do a free show at Village Music. What I didn't realize until he mentioned it, was that Village Music was one of the first places that Costello discovered when he first visited America back in 1977. His very first American performance was at the Old Waldorf, and he couldn't afford to stay in San Francisco, so he stayed at a Holiday Inn in Mill Valley, across the bay. By some strange fluke, he stumbled into John's store, and a great friendship was formed. If you ever read the liner notes for the "Kojak Variety" album, you'll see that Costello credited John for turning him onto a lot of great music.
Last Sunday, I attended a wonderful farewell party for Village Music at the Great American Music Hall in San Francisco, presented by our friend David Hardy, who was directly responsible for coordinating the video documentation that I've been fortunate to be a part of. Like the Sweetwater parties, this event was a heartfelt event. Sugar Pie DeSanto, Jimmy McCracklin, and the Collins Kids were some of the great performers at this show. The big highlight was seeing Bettye LaVette, who sang an emotionally-powerful set, telling the audience how John Goddard changed her life in a most dramatic way. For most of her 46 years in the music industry, she struggled in obscurity, and five years ago, John helped her connect with people that could actually make a difference in her career. She cried as she told the story about she was able to provide an allowance to her grandkids for the first time in her life.
A few days ago, I visited John at the store, and spent a few hours browsing with a friend that had never been there before. Despite my numerous visits to the store, I still continued to see new things at this store every time I visit, and my recent trip was no exception. The big difference was this was the first time I actually saw John remove items from the wall, as buyers came in to spend some serious money for some of these beautiful vintage posters.
I am having a hard time imaging Village Music no longer existing. The Sweetwater Saloon has gone through some near-death experiences in the past, and there's still a chance it may actually be saved. I can't blame John for wanting to retire, as the music retail industry is not for the timid. I don't think I could ever run a record store for over 40 years.
There is some good news on the horizon. One of John's faithful employees, Gary (whose last name escapes me), is opening up a new record store in Mill Valley, which will probably include some of the old records.
Also, Gillian Grisman, director of Grateful Dawg, daughter of David, is producing a documentary on Village Music, which means that many of those great performances I helped document will finally be released legitimately.
In the meantime, here's a few links about these soon-to-be-gone Mill Valley icons:
VillageMusic.com
SweetwaterSaloon.com
SF Chronicle article – Sept 4, 2007
SF Chronicle slide show
Marin Independent Journal article – May 3, 2007
I'm Learning To Share blog- post on Village Music party – Sept 9, 2007