Somedays I just love Facebook for the way it helps me connect me with friends and the good stuff. Today's one of those days. David J. Coyle sent me this little image from cartoonist Bill Griffith's Facebook page:
Here's the original caption:
And when he's not into King Curtis or Charlie Parker, Zippy channels The Kingsmen's version of "Louie, Louie" (original: Richard Berry, 1955) on his tenor uke.
This cartoon is really nice, but you know what's really cool about this?
The ukelele was the very first instrument Richard Berry ever learned to play. He was at a summer camp for disabled kids, and it was there that he picked up the ukelele, learning such songs as "John Henry."
When he went back to school, he used to walk around campus with his ukelele. He stopped carrying it around when he decided he wanted to look more "badass."
The high school he went to was Jefferson High in Los Angeles. A lot of great musicians came out of that school – Dexter Gordon, Big Jay McNeely and a whole bunch of other very talented musicians. One of his earliest bands he was in, formed during high school, got a record contract, signing with the Bihari Brothers as the Flairs.
The Bihari Brothers signed a lot of new talent – John Lee Hooker, BB King, Etta James, and many others you've heard of.
So, yes… LOUIE LOUIE, Richard Berry, ukeleles and Zippy the Pinhead are all connected in a wonderful web of synchronicity.
Just to add more levels of unlikely associations to a bigger picture, when I first started taking television production courses at De Anza College, my friend Craig Scoffone had a crazy idea of doing a fake TV talk show with Zippy the Pinhead. We talked our friend Bill Hoffman into wearing a Zippy suit, and another friend Chris Robbins into wearing drag to play a talk show hostess. I wound up as a camera operator for this thing.
As fate would have it, I think I'm the only one with a copy of this TV show.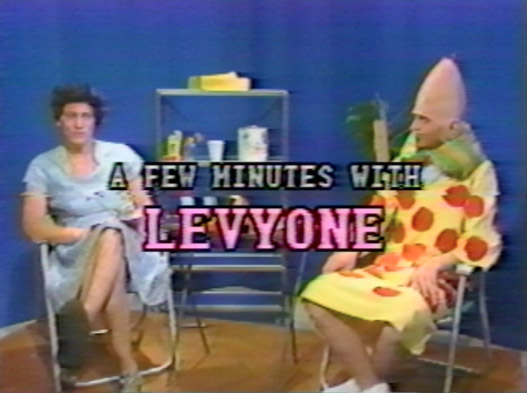 Having watched this video again, maybe it's for the best…..
Bill Hoffman, Chris Robbins…. wherever you are…. I would love to hear from you guys!
Anyways, the "Zippy Pinhead LOUIE LOUIE connection" continued with other cartoons created by Bill Griffith, like this one….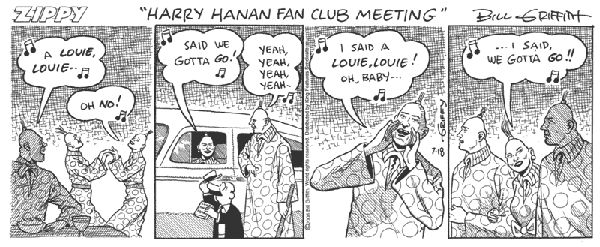 In fact, you can even order a rockin' print that features the theme of LOUIE LOUIE, personally autographed by Mr. Griffith. Pretty cool, eh?
So why not visit ZippyThePinhead.com and buy something good for yourself, why don't cha? Or how about a gift for a friend that deserves something nice to decorate their plain-looking walls?
Let's give it to 'em… right now!
UPDATE: Bill Griffith, creator of the Zippy the Pinhead, contacted me after this blog posting, very anxious to see this silly video performance.
With a request like this, how could I refuse? So, by special request, here's the video I worked on …. a long, long time ago…