For the past couple of days, I've been thinking about Frank Zappa. One of my favorite experiences seeing Zappa live took place in 1980 at the Berkeley Community Theater, in Berkeley, CA.
At the time, there was a bit crazy chaos in getting a bunch of friends together to see this particular show. There was a group of four or five of us – me, Laura Narog, John Platt, Ronnie Simpson, and maybe someone else whose name I can't remember. I think John Platt drove a bunch of us from San Jose to Berkeley in his dad's station wagon. There was a 7 pm show and a 10 pm show. We were running late, and wound up missing most of the 7 pm show we bought tickets for. We arrived just in time to catch the last two songs of that set.
While most of the audience was cleared out of the theater to prepare for the 10 pm show, somehow or another, Laura and I were able to sweet-talk our way into staying in the theater while the rest of our friends were kicked outside. I forget exactly how we pulled it off – we either convinced the ushers we were friends of the band (which we weren't) or someone actually took pity on us, and allowed us to stay in the theater for the second show.
When nobody was looking, as the show started, we were able to open one of the exit doors, and sneak our friends back into the theater… with a few extras….
I remember being completely blown away by this performance. Frank Zappa played a lot of songs I've never heard before, and the new guitar player, some guy named Steve Vai, also sounded really good.
The date of this show was December 5, 1980. A couple days later, a real awful tragedy took place in New York, putting a damper on what should have been a great time for celebrating music that month.
Frank was born on December 21, 1940 and died on December 4, 1993, adding more December memories for the legacy of Mr. Zappa.
That particular show in Berkeley that I attend was actually recorded, and used as part of Frank's next album – Tinseltown Rebellion.

Ironically, this album had a worldwide premiere on KFJC Radio – the station that would produce the Maximum LOUIE LOUIE marathon three years later, which in turn, inspire me to get involved with this LOUIE project.
My friend Alex Pantages, a KFJC DJ, along with fellow DJ Paul "Buddy Awreetus" Korntheuer, DJ Russ "Winston Q" Reynolds and journalist Dan Forte had a brainstorm about doing a big Frank Zappa radio special, using Dan's raw interview tapes from his Musician magazine article to celebrate Frank's musical legacy. When Alex contacted Frank's manager about this proposed broadcast, he learned that Frank was about release a new album in a few months. Originally planned for April 1981, the radio special was rescheduled for May 1981 to tie in with the official release of the new album.
With due diligence on behalf of some dedicated disc jockeys, KFJC Radio not only scored with the worldwide broadcast premiere of the new Tinseltown Rebellion album that was officially released a week or two later, but was also the very first radio station to share a preview of a second album – Return of the Son of Shut Up 'n Play Yer Guitar Some More.

By some odd coincidence, this particular radio special was one of a handful of ambitious radio specials that were broadcast during the month of May 1981 as part of a "Month of Mayhem," which initiated an annual tradition that continues to this day at KFJC.
And so today, a day in December, seems like a good time as any to celebrate the legendary Frank Zappa. The connection between Frank and LOUIE has been acknowledged in one of my previous webpage articles, and I figured it was time to share another one of his LOUIE-inspired performances as part of the ongoing LOUIE of the Week feature!
On YouTube, I found a rare, not-commercially-available archival recording of "Plastic People," Frank's inspired rewrite of LOUIE LOUIE. This is a recording of the song captured at Olympia, Paris on October 26th, 1968.
I don't know where this video footage came from. but it works nicely with the music…
WHOOPS!!!
http://www.youtube.com/watch?v=HmXFM_zMsSU

(By the way, the photo I shot of Frank was taken in 1981 at the Santa Cruz CIvic Center – another amazing performance)
UPDATE: Alex Pantages shared some extra memories of this special radio show, including some photographs..

Alex wrote:
Some great memories. At the Santa Cruz show, I got to go backstage and meet Frank (using connections at his management company that got us the world premiere of 3 album sides for the FZ special at KFJC). Frank was smoking a cigarette and having a cup of tea while we talked. He seemed genuinely surprised that we put so much effort into a show about him and his music (thanks to Buddy and Winston). He did a couple of logos for the station and autographed a page from the KFJC program guide. And yes, Dweezil was awesome in concert. We miss you Frank.
Here is the the page from WAVES, the KFJC Program Guide, about the Frank Zappa special. Signed by Frank (when I met him at the Santa Cruz show 1981) and also Tommy Mars and Steve Vai.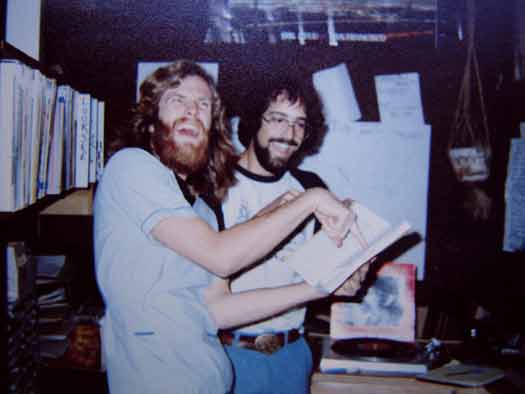 Buddy Awreetus and myself during the 10 hour Frank Zappa special.
Dan Forte and me in front of some of the material used during the special. We are pointing to 3 test pressings that Dan got from Glotzer Management (Frank's management company at the time) in LA. I still have these. They are Frank's handwriting and one of them is a metal mother disc.
L to R: Winston Q (Russ Reynolds), Buddy Awreetus (Paul Korntheuer), Dan Forte (former Editor of Guitar and Listener Magazine) , Donn Paulk (friend, local Palo Alto resident and owner of many incredible alternate takes, "bootlegs" and other rare recordings).
Re-creating the pose from the album, Zoot Allures (in front of Paul on the floor).
These are the test pressings that were given the world premiere on KFJC, May 1 and 2, 1980.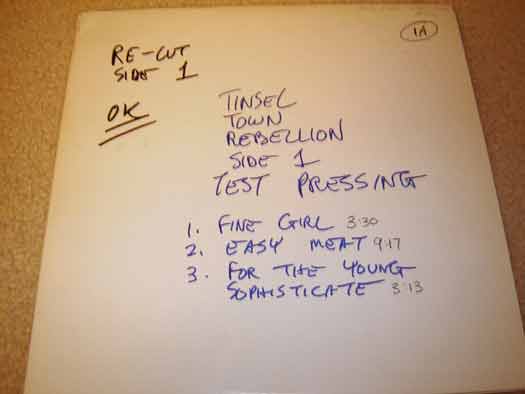 Tinsel Town Rebellion Side 1
Tinsel Town Rebellion Side 4
Return of the Son of Shut Up and Play yer Guitar.