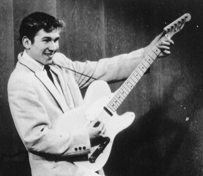 Years before the Wailers recorded LOUIE LOUIE with Rockin' Robin Roberts, they were considered one of the hottest rock bands to emerge from the Pacific Northwest. In 1959, when they were still in high school, they were signed to Golden Crest Records, their song "Tall Cool One" peaked the national charts at #36, and they appeared on such television shows as the Alan Freed Show and Dick Clark's American Bandstand. For many people in the Pacific Northwest during the late 50's, the Wailers were THE ROCK BAND to watch.
At the time, John Greek was considered the leader of the Wailers, having founded the band in 1957 with a few other kids whose parents were stationed at the McCord Air Force base in Tacoma, Washington. One year later in 1960, some tension grew to an ugly head within the band, and John Greek left the Wailers. Taking his place was Buck Ormsby, a bassist who originally played with Little Bill and the Bluenotes. Together with Kent Morrill, these two Wailers created Etiquette Records as a means to release their own material. Their very first record was a 45 single of "LOUIE LOUIE" by Rockin' Robin Roberts, another member of the Wailers that was initially a member of Little Bill and the Bluenotes. This particular single, which came out in 1961, was considered the archetypal recording that inspired the Kingsmen, Paul Revere & the Raiders, and hundreds, if not thousands of other rock bands from the Pacific Northwest to perform the iconic song known as LOUIE LOUIE.
John Greek, the man who started the band, was for the most part forgotten by the music industry. He did a few other musical ventures, including some recording with Gary Paxton, some session work with the Fifth Dimension, but for the most part, he lived in obscurity, rarely to be heard from again.
In 1999, American Music Magazine, an amazing publication from the Swedish Rock 'n' Roll Club, printed issue #81 as a big tribute to the legacy of Golden Crest Records, whose roster included the Wailers, Mando and the Chili Peppers, Little Jerry Williams (many years before he transformed himself into "Swamp Dogg"), the Mad Plaids, the Three Graces, and a handful of other musical groups.
In this particular issue, John Greek wrote a nice little article about his experience with the Wailers.
According to a Social Security database, John Greek was born on October 27, 1940, and died in San Diego, California on October 6, 2006, a few weeks shy of his 66th birthday.
I don't really have much more information beyond that.
Rest in peace, John Greek.
My thanks to Eric LeBlanc, John Broven, and Alec Palao for information about his demise.