Sometimes, I get lucky on the internet. I've been trying to find more images from the Evergreen Ballroom of Olympia, Washington for quite a few years now. Sam Carlson created a nice webpage about this place at his PNWBands.com site. I've found a great James Brown poster from the Evergreen, that I used in a blog posting when the Godfather of Soul died, also seen in the Art of Rock book, but I couldn't find much else on this place.
As I've mentioned before, the Evergreen Ballroom was a significant location in LOUIE LOUIE history, as it was the was the first place Richard Berry performed in the Northwest when he did a 1957 tour with Bobby Bland, Junior Parker and Etta James. I believe it was this very show where many folks in the Pacific Northwest first heard LOUIE LOUIE, which was released that year on Flip Records. Four years later, Rockin Robin Roberts (with the Wailers) and Little Bill and the Adventurers released the very first covers of Richard Berry's song in 1961, which inspired a multitude of recordings, including the Kingsmen, Paul Revere & the Raiders, and a handful of other Northwest bands. I've been trying to find some mementos from this particular club, and it hasn't been easy.
This week I got lucky. Mike Shea found me on the internet, and shared some photos that he took of some of the posters that were displayed inside the Evergreen Ballroom, a few months before the place was destroyed in a fire. Unfortunately, these aren't exactly high-resolution, and there's no detailed images of any single poster.
I'm just happy to see them. I regret that I never made the effort to find this place when I was living in Washington. Now, it's gone forever….
Mike also shared a link for a photo of his friend Fon Morcus, who was the last owner of this historic nightclub.
http://seattlepi.nwsource.com/neighbors/lacey/scene4.html
Take a look at these pictures that Mike shared with me….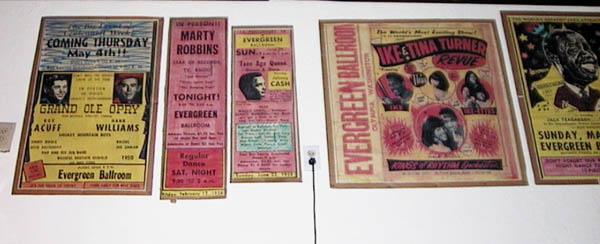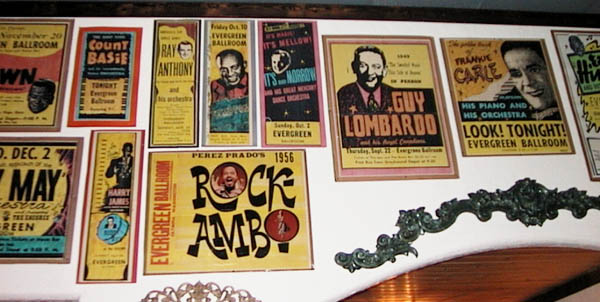 One of these posters is actually a reproduction, or a homage to the spirit of the Evergreen. It's nice, but it's definitely not an original. Can you spot it?
If ANYONE has any more images from the Evergreen Ballroom, or other great dancehalls from the Pacific Northwest, PLEASE drop me an email.
* * * * * * * * * * * * * * * * * *
For those you that feel inclined to "borrow" these particular images, please give credit to Mike Shea who provided these excellent images.
Everything else on this webpage is mostly copyright Eric Predoehl / LouieLouie.net, with the exception of the stuff I borrowed……..