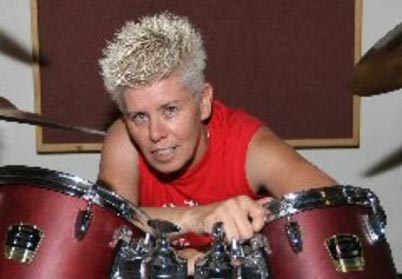 This week, I'm giving a shout-out to my friend Kaye Walden, who recorded a unique version of LOUIE LOUIE.
I've known for Kaye for ages, having photographed her old band – 13th Step, something like 20 years ago. She's a super-talented drummer that's played with Dinner with the Browns, Apricot Lounge, and some other bands I can't remember.
Kaye participated in the KFJC Maximum LOUIE LOUIE marathon by providing a special version, and here's her story:
So I heard KFJC again was going to do their Louie marathon and said if you would like the lyrics just let them know and they would mail them out. That''s US Mail not email. So I sent off for them since who could really understand what the lyrics were in the Kingsmen hit. When I got the lyrics I couldn't believe that they were Jamaican lyrics and at the time I was into SKA like "The English Beat" and thought "Oh- a ska version would be cool!"

I called up a friend of mine who played keyboards and said I want to record this song. So he and I got together with a little port-a-studio in his bedroom and started working on the song. I told him to start playing the chords and then said ok now I want to put this kind of beat to it. One thing led to another and I decided let's go back and forth with a ska/reggae beat. Originally he sang the song and the drums were hard to record with one mic.

Later I had another band fold and was a little fed up about that plus what little bit of studio recordings I had were usually rushed so there would always be a mistake left in it. That bothered me and decided it was time to take charge and pay for myself to go into a 16-track recording studio. I got some former guys together from past bands and said "Here is my version of the "Kingsmen – Louie, Louie". I need for all you to learn the arrangements and I want the leads to be played clean and be melodic."

So after they learned the songs I booked a practice session for 3 hours and we jammed on the two songs then I booked 9 hours of studio time to record and mix both songs. It was to feature me on drums and vocals so I could use it for a demo when looking to audition for bands etc. I never heard my version during the KFJC marathon but I have to assume it got played since the goal was to play as many versions as possible.

My version of "Louie" was the first thing I ever arranged and am very proud of it and I finished it in 8.5 hours. I don''t usually write so I just fed off of my influences and the help of my friend to play the chords for me since I couldn't do that either. I used to make a cassette tape of music to be played at gigs before my band (DWTB) "Dinner with the Browns", and would put "Louie" in it with all my favorite alternative hits just to see how people would react to hearing it and I got my feedback that way by seeing if any toes and feet were tapping along to it.

That''s how it all came about- Rick on keys, Dave on bass, Alan on guitar and (me) Kaye on drums, tambourine and vocals. It cost me $300 and well worth it for I am very proud of the whole project and results. That''s the history of my version of "Louie".
You can hear this version by visiting her BandMix page.
I told Kaye that I loved her version, and I'd like use her version in the upcoming documentary, so she agreed to allow me to use it.
Congratulations, Kaye! You are this week's LOUIE of the Week!