I just got word that Drake Levin, guitarist with Paul Revere & the Raiders, has succumbed to cancer today, passing away at the age of 62 at his home in San Francisco, with his wife Sandra at his side.
I knew that Drake had cancer, and hoped to visit him, but I never had the chance. and now he's gone.
Wikipedia had this entry for him:
Best known as the guitar player for Paul Revere and The Raiders. In 1966, Levin was forced to leave the performing version of the Raiders when the draft beckoned; to avoid a combat assignment, he joined the National Guard (a common strategy in those days, engaged in by at least one future U.S. president), which enabled him to record with the group during his time off. The fact that this was done is an indication of how well Levin stood in with Revere, as well as his popularity with the fans and the worth of his playing, because producer Terry Melcher wasn't above bringing in session players whenever he felt it necessary. Subsequently, after Phil Volk and Mike "Smitty" Smith left the band, Levin reteamed with them in Brotherhood, a promising trio signed to RCA that never got its full chance to be heard, owing to the members' lingering contractual obligations to Columbia Records from their Raiders work.
.
He subsequently demonstrated his worth as a guitarist by working with Ananda Shankar, Emitt Rhodes, and Lee Michaels, among other artists. He has also participated in reunions of various ex-members of the Raiders, and worked with his friend Phil Volk on several occasions.
ClayColeShow.com also shared some information about Drake Levin's career in music:
When Drake Levin played lead guitar with Paul and the Raiders, he and bass guitarman Phil Volk would pull-off a showstopper: "Drake on top of the left speaker and Phil on right speaker … dancing!" Those guys could and would dance plus play their instruments with superb results. Drake and Phil would dance on the speakers and play guitars behind their heads at the same time!
.
Many guitarists can't play at that level without even playing behind their heads! Once when they were performing at the Spanish Castle, a then- unknown Jimi Hendrix was in the audience, watching and learning from Drake. This was in 1963 or 1964 before Jimi made it big. Drake was obviously an influence to the guitar playing and showmanship of many musicians. Paul Schaefer of "The Late Show with David Letterman" is a fan.
.
Drake was with Paul Revere & the Raiders starting in 1963 and on into '67. While he was in the National Guard he would come to record with them in the studio and even fill in for Phil Volk during a couple of concerts, playing the bass. Drake, Smitty and Phil left the Raiders in 1967 to form The Brotherhood.
Here's a few other pages that discuss Drake Levin:
One part street punk, one part John Lee Hooker... (a fan page for Drake)
http://www.geocities.com/SunsetStrip/Exhibit/1056/
Paul Revere & Raiders – Past & Present Members
http://www.paulrevereraiders.com/Past_Present/pp_dlevin.html
Curtis Lawson Band featuring Drake Levin – Live At The Saloon
http://cdbaby.com/cd/curtislawson2
The Sinners Band – one of the last bands Drake was involved with
http://thesinnersband.com/bio.htm
Here's a clip that features Drake with Paul Revere & the Raiders:

Here's a semi-recent clip of Drake with The Sinners:

Rest in peace, Drake. You will be missed.
(thanks to Lloyd Phillips for sharing this cool poster on Flickr)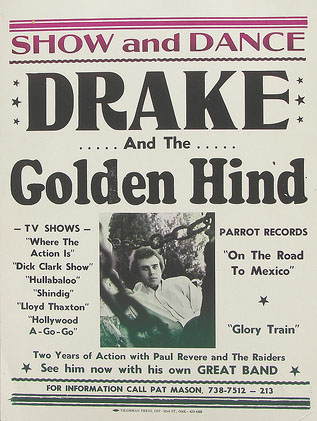 UPDATE: On Monday night, I got an email from Little Beach Girl:
This is the first time I have gotten to see your website; it's really groovy! You have so many pages for fans of "Louie, Louie" to browse! Paul Revere & the Raiders, namely Drake, Smitty, Phil, Mark, & Paul, could do "Louie, Louie" like no other. As you know, these five guys, along with the super cool Terry Melcher, wrote and recorded a follow-up song, entitled "Louie, Go Home". They recorded two arrangements of it, both of them excellent.

On your page for Drake, you have links to other websites' pages that talk about him. I would appreciate it very much if you would add my links as well. "Terry Melcher – Honoring A Musical Genius" is a website I started several years ago when I saw that there wasn't yet a website dedicated to Terry and his amazing artistry. I have two pages that particularly highlight Drake's talents: one where I have an in-depth review of the album "Midnight Ride with Paul Revere & the Raiders"
( http://www.freewebs.com/terrymelcherandlittlebeachgirl/treasuresofrecord.htm )
and one dedicated solely to Drake
( http://www.freewebs.com/terrymelcherandlittlebeachgirl/featuringdrakelevin.htm )
which I added several months ago. Thank you!