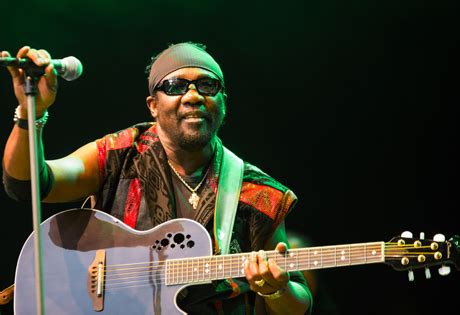 This one hurts. We just lost Toots Hibbert of the Maytals.
Yesterday, on September 11, his family released this statement:
"It is with the heaviest of hearts to announce that Frederick Nathaniel 'Toots' Hibbert passed away peacefully tonight, surrounded by his family at the University Hospital of the West Indies in Kingston, Jamaica.

"The family and his management team would like to thank the medical teams and professionals for their care and diligence, and ask that you respect their privacy during their time of grief."
I was blessed to meet and interview Toots for the LOUIE documentary project. He had an amazing voice, and could literally sing the phonebook and make it sound beautiful.
He was the first to use the term "reggae" and somehow sparked a musical revolution.
Variety provided a brief backstory of that term in a recent review for Toot's latest album:
.. Toots is credited with giving reggae its name when he christened his 1968 song "Do the Reggay." He has said that he changed the word "streaggae" to reggae by accident, the result of which was a Maytals song. Streggae was patois for a raggedy form of dress. Marley purportedly believed that it derived from the Latin word regi, which means king.
On the first album that Toots and the Maytals provided for Island Records– "Funky Kingston," they recorded the first Jamaican version of LOUIE LOUIE. The initial release came out in Jamaica and the UK on the Dragon subsidiary in 1972, followed by a revised variation on the Mango subsidiary for the USA in 1975. They were the biggest music act to emerge from Jamaica at the time. Along with the help of the movie "The Harder They Come," starring Jimmy Cliff, Toots and the Maytals, along with their friends Bob Marley and the Wailers, opened the door to a massive international audience that embraced this new music.
When Joel and Ethan Coen created their first movie, a 1984 noir murder mystery entitled "Blood Simple," they licensed the use of Toots' version of LOUIE LOUIE for this film. I remember talking to Richard Berry (author of LOUIE) about this movie. He told me that when he first watched this film, he heard a song that he really liked, and made a note to himself to watch the film credits to find out the name of this song. He was blown away to discover that it was HIS SONG, recorded in a way he didn't recognize, but absolutely loved!
As the original lyrics of LOUIE LOUIE include a stanza "Me see Jamaica moon above," it was perfect synchronicity to have Toots to record this song as a Jamaican reggae track. Among the cover recordings of this song, I've always considered the Toots version as one of the definitive cover versions.
In addition to performing the song many times with his Maytals, Toots has also performed LOUIE LOUIE with a handful of other prominent musicians, including the Red Hot Chili Peppers and the Dave Matthews Band.
In 2013, Toots was sidelined after a fan tossed a vodka bottle at him at a concert in Richmond, Virgina. He wound up with a concussion, and stopped performing for three years. When the assailant was brought to court, Toots asked the judge to give the man who threw the bottle a light sentence. "He is a young man, and I have heard what happens to young men in jail," he wrote in a letter to the judge. "My own pain and suffering would be increased substantially knowing that this young man would face that prospect." The man received a six-month sentence.
In 2016, Toots returned to the stage, which led to whirlwind of touring. In the next year, 2017, Toots and the Maytals played Coachella Fest, becoming the second reggae-based group to perform at the festival. That year, he also played at the Glastonbury Festival, and also headlined the 35th anniversary of the WOMAD UK festival.
In 2018, Toots and the Maytals launched a 50th anniversary tour with concert appearances in North America from April to August, which I was fortunate to catch when they appeared in San Jose on July 12th. That particular show was sponsored by Buddy's Cannabis, the first time I recall such a thing ever happening in San Jose, which would have been impossible before California legalized recreational use of cannabis two years earlier. Considering how the Maytals musical career was interrupted in late 1966 when Hibbert was jailed for 18 months for possession of marijuana, that was a special thing to behold!
Toots and the Maytals recently just released their new album "Got to Be Tough," which will be their first full-length since 2011.
My thoughts are with the family and friends of Toots.
– E.P.
REFERENCE LINKS:
Official announcement from Toots' family on Facebook
New York Times -Toots Hibbert, a Father of Reggae, Is Dead
Variety – Legendary Reggae Singer Toots Hibbert, Frontman of the Maytals, Dies at 77
The Guardian – Toots Hibbert, pioneering reggae star, dies aged 77
Variety – Toots and the Maytals' 'Got to Be Tough': Album Review