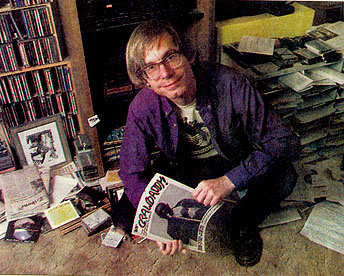 For the past two weeks, I've been away from home, helping a dear friend with a big move to Southern California. This weekend, I'm coming back home just in time to attend a very special benefit concert.
This Sunday at the Red Devil Lounge in San Francisco, there's going to be a benefit concert for Paul Williams, founder of Crawdaddy magazine. Musicians scheuled to appear at this event include Mojo Nixon, John Doe (X), Jello Biafra, Debora Iyall & Petter Dunne (Romeo Void), Mark Eitzel (American Music Club), Mario Cipollina, and Paul's wife, Cindy Lee Berryhill. I have a feeling there's probably going to be some special guests that will show at this one, but I know it's going super-crowded, as this club is very small.
Paul Williams, who's often been mistaken for the singer-songwriter of the same name, was one of the true pioneers in rock music journalism. In 1966, at the age of 17 years old, Paul started Crawdaddy Magazine. His website provides some interesting details about his remarkable life:
Beginning with a phone call to his dorm room from Bob Dylan, Crawdaddy! placed Paul at the center of the burgeoning counterculture, involving him with many of the subjects of his writing: Dylan, Jim Morrison, David Crosby, Brian Wilson, Philip K. Dick, Theodore Sturgeon, and many others. Among the many characteristic glimpses of Paul's "Zelig"-like place in the '60's: in 1968 he served as campaign manager for Timothy Leary's run for the governorship of California, during which time he and Leary joined John Lennon and Yoko Ono at their Toronto "Bed-in For Peace". During the overnight visit the song "Come Together" was written, based on Leary's campaign slogan "Come together, join the party". Paul's voice can be heard mixed into the chorus on the original recording of "Give Peace A Chance". Similarly, on The Doors "Unknown Soldier", he can be heard locking and loading a rifle. Paul was introduced to marijuana by none other than Brian Wilson, in a tent in Wilson's living room, while listening to early masters of what would become SMiLE, and he wasn't only at Woodstock, he rode to the festival from New York City in the Grateful Dead's limousine. Paul's books of what he calls "Practical Philosophy", like Das Energi, and his memoirs of commune living and hippie lifestyle document his immersive style of cultural participation; more so perhaps than any of the other early rock writers, Paul lived inside the new world the music heralded.
In 1992, I met Paul and his future wife Cindy Lee Berryhill at a American Booksellers Association convention in Anaheim. I thought they were both exceptional people, and was tickled when Cindy shared a wonderful personal LOUIE story for my LOUIE LOUIE documentary.
In 1995, Paul Williams suffered a traumatic brain injury in a bicycle accident, leading to early onset of dementia, and a steady decline to the point where he now requires full-time care. The burden on his immediate family has been immense, and there's an effort to solicit help, in the form of contributions of any size, to assist in Paul's continued care and medical attention.
I'm happy to show my support by attending this special event, and getting the word out. If you can't attend this show, I'd like to encourage you to share your support with whatever contribution you can make. Paul and Cindy are good people.
Paul Williams webpage
Red Devil Lounge webpage
Cindy Lee Berryhill webpage
Rolling Stone article
SF Gate article
Paul Williams Wikipedia entry