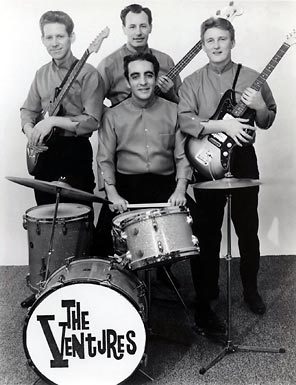 Two months after the Ventures performed with the Fabulous Wailers at the Moore Theater in Seattle to celebrate their new collaboration "Two Car Garage," Bob Bogle, founding member of the Ventures has passed away on Sunday. He suffered from Non-Hodgkin Lymphoma and became too frail to play with the Ventures in his waning years. But he lived long enough to see his band inducted into the Rock and Roll Hall of Fame in March 2008.
Ventures co-founder Don Wilson, Bogle's friend and musical collaborator of more than five decades, shared some memories for the Tacoma Tribune:
Wilson recalled selling cars in Seattle in the late '50s, when Bogle walked into his dealership one day. Wilson was struggling to make commission. And when he learned that Bogle worked construction, Wilson asked if he could get him a job.
.
"That's why we started working together," Wilson said. "And then we found out that we each knew a few chords on the guitar, you know, and we had a lot of free time on our hands. But neither of us owned a guitar."
.
The two day laborers bought a pair of guitars and a chord book at a downtown Tacoma pawn shop in 1958, aspiring to nothing more than easier work headlining local nightclubs. But fate had so much more in store for them.
.
The Ventures scored their first hit with a remake of a Chet Atkins song called "Walk, Don't Run" in 1960. Their version would become one of the most influential songs in rock history, sparking a remarkable run that saw them chart with 38 albums between 1960 and 1972 alone, en route to more than 100 million records sold.
.
"That song started a whole new movement in rock and roll. The sound of it became 'surf music' and the audacity of it empowered guitarists everywhere," said Creedence Clearwater Revival's John Fogerty as he inducted the Ventures into the Rock Hall last year. "Every guitar player on this planet knows what I'm talking about."
In the photo above, you can see Bob Bogle, left; Nokie Edwards, top; Mel Taylor, seated; and Don Wilson.
You can read more about Bob Bogle by reading:
Tacoma Tribune obituary
Seattle Times obituary
Seattle Post Intelligencer obituary
Rolling Stone obituary
NME obituary
The Associated Press obituary
The LOUIE of the Week this week is any LOUIE LOUIE by the Ventures, but I don't where you can hear any of them for free. My favorite version by the Ventures is the instructional version of LOUIE LOUIE on the "Play Guitar with the Ventures" LP which you may be able to find at better record stores…