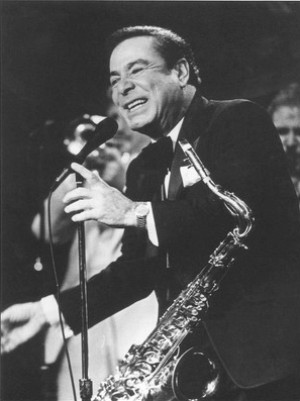 We just lost another musical icon. Sam Butera, a singer/ saxophonist with of the LOUIS Prima band, has passed away at the age of 81 years old.
Sam Butera was born Aug. 17, 1927, in New Orleans, LOUISiana. At the age of 7, his father took him to see a big band and asked which of the instruments the boy liked best. Sam pointed to the saxophones, and the next day, his father brought him a saxophone, which led to a remarkable life in music.
During the 1950s, Sam had a very successful partnership with entertainers Louis Prima and Keely Smith, providing a dynamic entertainment. Backed by a small band called the Witnesses, the Prima-Smith-Butera partnership re-interpreted jazz and pop standards with a distinctive array of styles and tempos- swing jazz, jump blues, Italian folk balads and Dixieland. Some of their best-known songs included "Just a Gigolo"/"I Ain't Got Nobody" (done as a medley), "Pennies From Heaven," "That Old Black Magic" (which won a Grammy Award), "Jump, Jive an' Wail" and "When You're Smiling."
In addition to his work with Prima, Butera enjoyed a prolific side career performing with such entertainers as Frank Sinatra and Sammy Davis Jr.
While Butera took a mostly supporting role in the Louis Prima band, on a few songs he was allowed an opportunity to shine as lead singer. One of those songs was "(There'll Be No) Next Time," which was a song written by Richard Berry in 1955 (released two years before LOUIE LOUIE).
I was fortunate to not only see Sam Butera perform live, but also interview him, where he had a chance to talk about this catchy little number.
Thank you, Sam. You will definitely be missed.
In the meantime, here's a little clip of Sam in action with his pal LOUIE!