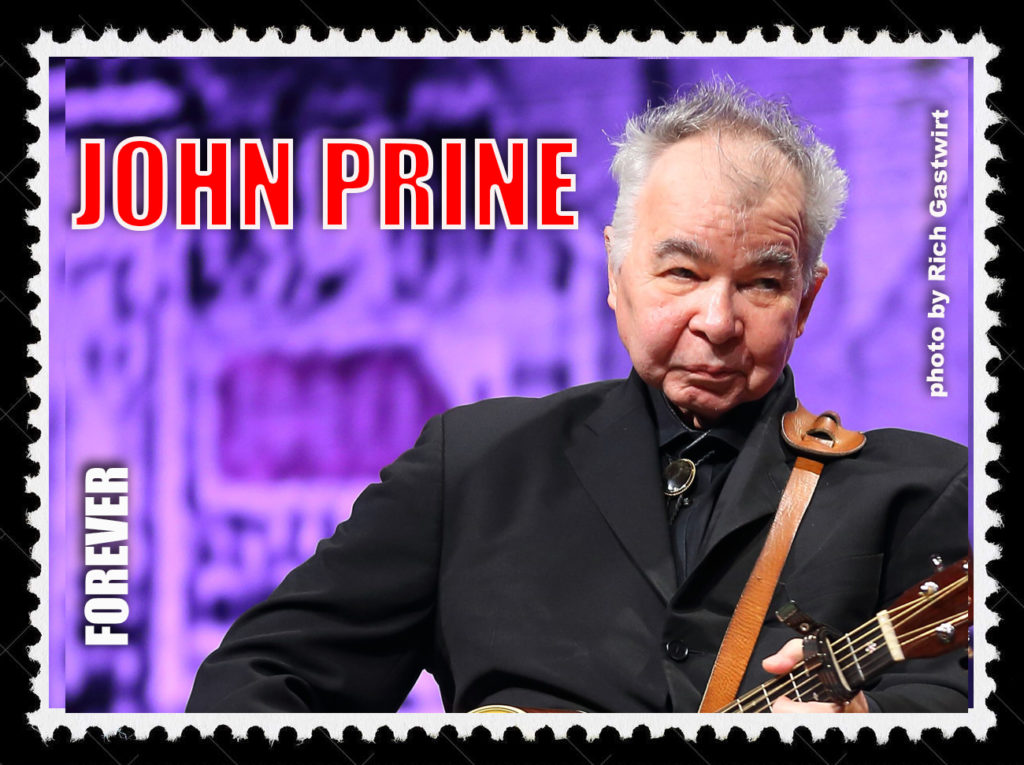 With the passing of John Prine, I'm gratified to see so much appreciation for his music on the social networks. He was a brilliant singer-songwriter.
In the back of my mind, I kept thinking I had already written something on these pages about John and his special LOUIE reference with his song entitled "Lake Marie."
This charming little story-song that describes a tender moment with a girl that falls asleep in his arms "humming the tune to Louie Louie."
It turns out the closest I came to a John Prine blog post was a reference to John's performance of "Lake Marie" back in January 2019, when I did a post entitled "LOUIE Project Update / LOUIE on TV – part 1" which included a mention of John's then-semi-recent performance on Austin City Limits (October 2018).
Since then, I've discovered there's more "Lake Marie" than meets the eye.
I've been told that is Bob Dylan's favorite John Prine song, which is in itself, a major revelation.
Mark Guarino of the Chicago Daily Herald digs a bit deeper than I certainly did when i first heard it..
There's an odd sort of power in that song, mainly because he combines several disjointed images (a grisly murder, a failing marriage, Native American lore, grilling Italian sausages) and somehow makes them seem natural together. It's also an example of how Prine's Chicago past always somehow filters into his songs, whether he knows it or not when he's writing.

The fact that "Lake Marie's" a real place and is inspired by real events, makes it strangely moving.
Brand Acid went as far as to write an article entitled "John Prine's Lake Marie' is the Most Literary Song I Know."
I never gave this song that much thought, but it is a beautiful song, I'm tickled to see all this special attention.
Certainly, this song and accompanied analysis is all food for thought, and a 2000 performance of this song from the "Live From Sessions at West 54th" TV show may help inspire additional insight on such matters..

.
.
As we celebrate the legacy of this great American singer-songwriter, here's some clips of John we'd like to recommend…
.
.

This is a collection of John Prine performances that are close to home, literally.
This is from the annual Hardly Strictly Bluegrass Festivals in San Francisco which often utilized members of the LOUIE production team to document these very special events.
This compilation does include a 2014 performance of "Lake Marie."
.
.

This is a collection of John Prine appearances on the David Letterman TV show, which includes some fun banter with these two guys..
.
.

John Prine and his old friend Bill Murray yack about their early days, when music and comedy would often intersect…
.
.

This is a beautiful music video for a song that sometimes invokes involuntary liquid responses from the eye ducts of your truly.
.
.

"Some Humans Ain't Human" – a song that seems to be inspired by certain people in power that really shouldn't be.
.
.

When I Get To Heaven- the final track on the last album by John Prine.
.
Wow!
.
.
We love ya, John and will miss you.
Thank you for all the great music you've created!
– E.P. of LouieLouie.net
.
P.S. At the top of this article is a fake postage stamp featuring John Prine. As John Prine worked as a mailman for 5 years before he became a professional musician, I figured this would be a fun way to bring this tribute full circle. Perhaps in the next few years we'll get the real thing? By all means, feel free to contact the U.S. Postal Service with your suggestions!
(To create this imaginary stamp, I borrowed a photo by Rich Gastwirt from a Grateful Web article.)
REFERENCE LINKS:
Chicago Daily Herald- John Prine on his song "Lake Marie"
Medium.com – John Prine's "Lake Marie" is the Most Literary Song I Know
chimesfreedom.com – Standing By Peaceful Waters: John Prine & the Story of "Lake Marie"
NY Times – John Prine, Who Chronicled the Human Condition in Song, Dies at 73
JOHN PRINE: The BLUERAILROAD Interview – Paul Zollo conducted a great interview with John Prine.
IMDB – John Prine bio + film credits
LAST MINUTE ADDITION:
Right as I was about to hit the "publish" on this blog post, I saw another great post from my friend Clay Stabler at The LOUIE LOUIE Party at Facebook that I thought I'd recycle…
Don't want to trivialize a great songwriter and performer, but there are a couple of (tenuous) John Prine – LL connections.

1) The final line of his "Lake Marie" is "Ahh baby, we gotta go now."
2) Todd Snider released his "Ballad of the Kingsmen" on Prine's Oh Boy label.

I don't know of any John Prine version of LL, but Todd Snider did occasionally perform it live. Here's a brief example from 2012: