Last week, we lost a dear friend.
Roy Loney, a founding member of the Flamin' Groovies, died on Friday the 13th of December. He passed away at Sutter Health's California Pacific Medical Center Davis Campus. As noted in the SF Chronicle, the cause of death was severe organ failure, according to Vivian Altmann, his longtime lady friend, who acknowledged "Roy was born on a Friday the 13th and he died on a Friday the 13th. That is a very rockin' thing to do."
It took us a full week to write this post.
Roy was someone that we shared a solid friendship with that lasted multiple decades. it wasn't that long ago that we all commemorated the passing of our mutual friend Ken Kaffke, as we all shared some serious affection for the "good stuff" – EC Comics, monster movies and MAD magazine. Roy was a part of our tribe, and a trusted consultant for this documentary project.
It goes without saying that this news hit close to home. Not seeing Roy around town is going to feel odd.
Today, we're going to share a special video to honor our dear friend. Hot off the griddle, here's a special tribute to Roy from the LOUIE team..
Here's a couple of other Roy-isms we want to share..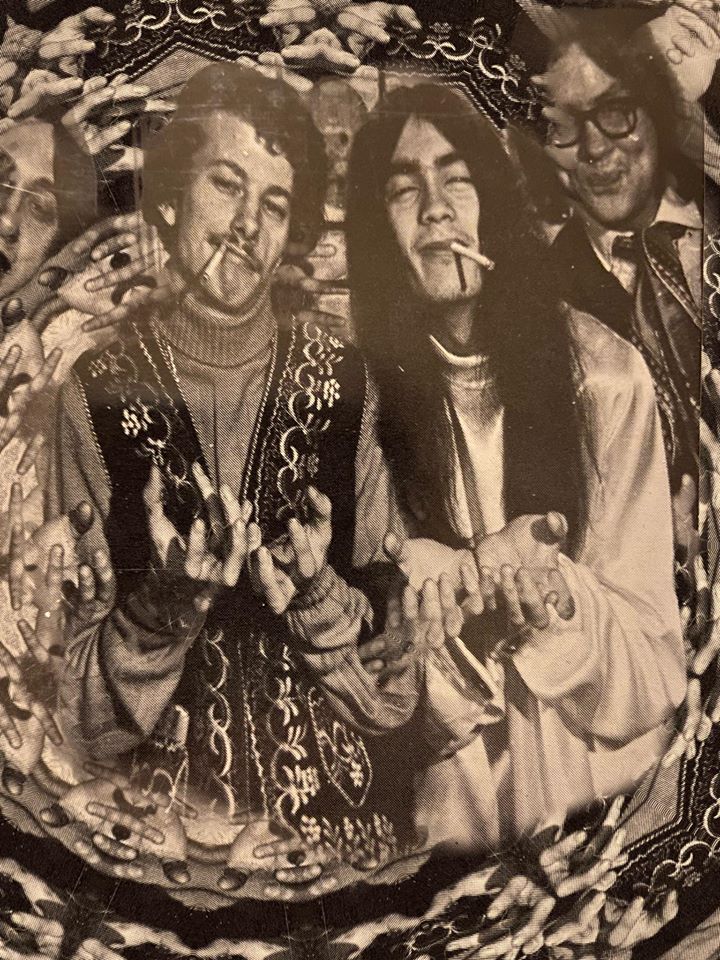 George Alexander, founding member of Flamin' Groovies shared these memories of Ro on his Facebook wall:
Roy Loney's passing is a blow to my heart. We had such good times together back in the 60's. We first met each other in high school. As a folk music duo, he and another classmate, Tim Lynch, performed there at rallies. Roy was also an actor in the school plays. He and Timmy campaigned for me when I ran for school president our senior year, which I lost to the school jock. I had an interest in folk music, which was big at that time, so I asked Roy to help me learn to play guitar. When I went over to his house for a lesson on one occasion, he said to me…" I want to start a rock and roll band. I'm gonna be the lead singer, Tim will play rhythm guitar. We're gonna need a lead guitar, bass and a drummer." I didn't want to lug around a drum set and lead guitar was too daunting, so I asked if I could join and play bass. After all, it was just four strings! Later on by chance I ran into Cyril Jordan who said he played lead guitar, so after I told Roy, we invited him to Timmy's house where we jammed to all the hit songs we knew from that period. Cyril was in…and he said he had a friend, Ron Greco, who he jammed with that played drums. We started hanging out in Greco's garage and soon after we became a band Roy named the Chosen Few. We had issues with Ron's drumming and eventually replaced him with Danny Mihm, an outstanding drummer, and then Roy came up with a new name for our band…the Flamin Groovies. It was then that we took the leap of creating original songs. I was amazed at how quickly we became more and more competent as musicians. Roy was an awesome lyricist. But I think one of the most impactful occurrences during that time was when I introduced everybody to "MaryJane"! The first time Roy smoked a joint, he fell over a couch and succumbed to hysterical laughter. He couldn't stop and neither could we in response to his reaction. His jaw was locked, even when he had finally stopped laughing and that of course started a new round of laughter. From that point on, if there was one thing we wanted out of being in a band, reflected in our music, was for everybody to have a good time. We were hedonists, which embodied much of the spirit of the counterculture in San Francisco back then. We were serious about having fun. My fondest memories of Roy come to mind from these bygone days of yore. Living our lives more fully than we had ever imagined before.

Chris Wilson, who became lead singer with Flamin' Groovies after Roy left, also shared his memories on Facebook:
I first met Roy in 1971 on the road with Dan Hicks,The Groovies and Loose Gravel , Roy and I didn't really want to like each other , but we wound up quite liking each other anyway.Soon after these shows in the mid west, I was leaving Loose Gravel due to being black- balled by Bill Graham, and Roy left the Groovies .On the eve of me decamping Loose Gravel , Cyril, Danny and George came over to my digs and asked if I would join the Groovies .I liked the band very much but was sad to hear Roy had left, so I agreed. We went on to go to record in Britain and Roy left music to do some stage acting .He was very talented and he was very good at it, but he craved being back n Rock and Roll, so he started The Phantom Movers with Larry Lea and later, Danny and James (Ferrell).They were a great, tight band , with a lot of great songs and made some classic records.Over the years Roy and I met up occasionally in Europe, he with his various bands and I in whatever band I happened to be in, and we would have a meal and a bevy and chat away about anything and everything. Roy was especially knowledgeable about old films and we were both partial , we found, to the over the top, "Grand Guignol films of Britain's greatest ham , Tod Slaughter, and we had a lot of laughs.The last time we were on the road together a couple of years ago , we had a great time, and the fan's reactions to seeing Roy was wonderful to see , and I know it pleased him greatly. I am still trying to come to terms with his passing on, and I will miss his sense of humour and his infectious laugh a great deal.I will miss him, and I pray he is at peace.R.I.P. Roy, The boy whose operating speed was always "A Hundred Miles An Hour !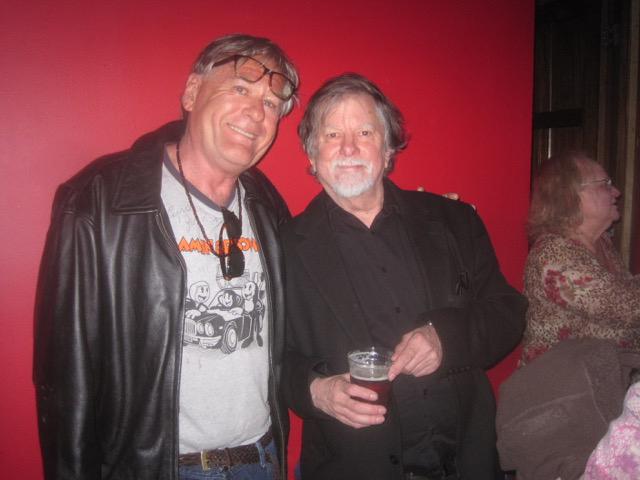 Our friend Tom Sagehorn also provided some wonderful memories of Roy….
We wandered into S.F. on Broadway to check out Mabuhay Gardens in the late 70's, and saw Roy Loney and the Phantom Movers….they just tore up the place. Ironically, Roy and the Phantom Movers were the opening band this night- and they absolutely blew our minds! It was such a treat to have this group be our first music experience at the fabulous Mabuhay Gardens. Roy Loney was amazing, running back and forth across the stage like a wired rock & roll maniac. The band was tight, and I can still remember talking to my friends about how ironic it was that Roy & the Movers were opening for 2 other bands. This night the best band started the festivities, and undoubtedly it wasn't the last time that Roy Loney and his band blew away the top billed group. Kudos to Roy for being the king in the ring, a true unheralded legend. He was always nice to the fans, truly a class act. It was always a treat to go to Jack's records and hear the amazing historic stories from the lips of the Great Roy Loney……just a huge loss for the Rock & Roll world. Everybody can take solace in the fact that Mike Wilhelm and Roy Loney are together in Rock & Roll heaven now. Thank you Roy for the great music and memories. Rest in Peace.
.. and a follow-up..
Roy Loney worked at Jack's Records in S.F. for years. Since Jack's specialized in 78's, I mentioned to Roy during a visit that my dad had a 78 rpm record made while playing in S.F.'s Lowell High School marching band (in the late 1930's). It was my father playing "Ave Maria" on his old silver trombone. Without any prompting, Roy volunteered to bump the 78 over to cassette. I dutifully went back to my place 30 miles south of S.F. and returned with the 78, and Roy did me the huge favor of transcribing it to cassette. When my Dad was presented the cdr that was bumped from the tape Roy recorded, he was emotionally overwhelmed. An old friend did custom artwork that included a picture from Dad's Lowell high school yearbook which showed my dad walking down the hall at school with one of his old buddies….. A huge Flamin' Groovies fan (Eric Predoehl) did the final touches by bumping the tape to CD-R for me. This was the kind of person Roy Loney was-polite to the fans, and thoughtful in a rare kind of "groovy" way. The amazing story of Roy's generosity in helping preserve and showcase my father's song on that 78 rpm record is something I will never forget. When Roy and the Phantom Movers played with the Flamin' Groovies last year at the chapel in S.F. -he let us have my picture taken with him. Going home after the show, I realized that I totally forgot to thank Roy for taping that 78 for me…….Cripes!! This posting is the closest thing to actually thanking him…..
Thanks for the fantastic musical contributions Roy!
Thanks for being the humble and kind person you were – a true rock & roll legend.
Rest In Peace Roy Loney, give my regards to Mike Wilhelm in Rock & Roll Heaven too!
Here's a rarely-seen 1991 clip we shot of Roy singing with his pal Cyril, backed by the Sneetches at the DNA Lounge, San Francisco.
Following by a more recent clip of Roy in Oakland with the Phantom Movers in 2014..
.. and a cool photo of Roy Loney during his last European tour with the Flamin' Groovies, taken by Alberto Morant, shared on Facebook and other places..
Rest in peace, Roy. We're definitely gonna miss ya.
– ERIC PREDOEHL and JESSE BLOCK
(the LOUIE team)
REFERENCE LINKS:
SF Chronicle – Roy Loney, dynamic frontman for SF's Flamin' Groovies, dies at 73
CBS Local – Iconic Flamin' Groovies Singer Roy Loney Dies At 73
Rolling Stone – Flamin' Groovies Singer Roy Loney Dead at 73