We recently lost Don Baskin, singer / founding member of Syndicate of Sound. His death was announced on the Syndicate of Sound Facebook page:
Don Baskin 1946 – 2019

Don died peacefully October 22, 2019 in his sleep. We are all saddened and shocked by Don's unexpected passing. He was a founding member of the Syndicate of Sound, co-writer of "Little Girl", and it was his singing performance that "delivered" the song and made it the hit that it continues to be………. So long brother.
The Syndicate of Sound was a rock band from San Jose, California. Don (vocals/guitar) and Bob Gonzalez (bass) were previously in a couple of other bands (Lenny Lee and the Nightmen and the Pharaohs*), before teaming up with John Sharkey (keyboards), Larry Ray (lead guitar), and John Duckworth (drums) to create the Syndicate of Sound in 1964. By the time the band recorded their first album, Larry Ray had left and was replaced by Jim Sawyers. The band eventually disbanded in 1970, then reunited in 1990, continuing to play a handful of shows up until the present.
"Little Girl" was their one and only hit record, reaching the US national pop charts in June 1966, peaking at #5 on Cash Box and #8 on Billboard.
In 2001, the LOUIE team (E.P. and Mr. Block) shot some video of their performance at the BayPop music festival in San Francisco. Here's an excerpt of an interview which we shot with Don at this music festival, where he discusses the formation of the band and the creation of "Little Girl," their "one-hit wonder," which he wrote with Bob Gonzalez
As fate would have it, the Syndicate of Sound actually performed and recorded a live version of LOUIE LOUIE before "Little Girl" was ever released.
Back in September 1965, they performed and recorded this song as part of their live set at the Silver Dollar Saloon, a teen dance club inside the Frontier Village amusement park in San Jose.
Thanks to Bob Gonzalez, I'm sharing this ultra rare recording of LOUIE LOUIE, which features Larry Ray on lead vocals. This particular recording was only released as a bonus flexi-disc for the first 100 copies of Cream Puff War magazine, issue #2, which I believe came out in 1993. The label claims it was a 1966 performance, but Bob assures me that it was actually from a 1965 show.
Here's a rare live photo of the original configuration of the band from that period, featuring from left to right: Bob Gonzalez, John Duckworth, Don Baskin, John Sharkey, and Larry Ray.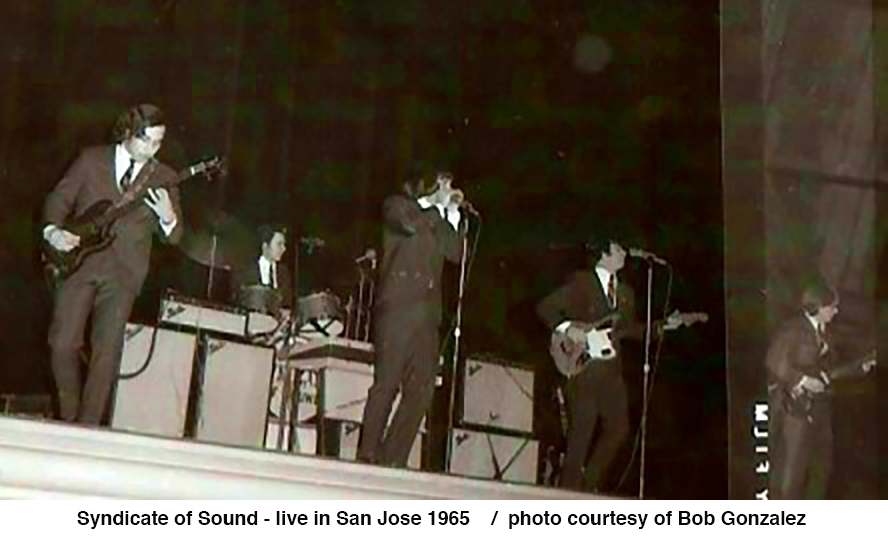 Speaking of "Little Girl," here's a previously-unreleased video clip of that particular song from the very last Syndicate of Sound concert I attended – live at the Blank Club, San Jose on March 28, 2014.
Rest in peace, Don. You shall not be forgotten.
REFERENCE LINKS:
Syndicate of Sound – official page
Syndicate of Sound – Facebook page
Syndicate of Sound – Wikipedia page
* = No relation or any memories of any other bands that shared that name in early 1960s.