On Monday, October 17th, we lost Paul Allen, co-founder of Microsoft, owner of Vulcan Inc., the Seattle Seahawks, the Portland Trailblazers, Stratolaunch Systems and founder of Allen Institute for Artificial Intelligence, as well as many other ventures.
I never met the man, but I love the fact that he was passionate about music, and supported some wonderful community music programs.
KEXP Radio, a listener-powered radio station, shared these words on Paul Allen:
In 2001, Paul Allen made a transformative $3.6M gift to then-KCMU, which resulted in the station becoming independent of the University of Washington, and changing call-letters to KEXP. This venture philanthropy also allowed the station to grow and become financially self-sufficient within three years, made possible investments in technology, in particular, technology that allowed KEXP to become an early leader in internet radio, as well as investments in new partnerships with the University of Washington's School of Music and the Experience Music Project, now known as MoPop. Mr. Allen again supported KEXP with a $500,000 gift in 2016, which helped the organization complete a $15.7M fundraising campaign to build a new facility at Seattle Center.

"Today, we say goodbye to Paul Allen with great sadness," said KEXP Executive Director Tom Mara. "He will be missed and mourned by a city that owes him an amazing debt of gratitude. His massive support of KEXP 17 years ago came at a crucial time – it allowed KEXP to become the independent, forward-looking, mission-focused organization it is today. Paul was a lover of music; he had a deep understanding of its power and its ability to not only enrich lives, but to make the world a better place. He translated that passion for the power of music into countless projects that will live on for years and years. Our condolences go out to Paul's family and friends in this difficult time.
I'm especially fond of how he created the Experience Music Project, a rather unique museum in Seattle designed to celebrate rock 'n' roll music, would include a special acknowledgement on the music of the Pacific Northwest, especially Jimi Hendrix.
I was fortunate to not only attend the 2000 opening of this museum, but I was also contacted by the EMP team to secure a photo of Richard Berry that would be used as part of the "Northwest Passage" exhibit that acknowledged the Northwest connection to the song "LOUIE LOUIE," which also paid tribute to the Fabulous Wailers, Little Bill Engelhart, the Kingsmen and Paul Revere & the Raiders.
There was also an interactive exhibit that allowed attendees an opportunity to play THE SONG in the museum.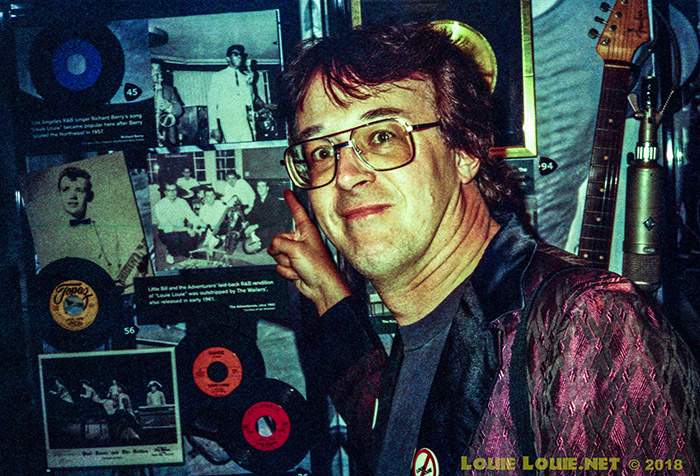 It gave me a wonderful sense of pride to see Richard Berry and his most famous musical creation acknowledged within this beautiful museum.
It may have been the FIRST museum to acknowledge the legacy of LOUIE LOUIE…
As fate would have it, the Experience Music Project would later transform into the Museum of Pop Culture, and I've been told the "Northwest Passage" exhibit is no longer part of the permanent display.
Perhaps in the near future, we'll see a revival of that exhibit…
Rest in peace, Paul Allen.
______________
Reference Links:
The official Paul Allen webpage
KEXP Radio – R.I.P. Paul Allen
Spain News – The amazing music museum of Microsoft co-founder Paul Allen
Wikipedia – Museum of Pop Culture
Seattle Times – Goodbye, EMP: Seattle landmark changes name (again) to Museum of Pop Culture