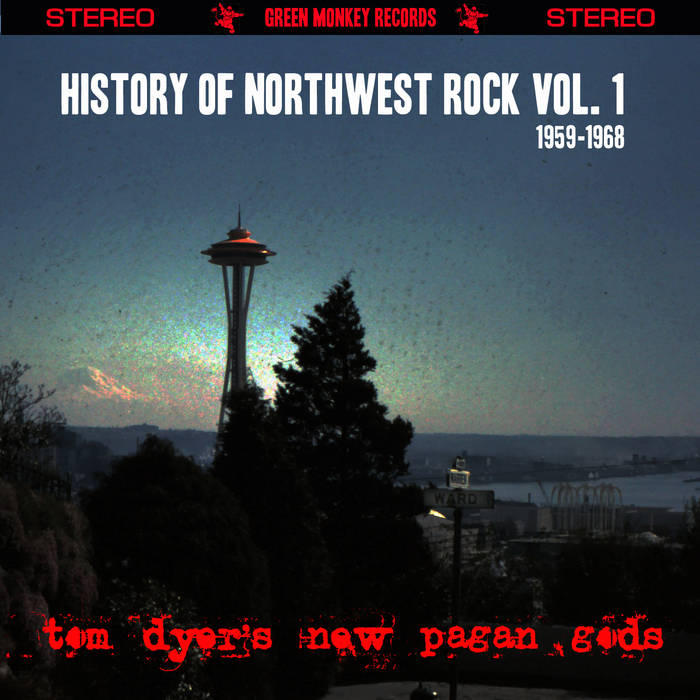 It's Friday… feeling a bit swamped by other events and been a bit too busy to write the update I wanted to write…
So… I figured it's time to share a LOUIE of the Week… or every other other week.. or something like that …
To quote another, let's give it to 'em… right now..
Here's a very special LOUIE shared online by Green Monkey Records of Olympia, Washington.
Ladies, and gentlemen, I present to you…Tom Dyer's New Pagan Gods!
Here's some quick reviews shared on the Green Monkey Records site:
"(Tom) Dyer, a 35-year local rock stalwart and head cheese at local indie label Green Monkey Records, dips into the well of first-wave Northwest rock and roll. The result is the joyous audio equivalent of the best sloppy-drunk sweaty house party you ever crashed. Like any good band rocking a house party, Dyer and his bandmates play with grittily fun-loving chemistry, and that's what makes this ragged little record sing." Tony Kay – The Sun Break
"Louie Louie, in Dyer's hands takes not only a huge left turn but an unplanned detour down an alley, across the freeway, and off into the hinterlands, so unique is the arrangement … he set out to capture the DIY spirit and the maverick vibe that the songs' creators represented. Methinks he succeeded." Fred Mills – BLURT
You can hear and order Tom's version of LOUIE LOUIE by clicking here.
Purchase of the album includes unlimited streaming of History of Northwest Rock Vol. 1 (1959-1968) via the free Bandcamp app, plus high-quality download in MP3, FLAC and more.
LINKS:
https://greenmonkeyrecords.bandcamp.com/track/louie-louie
https://soundcloud.com/greenmonkeyrecords/albums