The latest Pacific Northwest road trip was a short and power-packed adventure, even if a massive percentage of that time was spent driving.
Wednesday was the big drive from SF Bay Area to Seattle area, something I won't be repeating in the near future… at least not crammed into one day.
Thursday was a day of some visits in Seattle and Tacoma, visiting a few of my consultant-advisors.
Friday was another day of driving, and preliminaries for Saturday.
Saturday was the big day for the Animal House 40 anniversary event in Cottage Grove, Oregon, which also happened to be the site for where this community hoped to reclaim the Guinness world record for the "worlds largest toga party."
I have to admit there was something quite empowering about seeing thousands of people dancing around in these silly toga outfits, unleashing their inner Belushi, just loving life and all that sort of thing….
And the Kingsmen? Mike Mitchell, Dick Peterson and company are still delivering the goods in a wonderfully festive manner, performing a lot of other great songs besides THE ONE that everyone knows 'em for. The toga crowd of thousands loved 'em!
Did I mention I was able enlist a great video team to document this toga party with LOUIE associate producer David Jack Jester and my new friend Frank Mahoney? These guys were fantastic, and there be more photos and videos shared in the near future.
Sunday was the big anniversary of the day I first got involved with this crazy project of mine, starting off with the absurd 63 hour KFJC marathon that featured 800+ versions of THE SONG, which I happened to document for posterity, not realizing what I'd be getting myself into…
Sunday night, I had dinner at a 126 year old seafood restaurant that was literally a block away from the location of the original recording studio in Portland where the most famous version of the song was recorded by Robert Lindahl. Sadly, I didn't see any plaques at the old studio site that commemorated this historic location, even though there were two separate events that paid tribute to this special building, with the first plaque removed by vandals sometime in the mid 1990's.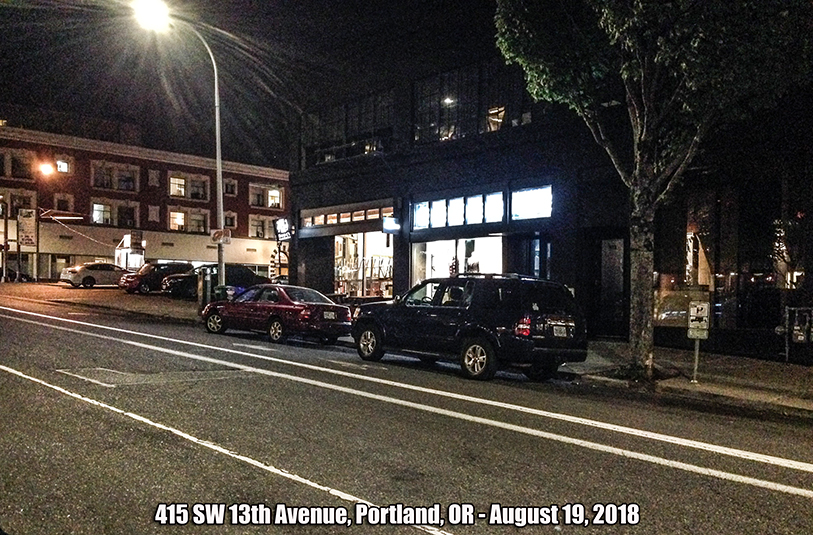 Apparently, the new LOUIE plaque was removed for safety as some vandals tried to pry it off the wall. Bummer, but at least it's a good hands, even if it doesn't have a permanent home yet.
I wish I could have visited more people while I was in the NW, but it was hard to do it all with my limited time frame, but I hope to visit again in the near future.
In another hour or so, I'll be jumping in my car, and driving to Southern California, with a special LOUIE LOUIE presentation happening in Venice on Sunday night.
Hope to see some of you there!
– E.P. of LouieLouie.net