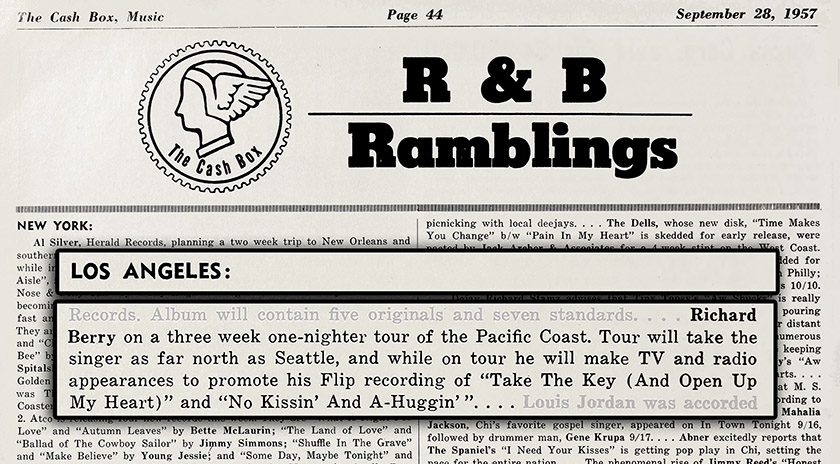 Here's a little news clipping I found in a 1957 issue of Cash Box magazine. Apparently, when Richard Berry toured the West Coast in Washington and Oregon with Bobby Blue Bland and Junior Parker, there were plans for him to appear on various radio and television programs.
Exactly what TV or radios shows Richard that might have performed in the Northwest remain something of a mystery. I have no idea if these shows even happened or not.
When I talked to Richard about old television appearances, the only thing that came to mind were a couple of appearances on the "Dixie Showboat" TV show on KTLA 5 in Los Angeles. He performed "Riot In Cell Block #9" with The Robins, and also did a show with "The Dreamers," which wasn't the actual recording group, but a band he assembled at the last minute when the original singers weren't available.
Either way, I haven't had any luck tracking down any recordings of these shows, which are probably lost forever. There's a good chance the TV shows in the Northwest didn't even happen.
There's probably a better chance there may still be some audio recordings of the radio shows from the Pacific Northwest, but I would think if someone had anything recorded from that tour, they would spoken up by now.
I'd LOVE to be proven wrong, so any of you folks out in cyberspace are hoarding some rare kinescope or radio recordings of Richard Berry from the 1950s-1960s, PLEASE step right up, OK?
(PLEASE send an email to LOUIE at his website if you have information about these recordings)