One week ago, my good friend Jeff Riedle (aka "Stretch"), who's been a major advisor to the LOUIE project, suffered a cardiac arrest on Saturday night, and has been in the hospital ever since.
Actually, I think he just got moved from one hospital to another.
It has been a very hectic week…
Stretch is a great guy, a local legend in the music community, and someone I've often acknowledged as the man whose "brilliant moment of inspiration" – playing a full hour of LOUIE LOUIE on a late night radio shift led to the legendary "Maximum LOUIE LOUIE" KFJC marathon that inspired this very documentary project.
There is a GoFundMe page to raise funds for his medical bills, and I'm hoping that many of you could make a donation to help him out.
Jeff "Stretch " Riedle suffered Cardiac Arrest on Saturday November 25th while playing drums in downtown Santa Cruz, Ca.

Everyone who is a drummer, musician or a fan of Jeff's band The New Shockwaves, The Fascinating Creatures of The Deep or has bought gear at Starving Musician Knows and Loves Jeff or "Stretch" as he is affectionately known.

Jeff , is currently scheduled for surgery in the following days. We all know that he really is a " Starving Musician " and the road to recovery and medical costs, along with loss of work will be an extra stress.

On behalf of Jeff, please join me in raising money to help him through this unexpected and traumatic life event.
Stretch met and interviewed quite a few musicians when he was a DJ at KFJC.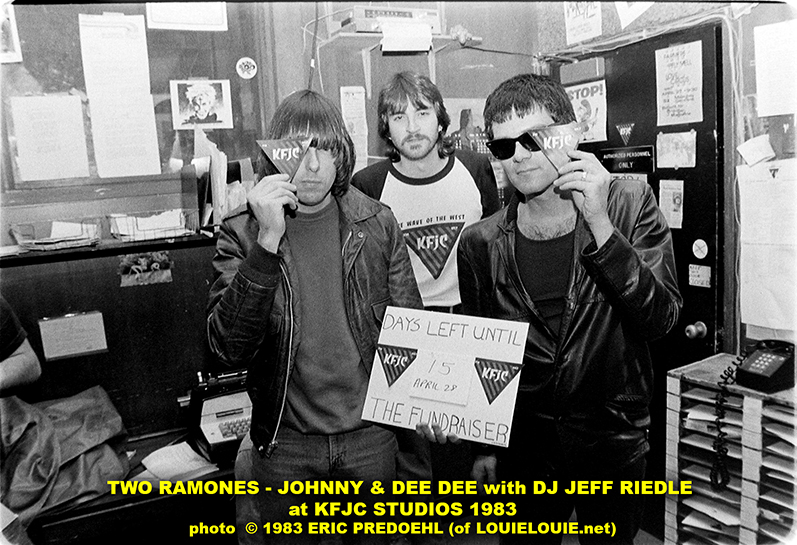 Of course, this post it seems perfectly natural to share a video clip of Stretch and LOUIE LOUIE for the "LOUIE of the Week," but because it's Stretch, he gets multiple versions… just because one version is never enough…
Here's a few of 'em….
This particular clip features a short excerpt of the big 45 minute version that featured Richard Berry, Jack Ely & the Lady Bo Trio at the infamous KFJC marathon. Stretch isn't actually playing music in this one (even though I do have video evidence of him doing such a thing in the full version of this performance), but he is mentioned, and can be seen dancing to the music…
In the next clip, Stretch as well as fellow members of the Shockwaves, back up Richard Berry (and special guest DJ M. Dung) for a performance of the song at a LOUIE LOUIE parade in San Francisco!
Here's another version of the song with Stretch and the Shockwaves…. at some beach in Santa Cruz.
In this clip, Stretch plays with Cassady's Hammer for a TV show in Santa Cruz. They are joined by special guest John Allen Cassady, son of literary adventurer Neal Cassady.
While this particular clip showcases Neil Young's very special version of the song, you actually hear more of Stretch than Neil…
Anyways, if you can donate to help Stretch pay for some medical bills, that would be fully appreciated!
Please visit:
https://www.gofundme.com/jeff-stretch-riedle-medical-fund
MONDAY UPDATE:
On Sunday, I was able to visit with Stretch and show him one of the new donations to the LOUIE archives – the original LOUIE LOUIE 45rpm master stamper of 1957 (Richard Berry on Flip Records-254), courtesy of Neal P. of the Max & Lilian Feirtag estate.

May the powers of LOUIE LOUIE heal my good friend!