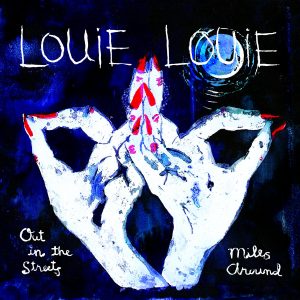 Here's an odd one….
When is a LOUIE LOUIE not a LOUIE LOUIE?
There's a variety of different ways of answering that question, but for today, one example for such a thing would be if the musician(s) choose to call themselves "Louie Louie."
They aren't the first ones to do that, and certainly won't be the last.
I was alerted to this recording from an old message sent by Leslie Burnette:
Here is a nice review of the #LouieLouie 7″ from a music blog founded by 2 dudes who met as children auditioning to be Star Trek Klingons in 1988. The review rules but I think I like that fact more?
The review was from BeardedGentlemenMusic.com:
Louie Louie – "Out In the Streets"
Hidden Volume Records

The Philadelphia music scene has always been rich with culture. Whether it's the Hip-Hop coming from claustrophobic basements of the underground, or the do-it-yourself Rock crawling its way out of the seediest dive bars the city has to offer. Even with such diversity in the scene, Louie Louie, an all-female garage pop outfit inspired by the surf and sun of the early 1960s, seems to have come out of left field.

As their name suggests, there's plenty of influence from 1960s pre-Beatles pop bands like The Ronettes and The Shangri-Las, but never feeling forced or too tongue-in-cheek like most indie acts who draw influence from the past. From the reverb-soaked harmonies and jangly beauty of the surf ballad title track to the discord sultriness of Blondie meets The Black Angels found on side B's "Miles Around", Louie Louie deliver something that's both comforting and exciting as hearing Dusty Springfield doing vocals for Teenage Fanclub.

One of the most interesting aspects of this release is how in spite of being their debut, they've managed to completely nail their style as if they've been doing this for decades.They are in good company too "Out In The Streets" has just recently been released on vinyl and digital through Baltimore's Hidden Volume Records, home of releases from The Above, The Reverberations, and The Kurt Baker Combo to name a few. Louie Louie may have only been functioning as a band for a short period of time, but if this release is any indication, they have a promising career ahead of them. – Aaron Cooper
Here's a link to the music at HiddenVolume.com
I still wish they'd do the damned song!
ENJOY!
Reference Links: