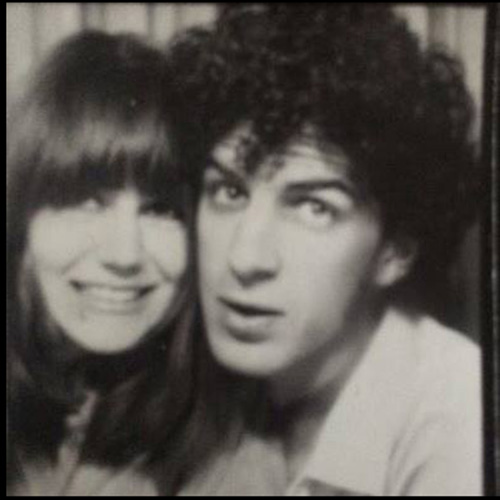 In the midst of a week filled with rotten news, things were made even worse when we lost a kindred spirit…
Billy Miller was a true champion for the foot-stomping, hip-shaking, soulful roots music we call rock 'n' roll. Along with his beloved companion / partner Miriam Linna, they established an incredible legacy designed to honor, archive and celebrate in the grandest possible manner, the rich heritage of American garage rock music with their Norton Records label, Kicks magazine and their musical group, The A-Bones.
In the Norton comic book "Kicksville Confidential," (illustrated by Avi Spivak) Billy shared his story about how they got started….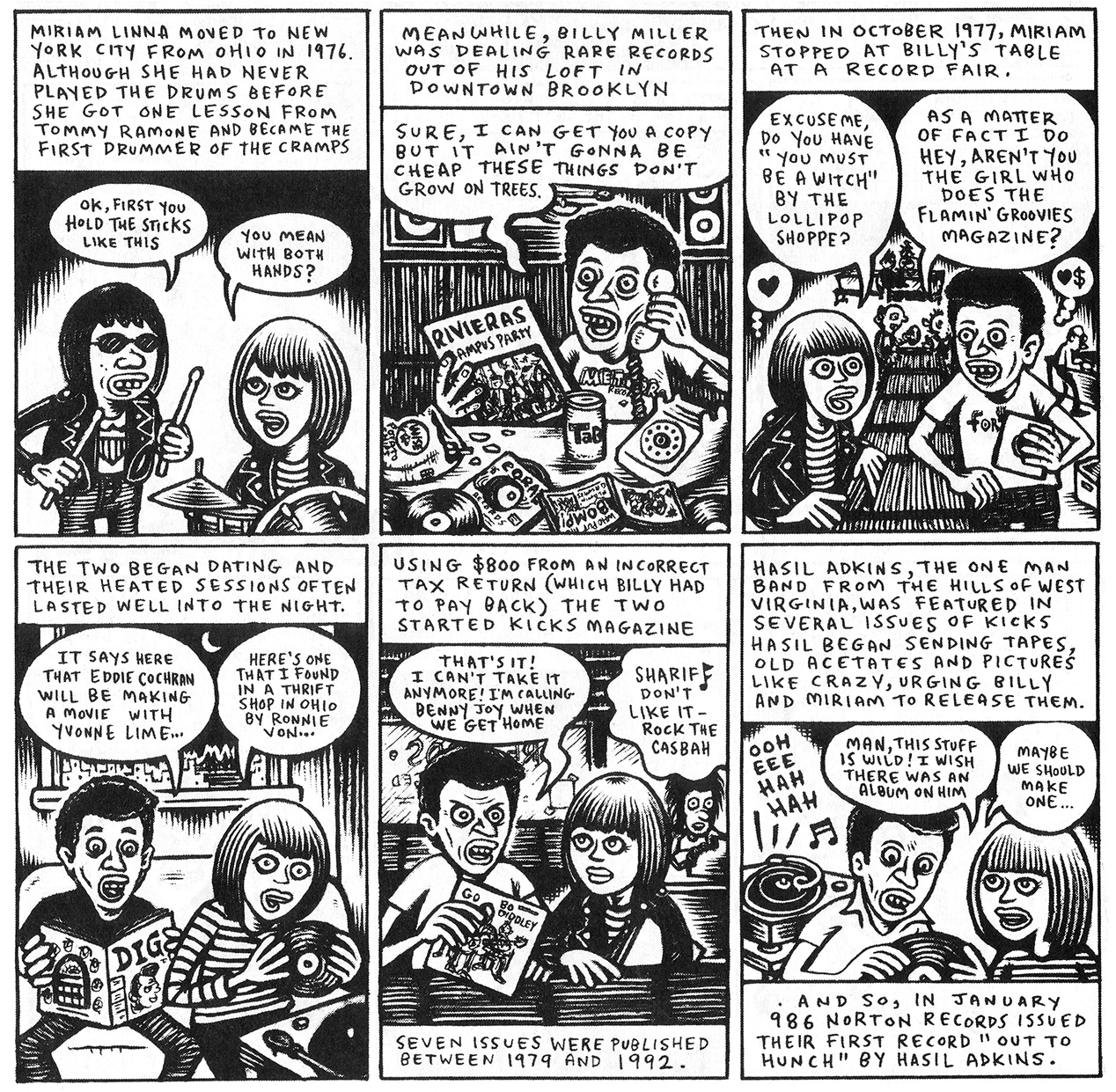 I really loved KICKS magazine – a fantastic hodgepodge of music reviews and historic overviews of forgotten oddball performers, all blended together with a healthy sampling of humor in the jugular vein.
Here's a sample page from issue #3….
When Billy and Miriam shifted their focus from a music magazine to a record label, they created a wonderful showcase for some truly unforgettable entertainers…
"Norton's got a six and a half foot Cyclops drag queen, a pair of singing Siamese twins, an Indian with a lung, at least three murderers, the nation's number one art thief, the world's first wheelchair confined bad guy wrestling manager, a hillbilly who sings about the joys of chicken, cheese and decapitation, at least three pimps, an elephant thief, a convicted pornographer, about a dozen guys that wears turbans for no apparent reason, one guy who claims to be from Saturn and another who claims to be from Mars, and we haven't even gotten to Kim Fowley!" – Billy Miller, as quoted in interview with Ugly Things Magazine
..and their own band, The A-Bones, wasn't too shabby either!!
The legacy of Billy and Miriam's empire has been a great inspiration for us that love this kinda stuff!

(a cool photo of Billy & Miriam with Screamin' Jay Hawkins – a wild and crazy guy)
Four years ago, Hurricane Sandy destroyed a lot of the Norton Records inventory, but they were able to salvage what they could, and continue what they were doing, opening a retail shop earlier this year.
To celebrate the spirit of Billy, we're sharing a special performance of him singing a "LOUIE relative" with a video clip of the A-Bones live at Otto's Shrunken Head's Tribute to Screamin' Jay Hawkins on February 13, 2014. It's a cover version of a Paul Revere & Raiders song written as a sequel to Richard Berry's timeless ditty.
Thank you Billy and Miriam!
Here's some other tributes to Billy that you should know about…
NY Times – Billy Miller, Curator and Historian of Fringe Music, Dies at 62
White Trash Soul blog – Sadville… R.I.P. Billy Miller, Fuck You 2016…
Billboard – Billy Miller, Co-Founder of Norton Records, Dies at 62
Pitchfork – Norton Records Co-Founder Billy Miller Has Died
RecordsOnRepeat.com – Billy Miller, Co-Founder of Norton Records, Dies at 62
….and GO BUY some NORTON Records why don't cha?
Please visit NortonRecords.com !!
P.S. if ANYONE has an extra copy of KICKS #5 they'd like to sell, please drop me a line, OK?