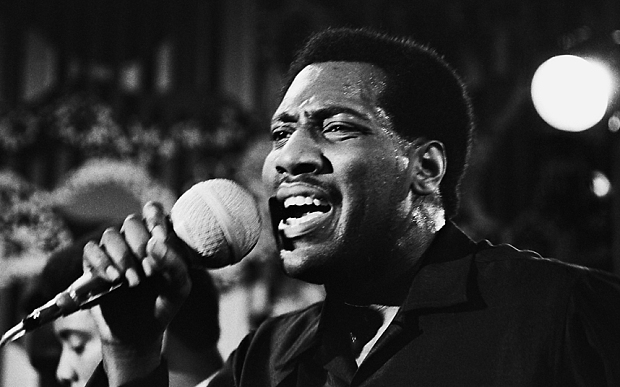 A couple of weeks ago, I visited the Grammy Museum in Los Angeles, where I saw, among other things, the Otis Redding exhibit.
At this exhibit I saw Otis items I've never seen anywhere else – rare family photographs, the original painted marquee for the Whisky-a-Go-Go show, his red jacket worn on the "Live in Europe" album cover, his personal Super8 film camera and the suitcase he carried onboard the airplane for his final flight, among other things.
In the museum there was a lot of media kiosks, showing various video clips of his performances. A great tribute to an unforgettable musician who created some very powerful music during his all-too brief existence.
At this exhibit, details were shared on each of his albums, which of course, acknowledged his debut album "Pain in My Heart," which was released on January 1, 1964, and peaked at number 20 on the R&B chart and at number 85 on the Billboard Hot 100.
That was the album that featured Otis Redding's recording of LOUIE LOUIE. It's interesting to note that his recording came out less than one month after the Kingsmen's version of the song entered the top ten on the Billboard Hot 100 chart for December 7, and peaked at number two the following week, a spot which it held for six weeks.
Otis was definitely hip to the good stuff! On that album, he also covered "The Dog", by Rufus Thomas; "Lucille", by Little Richard; and "Stand by Me", by Ben E. King. The musicians for this album included Booker T. Jones (keyboards, organ, piano), Isaac Hayes (keyboards, piano), Steve Cropper (guitar, keyboards, piano), Donald Dunn (bass), Al Jackson, Jr. (drums), Johnny Jenkins (guitar), Lewis Steinberg (bass), Wayne Jackson (trumpet), Charles Axton (tenor sax) and Floyd Newman (baritone sax)
I wish I could tell you that the Otis Redding exhibit was still up at the Grammy Museum, but unfortunately, the run ended about a week or so after I saw it.
In the meantime, be sure to check out the official OtisRedding.com webpage, which provides a wealth of material about the man, as well as details about the Otis Redding Foundation, which was created to "empower, enrich, and motivate young people through programs involving music, writing and instrumentation."
Reference Links:
OtisRedding.com
Wikipedia on Otis Redding
Wikipedia on Pain In My Heart