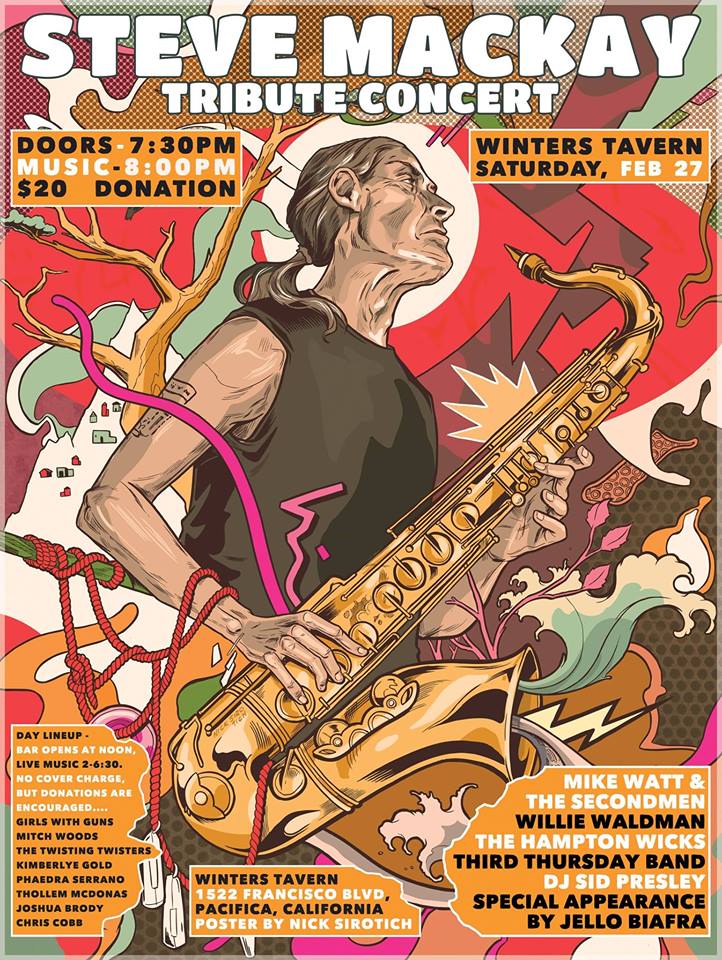 This weekend in SF Bay Area, we're celebrating the life of Steve Mackay!
On Thursday, Feb 24th at KFJC Radio (home of the infamous Maximum LOUIE LOUIE marathon) there was a big 4 hour radio show celebrating the legacy of Steve with lots of music and interviews. We got a chance to hear some rare recordings of Steve with Commander Cody, Snakefinger, Z'ev, Smegma, Blue "Gene" Tyrrany, Andre Williams, Sonny Vincent, Violent Femmes, and of course, Iggy & the Stooges. For the next few weeks or so, you can hear the entire show by visiting http://kfjc.org/broadcast_archives/ and downloading each of the four hours.
Today, Saturday the 27th, there's two different shows happening at Winters Tavern in Pacifica, which is about a mile or so from Steve's old apartment.
The first show begins in a few minutes, and ends at 6:30 pm. It's FREE to the public, but donations for Steve's family are highly encouraged. The bands scheduled to perform include:
Girls with Guns (featuring the lovely La-Ni, daughter of Snakefinger, on vocals)
Joshua Brody and Roger Rocha with the TTB
Phaedra Serrano
The Twisting Twisters with Andy Pollack
Kimberlye Gold with Mike McKevitt and Lizie Skow
Mitch Woods, with Chris Cobb and the Third Thursday Horns
Thollem McDonas
The second show at Winters, which is sold out, begins at 8 pm, includes performances by:
mike watt & The Missingmen
The Hampton Wicks
The Third Thursday Band
DJ Sid Presley
Lady Monster reads the poetry of Steve Mackay
Special guest appearance by Jello Biafra
Tomorrow, Sunday the 28th, there will be yet another show for Steve, which will take place at Hemlock Tavern in San Francisco, from 5pm to 10pm. This show will include performances by:
Glitter Wizard
Liquorball
Thollem McDonas
Willie Waldman
The Third Thursday Band
So.. if you're in the SF Bay Area, please join us there, as we celebrate the life of our friend!